Jennifer Aniston is the woman who launched a thousand haircuts. But today her golden skin draws as many admiring comments as her trend-setting tresses.
In an exclusive interview with HuffPost UK Style, the 46-year-old actress revealed she actually "had to have a sun intervention a few years ago," which got us wondering how she still looked so glowing...
Aniston revealed it's taken years of practice to perfect her look since first experimenting with makeup as a teenager:
"My girlfriends and I used to all share beauty products and I fell in love," she said.
We sat down to chat to the star as she spilled her skincare secrets, including early style disasters (see, she's more like us than we thought).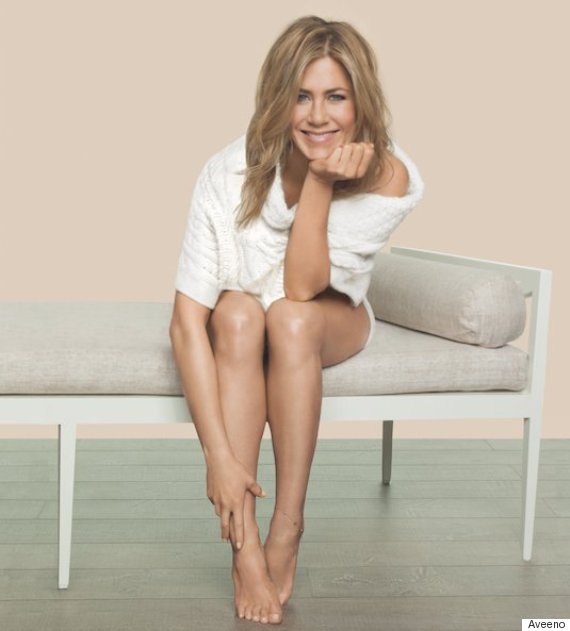 What's the secret behind your flawless skin?
Honestly, hydration and drinking water. I've had four bottles already today! It's a big important thing. A lot of people forget about it, but you have to remember.
Exercise is absolutely important too and I love an infrared sauna a couple of times a week as they're extremely good for your skin - for cell regeneration, detoxifying and relaxing. You can even buy portable ones online!
I also firmly believe in the power of beauty sleep – you can be as healthy as you like, but if you don't get proper sleep your body will pay for it.
I'm definitely guilty of not drinking enough water. Do you have any tips for getting your daily quota?
I had to train myself to! I have water everywhere - I always carry it with me and keep a bottle by my bed.
Talk me through your daily skincare routine
I wash my face with a gentle cleanser then follow with the Aveeno Positively Radiant Daily Moistusier, it keeps my skin so soft all day so I don't have to keep reapplying.
I'll also use the Aveeno Daily Moisturising Body Lotion after a morning shower - a top tip is to keep the dampness on your skin from the shower before applying as you'll get even more hydration.
SEE ALSO:

Tips From The Woman Behind Kim Kardashian and Jennifer Aniston's Weight Loss

Style Advice We Learned From Our Parents
You're best known for your natural makeup look, what do you wear on a day-to-day basis?
Most of the time I don't wear makeup. When you're working and people are caking it on your face it's nice to feel clean and fresh.
When I go out I'll just use a tinted moisturiser, a little concealer and mascara - then I'm good to go.
Who are your beauty icons?
Lauren Hutton was spectacular, I've loved her look for as long as I can remember. Brigitte Bardot was stunning too, I always liked the natural California surfer girl look.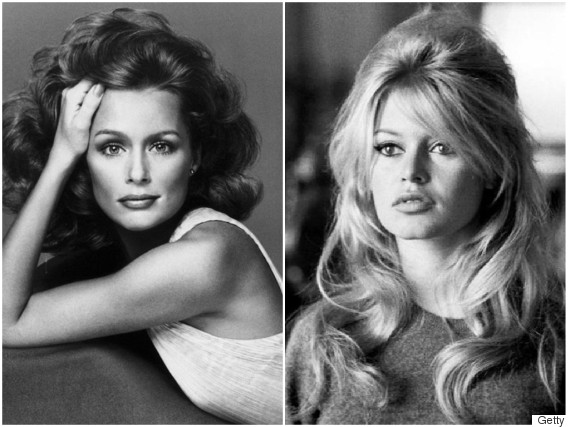 Are there any products you could not live without?
I always carry sunscreen with me - in my car, in my bag, in little plastic travel bottles. It's a major go-to for me. The Aveeno moisturiser has SPF 30 and doesn't leave you all pasty and white, so it looks great under makeup.
Another thing I can't live without is a good lip moisturiser.
An SPF is definitely a must-have! How do you get your gorgeous golden glow?
A lifetime commitment to tanning! That, and living in LA. I actually had to have a sun intervention a few years ago – as much as we love it as kids and teenagers, it doesn't pay off in the long run.
I've been on the wagon now with sun tanning. I do treat myself to a spray tan every once in a while but I'm learning to be ok with not being tanned.
Have you ever had any beauty disasters?
My teenage years were probably some of the worst looks I've sported. I was very goth - pale pale skin, dark dark lips. I coloured my own hair some horrible shade like 'boysenberry' or something. It was not a good look.
Then I moved to California when I was 20 and saw all these granola crunching California kids – it was all about the natural look there.
Jennifer Aniston is the Global Ambassador for Aveeno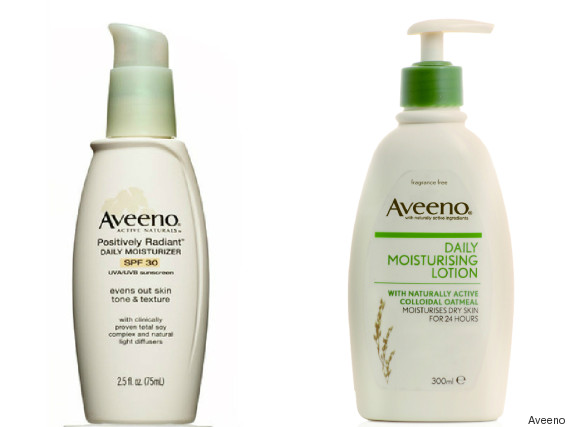 Aveeno Daily Moisturising Lotion (£5.10 for 200ml or £7.14 for 300ml)
Check out our round up of her beauty looks: