After almost 200 days in space and a journey that has clocked 84 million miles, three astronauts have begun their journey home.
The Expedition 43 crew lead by NASA commander Terry Virts who worked alongside flight engineers Samantha Cristoforetti of ESA (European Space Agency) and Anton Shkaplerov of Roscosmos, will land in Kazakhstan at around 2pm BST.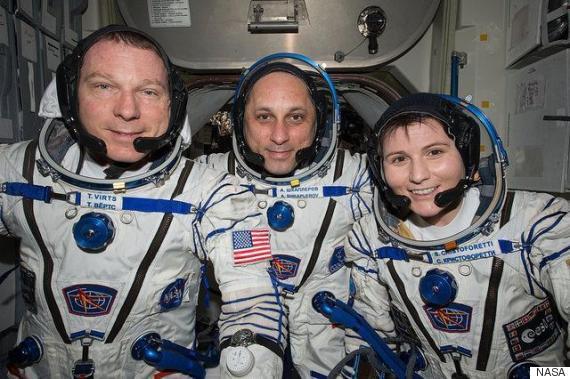 Virts and team celebrated the closing of the hatch connecting them to the International Space Station with a selfie in what must have been a moment of relief following the month long delay that was caused by the loss of an unmanned cargo ship, which had to be investigated by Roscosmos.
Hatches are closed between @Space_Station & the three humans returning to Earth today http://t.co/KX5g7yYnYG pic.twitter.com/AxC2fbPRdk

— NASA (@NASA) June 11, 2015
One of the most notable facets of Expedition 43 is Italian astronaut Samantha Cristoforetti's own journey.
While Virts and Shkaplerov had already logged hundreds of days in space during other missions, this was Cristoforett's first flight into space, a journey which broke the record for the longest time in space by a woman-- a record previously held by 'NASA astronaut Sunita Williams with 195 days after Expedition 33.'
So long... and thanks for all the fish! #Futura42 pic.twitter.com/zBei4SbMQx

— Sam Cristoforetti (@AstroSamantha) June 11, 2015
Commander Virts tweeted an amazing selection of pictures as he began his journey back home.
My ride back to Earth today. pic.twitter.com/31hqjY4Vve

— Terry W. Virts (@AstroTerry) June 11, 2015
Home pic.twitter.com/qJncErtcdl

— Terry W. Virts (@AstroTerry) June 11, 2015
The last picture I took on this mission. pic.twitter.com/8KqTd8yMOR

— Terry W. Virts (@AstroTerry) June 11, 2015
Expedition 44 formally began earlier today after Soyuz, the spacecraft carrying the trio, undocked.
The year long mission, which is twice the normal duration, will further research into the medical and psychological challenges astronauts face when travelling in space.