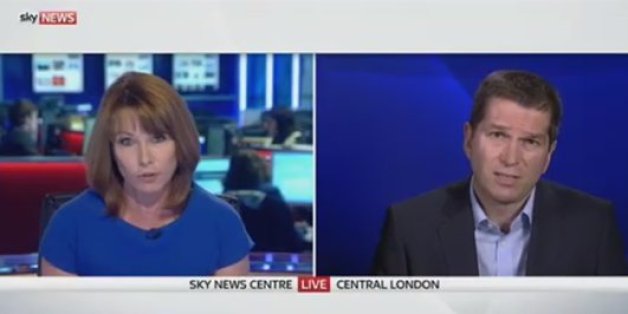 Sky News
UPDATE: Kay Burley Has Been Cleared By Ofcom Over THAT Alton Towers Interview
The petition calling for Kay Burley to be sacked over the interview with the CEO of the company which owns Alton Towers, has reached 42,000 signatures.
Ofcom has so far received 1,485 complaints over the interview, which saw Nick Varney grilled by the Sky News anchor over a rollercoaster crash at the theme park which left four seriously injured.
One of them, Leah Washington, 17, had her leg amputated above the knee.
Watch the full interview with @KayBurley and Alton Towers boss Nick Varney http://t.co/ePKAFZg8kN

— Sky News (@SkyNews) June 5, 2015
Burley gave Varney short shrift as he attempted to answer her questions, pressing the Merlin Entertainments chief over what were at the time unconfirmed reports that one victim had lost a limb, as well as pushing him for an answer on whether he thought the safety measures in place were adequate.
Varney went on to accuse Burley of misrepresenting what he was saying and putting words in his mouth.
An Ofcom spokesperson said: "Ofcom has received 1,485 complaints about Kay Burley's interview with Alton Towers Chief Executive, Nick Varney, on Sky News on June 3rd.
"We will assess these complaints before deciding whether to investigate or not."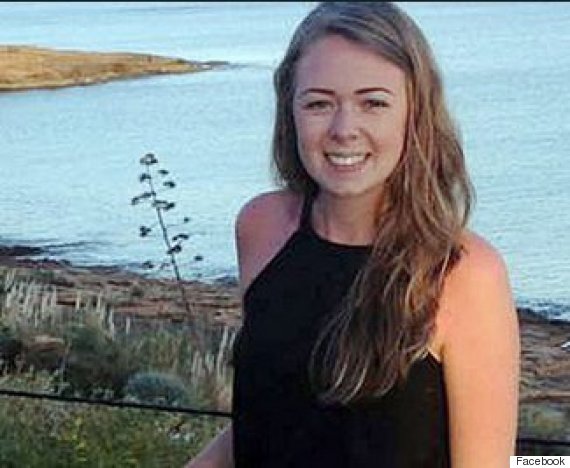 17-year-old Leah Washington was one of the four victims airlifted to hospital following the crash
Reaction to the interview was mixed, with some praising Burley for giving the CEO a thorough grilling, while others expressed their outrage at her aggressive questioning.
For those concerned I was hard on Alton Towers boss, he'll get over it. Not sure those on his ride will be so quick to recover #perspective

— Kay Burley (@KayBurley) June 5, 2015
Burley herself defended the interview, tweeting: "For those concerned I was hard on Alton Towers boss, he'll get over it. Not sure those on his ride will be so quick to recover #perspective."
some have questioned whether the reaction would have been quite so vehement had it been a male presenter carrying out the same line of questioning.
Many suggested that had a personality such as Jeremy Paxman conducted the interview with the chief executive of the company that owns Alton Towers, fewer people would have been outraged..
Cannot believe the outrage about Kay Burley's interview. People were seriously injured on that ride, had it been Paxman, we'd be lauding it.

— Eric (@EricCunha94) June 12, 2015
Whatever your opinion of @KayBurley /that style of interviewing, I doubt 1,100 people have ever complained about Paxman! #everydaysexism

— Sophie O'Neill (@sophieelleno) June 12, 2015
Just watched the @KayBurley Alton Towers interview. It was appauling, but I don't think it was any worse than most of Paxman's interviews.

— Jeremy Taylor (@JezTaylorUK) June 12, 2015
@LucyCMorgan It is sexism, plain and simple.

— Kathryn Gray (@KathrynGray) June 12, 2015
Let's be honest if it was Paxman asking those questions rather than @KayBurley on @SkyNews everyone would be applauding this

— Anna Cafolla (@AnnaCafolla) June 11, 2015
The vitriol v @KayBurley is pure sexism. Everyone celebrates Paxman's style. She's a damn fine journo doing a difficult job. #KayBurley

— Owen Thomas (@OwenThomasTV) June 11, 2015
@KayBurley people are entitled to their various opinions but a lot of criticism directed at female presenters stems from gender inequality

— Ms Caroline Hill (@chillmedia) June 7, 2015
I'm on Kay Burley's side here. When a man, say Jeremy Paxman, does an interview in the way she did, he gets praised as a hero.

— Kay Bourne (@RatingHyperion) June 12, 2015
Others were less convinced that this was sexism…
its not sexism against strong women. Kay Burley was ignorant to his answers and thus bullied him throughout the interview

— A Tidy Little Mess.. (@KilljoySilence) June 11, 2015
@_SeanLevine_ @KayBurley There are lots of trumped up women like her, who use bullying to get noticed and scream sexism when challenged.

— Sporting Nest (@SportingNest) June 10, 2015
@KayBurley @chillmedia why do women always turn to equality and sexism!? You know you were a bully in that interview Kay disgraceful

— Cole Johnson (@ColeJ10) June 7, 2015
Burley herself tweeted a blog written by Abi Wilkinson for The Debrief in which Wilkinson said: "Nick Varney is a powerful man with ultimate responsibility for everything that happens at Merlin Entertainment theme parks, including when things go wrong. He agreed to be interviewed on Sky News with one goal: casting himself and the company in as positive a light as possible.