A woman fitted with what has been described as the world's most lifelike bionic hand has said it is the small everyday tasks she can now carry out that are making the biggest difference.
Nicky Ashwell, 29, can now do things that require two hands for the first time, such as riding a bike, but said it is the little things she can now do that surprise her the most, such as being able to carry her purse at the same time as holding her boyfriend's hand.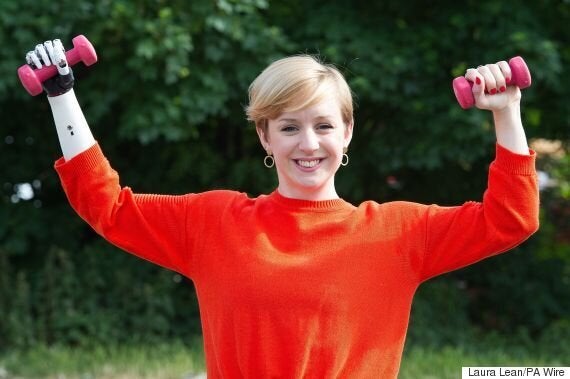 Ms Ashwell, who was born without a right hand, had previously used a cosmetic prosthetic that she was not able to move.
Now she has been fitted with an anatomically accurate new hand developed by prosthetic experts Steeper, described by the company as a bionic breakthrough that uses Formula 1 technology to deliver an "unrivalled level of precision and natural movements".
The hand, which weighs about the same as a large bar of chocolate, has small proportions that have been specifically designed with women and teenagers in mind and is built around an accurate skeletal structure with miniaturised components designed to provide the most true-to-life movements.
Ms Ashwell, from Brixton, south London, is now getting used to being able to carry out everyday activities that most people take for granted, such as using cutlery and opening her purse.
"I was born without my right hand, so I've spent my whole life with just having an arm," she said.
"I think I never really realised that things were difficult for me. I guess I've taken everything in life as a challenge, but getting the hand makes me realise that I was actually struggling with things when I didn't need to be.
"It's actually the small things that you do every day and you don't really think about. So, for example, when I'm on the Tube now I just twist my hand and I can hold on to the pole on the Tube and I've got my other hand free for reading a book or playing with my phone.
"Just things like earlier I was holding my coffee in this hand and then I had my other hand to get my Oyster card out. It's just those little things that you do every day."
Ms Ashwell, a product manager at an online fashion forecasting and trend service, said the hand attracts a lot of stares when she is out in public.
"The other day I had a father and son on the Tube and the little boy was saying 'robot hand, why's she got a robot hand?' and the father was going 'shhhh'," she said.
"It's nice that people feel like they can talk about it or ask about it. I think in some ways people find it easier to ask about this hand than if they were looking at me otherwise."
She added: "When I first tried the bebionic small hand it was an exciting and strange feeling - it immediately opened up so many more possibilities for me.
"I realised that I had been making life challenging for myself when I didn't need to.
"The movements now come easily and look natural - I keep finding myself being surprised by the little things, like being able to carry my purse while holding my boyfriend's hand.
"I've also been able to do things never before possible like riding a bike and lifting weights."
She was fitted with the hand, which acts as a bionic extension of her arm and took seven years to develop, at the private London Prosthetics Centre.
Ted Varley, technical director at Steeper, said: "Looking to the future, there's a trend of technology getting more intricate. Steeper has embraced this and created a smaller hand with advanced technology that is suitable for women and teenagers.
"An accurate skeletal structure was firstly developed, with the complex technology then specifically developed to fit within this in order to maintain anatomical accuracy. In other myoelectric hands the technology is developed first, at the expense of the life-likeness."
Unlike conventional prosthetic hands, which may use a hook, the bebionic hand uses sensors triggered by the user's muscle movements that connect to individual motors in each finger and microprocessors.
The technology comprises a unique system which tracks and senses each finger through its every move - mimicking the functions of a real hand.
The hand, which weighs around 390g, is 165mm from base to middle fingertip - the size of an average woman's hand - and contains 337 mechanical parts.
It is strong enough to handle up to 45kg - around the same as 25 bricks - and has 14 grip patterns and hand positions to allow a range of precision movements.
Popular in the Community