George Osborne's latest claim over the "unsustainable" level of welfare spending has become mired in confusion after his own officials dismissed it as a mark of the success of his austerity plans.
When standing in for David Cameron at Prime Minister's Questions today, the Chancellor justified his latest cost-cutting round by arguing the UK made up 1% of the world's population but 7% of its welfare spending.
However, his spokesman minutes later said the aim of £12 billion of welfare savings was "not to reduce that percentage".
Tens of billions of pounds of welfare calculation involves pensions - an aspect of social security protected from the cuts.
The figures were based on "an internal Treasury analysis", the spokesman said, taking in reports by Eurostat, the IMF and the World Bank.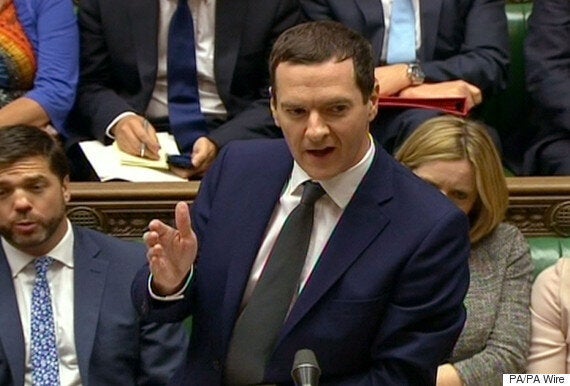 During the session, Jess Phillips, Labour MP for Birmingham, Yardley, pressed the Chancellor on exempting women living in supported accommodation, such as a refuge, from plans to cut housing benefit from those under 21 years old.
She said on a single day there were 132 women aged 18 to 20 living in refuge after being attacked, assaulted and in some cases raped.
Mr Osborne said the Government would "protect particularly vulnerable people, such as those that (Ms Phillips) refers to", but added: "I would make a broader argument about welfare reform.
"This country faces a very simple choice. We have 1% of the world's population and 4% of its GDP, but we undertake 7% of the world's welfare spending.
"We can either carry on on a completely unsustainable path or we can continue to reform welfare so that work pays and we give a fair deal to those on welfare and a fail deal to the taxpayers of this country who pay for it."
A spokesman said the Chancellor was "making the case it was high", but added: "Our objective is to find £12 billion of welfare savings not to reduce that percentage."
The Treasury later pointed out the line is a take on German chancellor Angela Merkel's oft-used phrase: "Europe today accounts for just over 7 per cent of the world's population, produces around 25 per cent of global GDP and has to finance 50 per cent of global social spending."
Mr Osborne will start to outline where the axe will fall in his Summer Budget next month.