One of the gripes bosses have against working away from the office is that communication on a remote connection can never be as smooth as when face to face. That's about to change, thanks to a unique experiment that proves you can now get precision-timed, pitch-perfect connection with multiple sources from literally anywhere.
Telia, Sweden's fastest growing network access and telecommunication services provider, spread 14 musicians at five truly remote locations all across Sweden – from the top of a snow-capped mountain to down by the seaside to deep in the woods – all connected via the Telia fibre network, playing in unison in front of a live audience under the guidance of the conductor several miles away at Gothenburg Concert Hall.
The result, as can be seen and heard in Playing Apart, proves that even something as complex as orchestral music, which operates with margins of hundredths of a second, can be transmitted in CD quality sound and with HD quality visuals as long as the right tools and a fast connection is set in place.
"We knew that putting the musicians in different places where they would not be able to see one another and asking them to perform the music with the same precision as if they had been sitting in a concert hall was a major challenge. As far as we know, this had never been done before."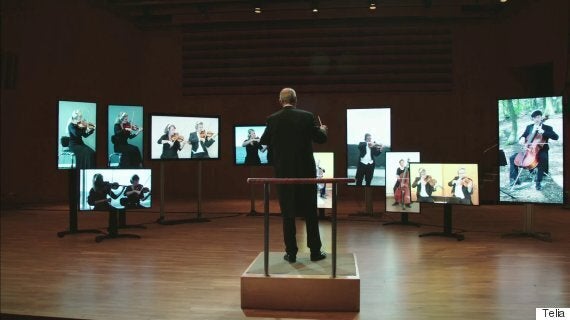 Jörgen Odh of the Gothenburg Symphony Orchestra added: "The musicians had to be able to hear the sound with absolutely no delay – easier said than done when they are more than 800 kilometres apart. And the quality of the audio and visuals had to be high enough to present the audience at Gothenburg Concert Hall with a realistic musical experience. These were two major challenges, and Telia did an absolutely fantastic job."
Watch the full performance of Playing Apart, presented by the Gothenburg Symphony Orchestra in conjunction with Telia, here