When Rachel Muir took her three-year-old daughter to the shops dressed as Princess Elsa, she never could've imagined that the day would turn so sour.
But Muir was left raging after her daughter was subjected to racism by another mother and her two daughters at a Disney-themed event.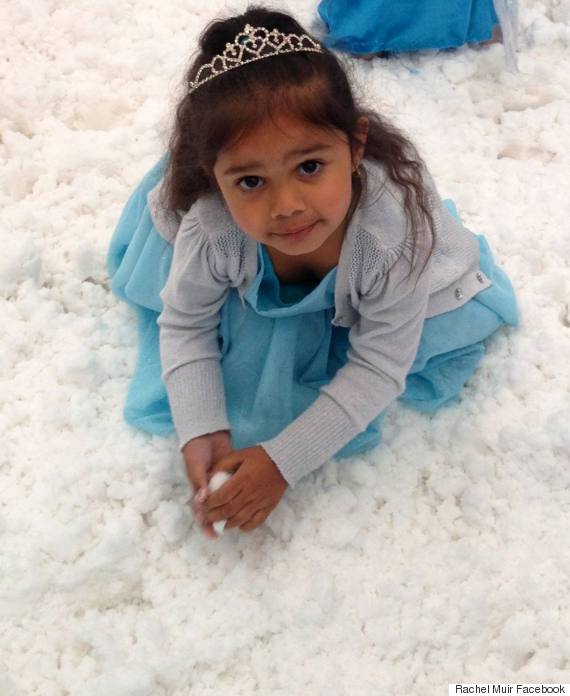 While she waited patiently in line for the children's snow pit at their local centre in Melbourne, three-year-old Samara was told by the woman in front that she shouldn't be dressed up because "Queen Elsa isn't black".
Then, one of her daughters reportedly screwed up her face and said: "You're black and black is ugly."
Little Samara was left in floods of tears by the horrible comments and, in the days following the incident, she became increasingly withdrawn.
SEE ALSO:

Five-Year-Old Josiah Duncan Begs His Mum To Buy Food For A Homeless Man, Makes Entire Restaurant Cry

Colour-Blind Father Sees Children Properly For The First Time And Inspires Others To Do The Same

Pensioner James Harrison Saves The Lives Of Two Million Babies By Donating Rare Blood
Her mother, Rachel Muir told The Courier that her daughter even refused to go to her Aboriginal dance class.
When she asked her three-year-old why she didn't want to go, Samara pointed at the skin on her arm and asked why she was black.
Left upset by how much the ordeal had affected her daughter, Muir took to Facebook to rant about the racism that she'd encountered at her local shopping centre.
My daughter was in tears when we were at watergardens for the frozen activities as a mother & her 2 daughters told my...

Posted by Rachel Muir on Sunday, May 31, 2015
But, as word spread of Samara's story, something rather beautiful happened - not only did she receive hundreds of messages of support from fans across the globe, but Samara has also been crowned a "queen".
She has since been given tickets to see - and perform in - the Disney On Ice show, and has been inundated with Disney-themed gifts.
Meanwhile, indigenous rapper, Adam Briggs', has invited Samara to star in his new music video.
"We are very overwhelmed and shocked by the kindness of people.. I didn't think people would care so much," Samara's mum told The Courier.
"I can't express how much it has meant to us. To know that she has touched so many people … that they see her how I see her, is just incredible.
"She is back to her proud, beautiful Aboriginal self."
UPDATE: Queen Elsa Sent The Sweetest Video Message To This 3-Year-Old After Racist Attack
[H/T BuzzFeed]