Doug, who steered the hit TV show through eight seasons and has now brought the adventures of Vincent Chase and his friends to the big screen tells HuffPostUK he just wants audiences to have a laugh.
He says: "People, especially critics, want to go 'what's the important reason behind this?' There is no important reason, this is supposed to be 90 minutes of fun.
"You're supposed to go to the theatre, forget about your day, have fun. And that's it.
"We're lucky that we get to do this. What you see on the screen is kind of how we feel when we're doing it."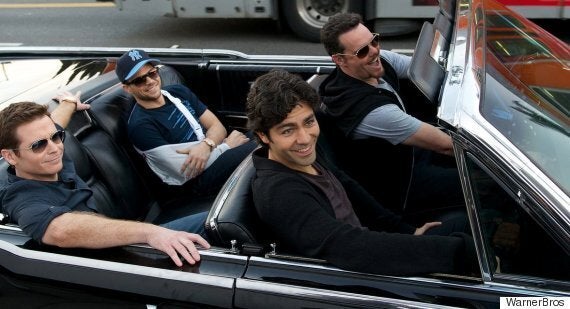 The Entourage boys have jumped to the big screen
Doug also thinks critics are forgetting that this isn't some big-budget thing like 'San Andreas' or 'Spy' which have both triumphed at the box office recently, but a much more modestly-priced production.
"People are judging this movie as though it's a $100m movie, when it's a $25m movie," he says. " We're a modestly budgeted studio movie. It's a wild ride and I tried to put all of that in the movie.
"I don't want you to spend your time analysing it, I just want you to have a laugh."
Doug, who describes his dynamic with the 'Entourage' cast as being very similar in real-life to what we see on screen, also admits that the capers and tantrums depicted in the story don't come close to what he's experienced in real-life LA.
"My first week in Hollywood, I was doing stand-up, and a woman came up to me and told me, 'You're a genius, I'm going to make you a huge star,'" he recalls. "She asked me to call her in the morning.
"I was so excited, I called my parents, I called everybody, and then I called her.
"And she said, 'I was on a lot of drugs last night and I don't remember anything.'"
Which means, all in all, Doug Ellin is fully in support of Mark Wahlberg's decision to have an entourage around him of friends from way back.
"It's very important to have people around you you can trust, especially when you become Mark," says Doug. "It's a very easy place to get swallowed up in, you can lose perspective.
"What was important for me for the show and the movie was to have these guys who'd been with Vincent Chase when he had nothing, so they can keep him grounded and he knows he can trust them."
'Entourage' is in UK cinemas now. Watch the trailer below. Entourage Seasons 1 – 8 are available on Sky Box Sets.