The five things you need to know on Tuesday June 23, 2015...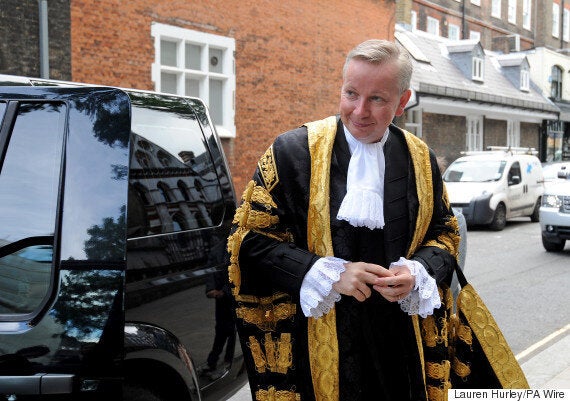 Michael Gove was sent to the Ministry of Justice to prove another fresh, non-lawyerly, pair of eyes on a key area of public policy. In his 9.30am speech to the Legatum Institute, extracts of which were released last night, shows a typically Govian relish for reform, from the use of more Skype in courts to cutting costs caused by delays.
The Justice Secretary's big message politically is that he wants to end the 'Two Nation' system where rich foreigners can take advantage (think libel tourism), while many of the most disadvantaged suffer such as victims of rape, drug crime and people trafficking. The legal profession may give him a fair wind, but is already pointing out two nations exist in the access to justice, following legal aid (and judicial review) curbs.
As it happens, Metro has published a classic in the genre of stories on mad crime tales. It reveals that A man hit with a biscuit and a child brushed with a stinging nettle are among the incidents recorded as 'violent crimes' in Norfolk. I never knew ABH stood for Actual Bourbon Harm. The county's police and crime commissioner (PCC) Stephen Bett utters the immortal words: "You could not make it up".
Sepaking of justice, Simon Danczuk told Channel 4 News last night that he'd warned Ed Miliband to kick Lord Janner out of the party months before the CPS conclusions on child sex allegations. Given time was of the essence, that's sure to cause waves.
Gove is sure to be asked about his speech, and possibly mad crime definitions, in Justice Questions at 11.30am in the Commons. We could get some topical questions on his plans for FoI, as well as his new grammar edicts.
2) FARR FROM THE MADDING CROWD
At the height of his sparring with Theresa May during the last Parliament, Michael Gove's old enemy in the Home Office was counter-terrorism official Charles Farr. (Farr had failed to 'drain the swamp' of extremists in the Trojan horse saga in Birmingham, Gove had claimed).
Well, today Farr has popped up in the news again, this time to gently undermine someone else who has recently talked of the need to be tougher on Islamist extremism: David Cameron. The Telegraph reports that the civil servant has warned against suggesting Muslim communities are 'intrinsically extremist'. Coming just days after the PM talked of Muslims 'quietly condoning' terror, his remarks to a Jewish News event are sure to be seized on.
Here's Farr's key quote on the challenges posed by British Muslims fighting for ISIL (who he said could be as few as 100): "The more we overstate them the more, frankly, we risk labelling Muslim communities as somehow intrinsically extremist, which actually despite an unprecedented wealth of social media propaganda, they have proved not to be. So I think we need to be cautious with our metaphors and with our numbers."
3) MUSHY PLEAS AND BRUSSELS GRAVY
Number 10's language on the PM's renegotiation didn't go down well with Eurosceptics yesterday. The PM's spokeswoman told the Lobby that at this Thursday's EU summit, David Cameron would ask all EU leaders to give the green light to "technical talks" between UK and EU officials. The process would last 'months' and there's a suggestion that concrete proposals may emerge by the autumn. But Tim Loughton has told the Guardian just how much civil servants (especially FCO ones) are mistrusted, especially behind closed doors :"Unless the negotiations are going to be led and overseen by a big hitter – the Prime Minister – we will get a mush. The civil service is not wired to negotiate the best possible deal."
A similar message comes in the Sun, where Bernard Jenkin urged the PM to be "open and transparent", saying: "Secret negotiations will not win support for any deal."
Meanwhile, the daily serialisation of Business for Britain's big tome on Brexit continues. Today, it has two big claims: that UK households would be £933 better off outside an unreformed EU and that Britain is paying £1 to the EU for every 66p of tariff costs it avoids on exports.
BECAUSE YOU'VE READ THIS FAR...
The Psychoactive Substances Bill returns to the Lords for its first day of committee stage today. The Lib Dems have a couple of amendments that when combined would delay the bill by 18 months and possibly overturn its whole intention in the process.
Brian Paddick, the former cop who oversaw the closest project we've ever seen to The Wire's 'Hamsterdam', tells me he wants an evidence-based review of the Government's plans for a blanket ban of headshops. He insists that he's sticking by the Salisbury convention not to kill a policy in a manifesto, but word is that other Lib Dem peers have been telling folks these are 'wrecking amendments'.
With the BBC reporting last night that the Irish blanket ban on psychoactive substances has proved flawed, peers like nothing better than a 'review' or two. Let's see how Labour, as well as the Tories, respond.
There were lots of fascinating lines to come out of what looked like Welfare Day yesterday. The PM's hint at tax credit cuts and his curious refusal to rule out disability benefit cuts in the Q&A were among them. But his remarks about the 'absurd' way we measure child poverty caught my ear most. In what sounded like a clear signal that he wanted to change the system, he said: "because of the way it is measured, we are in the absurd situation where if we increase the state pension, child poverty actually goes up." With the latest figures due this Thursday, some in Whitehall believe IDS's plan for a new definition of child poverty is back in play.
IDS himself was in combative form in DWP Questions yesterday, accusing Labour of increasing benefits just before elections. But Tory backbencher Andrew Percy underlined his own plain speaking northerner credentials when he told Priti Patel that benefit sanctions were driving food bank use in his area: "All I know is that those at Mission Trinity, an excellent independent non-political food bank in Goole, tell me that benefits sanctions are driving people to use it."
Yesterday, it emerged that a man in a wheelchair who could only blink 'yes' or 'no' had been summoned to a Job Centre to prove he needed benefits. It was a blunder and apologies have been made, but another reminder of the vast bureaucracy involved in the system.
The Queen has her 270th overseas visit when she takes a trip to Germany later.
The SNP is set to unveil land reform plans. Will it be an historic shift from the aristocracy or a 'Mugabe style land grab'?
I see that The Speaker's Committee on The Electoral Commission has a report out today on the spending and regulation of the Scottish independence referendum campaigns.
The FT has a neat story on the Treasury sending officials to China to advise Beijing on the right, and wrong, way to use PFI to finance big projects.
Climate change is a "medical emergency", according to a report out today from the Lancet Climate Health Commission.
If you're reading this on the web, sign-up HERE to get the WaughZone delivered to your inbox.
Got something you want to share? Please send any stories/tips/quotes/pix/plugs/gossip to Paul Waugh (paul.waugh@huffingtonpost.com), Ned Simons (ned.simons@huffingtonpost.com), Graeme Demianyk (graeme.demianyk@huffingtonpost.com) and Owen Bennett (owen.bennett@huffingtonpost.com)
Popular in the Community