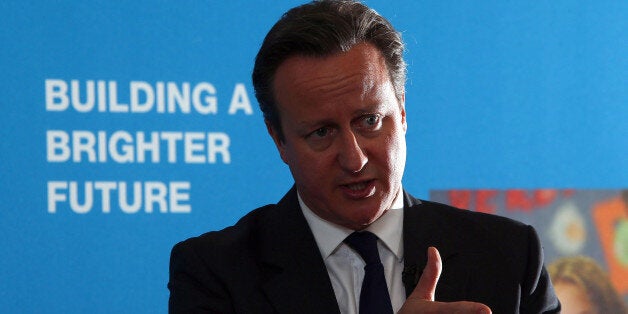 The Government is to change the definition of child poverty by either repealing or amending legislation brought in by Labour, Whitehall sources have told The Huffington Post UK.
The two options being considered for the Child Poverty Act, introduced in the dying days of the last Labour government, come after David Cameron signalled in a speech on Monday the measure of how many children are deemed to be poor is distorts the true picture.
Work on changing the definition comes ahead of new figures to be published tomorrow that are likely to show the first increase in the number of children living in poor households in a decade.
A Whitehall source today said the Act could be ditched and replaced with a new law, or adjusted, to resolve the problem as the Conservatives see it, which was discussed at Cabinet yesterday.
Mr Cameron outlined this week how even a modest rise in the state pension pushes up average incomes - and in turn drags more children into the definition of living in poverty.
A Downing Street source pointed to the Conservative Party manifesto that pledged to come up with "better measures" for child poverty, but that anything beyond that was "speculation for now".
Christian Guy, director of the Centre for Social Justice, a centre-right think tank pushing for reform, told The Huffington Post UK: "It's time for a new approach to child poverty and the Act should be changed urgently.
"The current measure is hopeless and fails our children. Nobody thinks any Government could hit the 2020 targets - even those who passed the law in 2010 knew that deep down - but nor would it change lives if somehow it was possible.
"We need to focus on the root causes of poverty the Centre for Social Justice identified with Iain Duncan Smith, not just spend billions easing the symptoms.
"That means improving life chances, not endless tax credits and welfare payments. The safety net must always be in place but welfare is no solution to poverty."
The Prime Minister said in his speech on welfare reform that the current definition was part of a wider problem of ignoring the causes and instead treating the "symptoms" of social problems Britain faced.
He said: "Just take the historic approach to tackling child poverty. Today, because of the way it is measured, we are in the absurd situation where if we increase the state pension, child poverty actually goes up."
Ministers are braced for criticism from charities over an expected record rise in children classed as in poverty.
The current definition is based on those living in households whose incomes are less than 60% of the "median" average of UK income.
The figures are set to show the Government is on course to miss the target of ending child poverty by 2020, initiated by Tony Blair, even before the £12bn round of welfare cuts.
Related