With the cat purring between his feet, the light suddenly illuminating him in the doorway and one of the screen's most enigmatic smiles, Orson Welles' first appearance as Harry Lime in 'The Third Man' is surely one of the most exciting in cinema history.
However, according to the film's script supervisor Angela Allen, Orson's behaviour off-screen was far less beguiling.
On the eve of the film's exciting debut in its brand new 4k resolution, Angela tells HuffPostUK of her disappointment with cinema's new enfant terrible, back in 1949 when director Carol Reed assembled his cast and crew in war-ravaged Vienna. With the rubble still in the streets piled up to the first floor of once grand buildings, and only one hotel inhabitable for such creative guests in the entire city, Angela joined the rest of the team to film Graham Greene's novella – all, except one.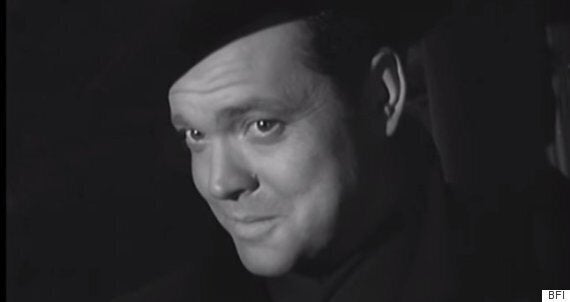 Orson Welles' introduction as the mysterious Harry Lime is one of cinema's GREAT entrances
"Orson had been very difficult," she remembers. "They'd had to chase him around Europe to track him down for filming. He kept disappearing. He nearly didn't show up on time for his first close-up."
She agrees that Orson Welles somehow came up with the goods when required, but she credits his director for, quite literally, showing him in a good light.
"Carol gave him the most wonderful entrance, the close up is stunning, it still works, along with his famous scene on the ferris wheel," she remembers.
"He was a larger-than-life character, and he came over very well, but there was no doubt, he was demanding.
"They had to build a sewers in London because when he went down the ones in Vienna, he was so shocked to see the young boys eating sandwiches down there, he wouldn't go down again."
Angela remains far more impressed by her memories of working with director Carol Reed, whose unique angles made 'The Third Man' so memorable, a technique she'd seen him try out before.
"He used the tilted camera and wet streets in 'Odd Man Out'," she points out. "That was before. He'd already come up with that. He called it Dutch angles."
So, quirky angles and mischievous leading man aside, I wonder if Angela can shed any light on why this small novella brought to screen has endured while so many other bigger stories have been forgotten.
"It's still relevant," she points out. "The story about operating on the black market, but being incredibly well dressed… has anything changed? You can still bribe and get your way.
"Certainly it was one of the first times anybody had been down those sewers and created such a memorable sequence.
"But it is remarkable, really. The 'The Third Man' tour remains one of the most popular expeditions in Vienna to this day, I've been on it myself.
"And the film still plays two or three times a week in the cinema house in Vienna."
Did Angela Allen know at the time she was part of creating a timeless masterpiece?
"Oh no," she laughs. "You never know. You always hope, but you never know."
The restored version of 'The Third Man' is in cinemas from Friday 26 June. The release of the film will be one of the highlights of BFI Southbank's Orson Welles season taking place between 1 July – 31 August. Watch the trailer below...