The five things you need to know on Thursday June 25, 2015...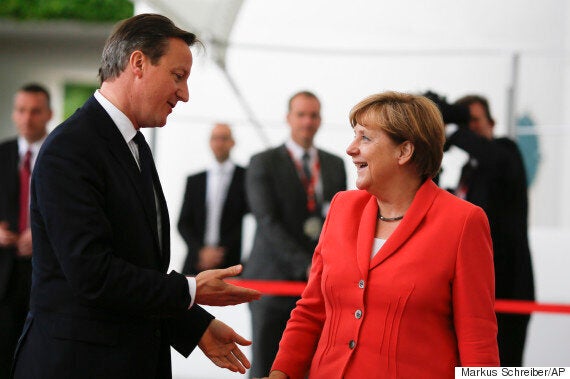 With fellow EU leaders distracted by Greece and migrant crises, David Cameron knows that tonight his renegotiation demands get third billing, at best, at the Brussels summit. But the PM also knows that other leaders realise he has a strong mandate for a Brexit referendum that is not going to go away.
Cameron's plans will be discussed over dinner rather than around the negotiating table, and all he wants is to get the EU to start the process towards 2017 (or autumn 2016, on one timetable). Don't forget Cam has already chatted up most other leaders in person before today. No.10 is deliberately setting the bar low tonight, wanting agreement that 'technical' discussions will now start at officials/sherpa level rather than ministerial level.
But after detail of protocols and parameters of change are hammered out (and the PM will have to show his backbenchers some progress by conference if not by the return of Parliament in October), it's the December EU summit where the real business will be done.
Downing Street was delighted yesterday when Jean-Claude Juncker annnounced a special task force for British renegotiation led by veteran Brit Eurocrat Jonathan Faull. The Guardian points out he'll work with Anglophile Commission vice president Frans Timmermans. Donald Tusk will oversee most of the process. But not everyone is happy. "This is a job for leaders not for senior eurocrats," said one high-ranking EU diplomat tells the FT. Another points out that tonight's dinner discussion will be 'cursory'.
Some big business types - bosses of BT, BAE, Virgin - have written to the Times to say "it's overwhelmingly in Britain's interests to stay in the EU".
But has the Queen come out already for a Yes vote, just as she gave a clear hint of a No vote in the Scots independence referendum? The Telegraph and others seize on her remark yesterday in Germany that: "We know that division in Europe is dangerous and that we must guard against it in the West as well as in the East of our continent."
2) CALAIS-BRATED RESPONSE
The Calais migrant crisis dominates many front pages and for good reason. As the BBC pointed out last night, the 3,000 migrants in Calais pales in comparison to the 60,000 each that Italy and Greece have had to cope with in recent months. But that doesn't mean it isn't a pressing political problem for David Cameron or Francois Hollande. And given that the PM needs Hollande onside for some of his EU renegotiation, Whitehall is expecting much more British help could be piled over the Channel to smooth things, without admitting liability.
Theresa May had an intriguing suggestion yesterday that migrants could be relocated to somewhere in West Africa. But Ken Clarke was advocating camps in Calais in the short term: "We have got to find somewhere where we can hold these people. Not in concentration camps, but in civilised accommodation where you can actually feed them, clothe them, look after them and then process them and work out seriously where they are going to go".
The Times reports that transport minister Robert Goodwill told his French counterpart yesterday that "what you need in France is Mrs Thatcher to sort this problem out", instead of caving in to strikes. But maybe money talks, even to an Englishman. The Telegraph reports that British drivers were being paid up to £20,000 to drive four illegal immigrants into the country at a time. Go figure.
Yesterday's protest in Parliament, with wheelchair protestors getting closer than most to disrupting PMQs, was an early warning to ministers who want to avoid this Parliament being defined by 'the wrong type' of welfare cuts.
The child poverty stats are out this morning and the IFS has already warned they could soar to 2.5 million. Ministers are wary of being seen to 'move the goalposts' but are braced for the worst and a review of the target and the Act will gather momentum after today's headlines have gone.
The Times shrewdly picks up on Boris using his LBC debate to warn against tax credit cuts: "before you start hacking back at people's in-work benefits, you've got to look at the low pay that they are getting from the corporations that could be coughing up much, much more to help them."
Meanwhile, the PM yesterday appeared to contradict IDS when he announced at PMQs that he would publish stats showing how many people had died after losing their benefits. On Monday, IDS said that his department 'does not collate numbers in that circumstance', but yesterday Mr Cameron told new MP Marie Rimmer 'this data..is being prepared for publication as we speak'. Proof once more of the power of the change.org movement (200,000 people had signed a petition demanding publication)?
BECAUSE YOU'VE READ THIS FAR...
I wrote yesterday morning that Nicola Sturgeon's response to all the 'Scots to cut Queen's cash' headlines would be worth watching. She subsequently proved in spades why she is one of the smartest media operators around. After robust denials, Buck House was forced into retreat (or 'clarification') and Keeper of the Privy Purse Sir Alan Reid said its media briefing had 'never intended to be a criticism of Scotland or of the First Minister or to suggest that the First Minister had cast doubt on the continued funding of the monarchy'. Pesky press or courtiers caught out?
Either way, Sturgeon's Twitter smackdown of Channel Four News's Cathy Newman showed just why she is her party's number one 'cybernat'. Newman had written a blog claiming that the First Minister had 'refused to swear allegiance' to the Queen. But she had mixed up the difference between 'affirming' an oath (something atheist or agnostic MPs did lots this year) and not swearing allegiance (which all UK politicians have to do). And boy did Sturgeon pounce.
Jon Cruddas yesterday suggested he was already in the process of setting up an English Labour Party. MPs like Graham Allen loved the idea. But within an hour a party spokeswoman said 'there are no plans' to do any such thing. It's a very tricky one for the Labour leader contenders who want to win back both Scots and English voters without giving up the union.
Liz Kendall yesterday won the backing of Alan Milburn (who admitted he didn't know if that was a curse). Milburn also gave the evils to Andy Burnham, describing him as 'delusional' for saying the last manifesto was the best he'd stood on. The Times points out that while Kendall has recruited Blair's former spinner Matthew Doyle, Burnham has a fair few former Ed Miliband staffers.
Kendall this morning told the Today programme that she wanted to extend the remit of the Low Pay Commission to make it easier to progress towards a living wage. But she refused to back lowering the top tax rate to 40p (Lord Lawson's plan in the FT): "No. Nigel Lawson should point out where he'd get the money from. I'm not a Blairite candidate, I'm my own candidate."
But more interesting is the FT line that George Osborne "has indicated in Treasury meetings that he might cut the 45p tax rate on earnings above £150,000". If I recall rightly, wasn't the optimum OBR rate cast as 42p?
Nick Clegg is on LBC from 9am with his first interview since the shattering defeat. The Guardian reveals after the Euro elections last year he told colleagues "I am very close to thinking...I am the problem". Not close enough, it turned out.
Sajid Javid buries another bit of of the Vince Cable legacy today by announcing plans to sell off a large stake in the state-owned Green Investment Bank, the FT reports.
It's the first DECC Questions for Amber Rudd today at 9.30am, followed by Chris Grayling's Business Statement.
The big Parliamentary event today is the debate on reports into 'Investigatory Powers'. Last night the Standard carried a fascinating report on just how the Met's secret team gets mobile phone and other info to tracing missing people and solve crimes. It's not a coincidence that today the PM publishes Annual Reports from the Intelligence Services Commissioner and the Chief Surveillance Commissioner.
The Sun has an exclusive that the FCO is 'frittering away' (a phrase used in PMQs yesterday) its £343m aid budget on 'Funding Nemo'. Part of the cash was spent finding mates for a Madagascan tropical fish. Philip Hammond is so upset he's ordered an investigation.
If you're reading this on the web, sign-up HERE to get the WaughZone delivered to your inbox.
Got something you want to share? Please send any stories/tips/quotes/pix/plugs/gossip to Paul Waugh (paul.waugh@huffingtonpost.com), Ned Simons (ned.simons@huffingtonpost.com), Graeme Demianyk (graeme.demianyk@huffingtonpost.com) and Owen Bennett (owen.bennett@huffingtonpost.com)
Popular in the Community