You'd think by now high street retailers would have realised that mannequins with unrealistic body shapes are not popular with consumers.
But a New Look store has just been forced to remove a bodice that is thought to have a size zero waist after it sparked outrage online.
The mannequin in question appeared in the women's underwear section of a New Look branch in Turnbridge Wells, Kent.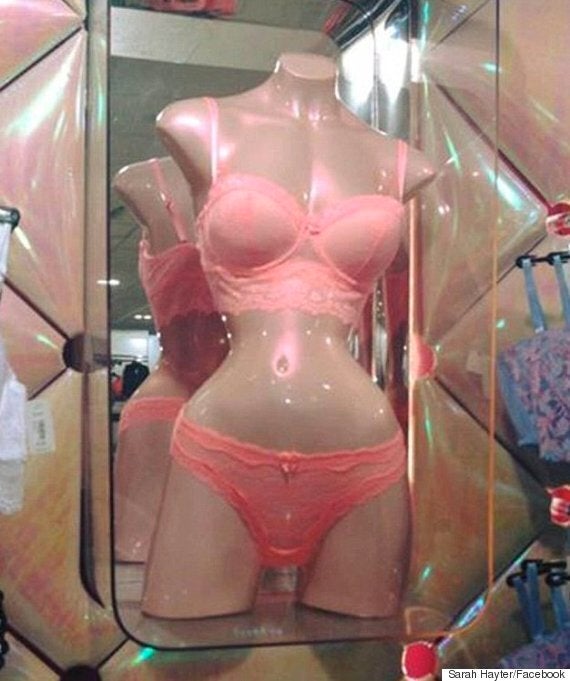 Customer Sarah Hayter took a picture of the mannequin and posted it to New Look's Facebook page, along with the message: "So this is a mannequin in your store - personally think this gives out the WRONG message - especially to younger girls #unrealisticbodyshape #unhealthy."
"It is a harmful body image. It can destroy people."
New Look have since removed the mannequin from the store and issued the following statement to their Facebook page: "We appreciate you bringing this feedback to our attention today.
"It will enable us to resolve this as quickly as possible. We hear and understand your concerns and I'm pleased to tell you that the decision has been made to remove the mannequin from display at the Turnbridge Wells store at Longfield Road with immediate effect.
"We are also going to start an investigation to ensure this style of mannequin isn't used in any other stores or is removed as appropriate.
"At New Look we would never want to encourage women to aim for an unhealthy or unattainable image or life style.
"The issues raised today will be treated with high priority in order to prevent any further distress."
Hayter's post, along with the statement from New Look, has since been removed from Facebook.
In a statement given to HuffPost UK Lifestyle, a spokesperson from New Look simply said: "This is an old mannequin which is no longer on display."
This isn't the first time that a high street store has been accused of promoting unhealthy body types by their choice of mannequin.
Speaking to HuffPost UK Lifestyle at the time, eating disorder charity Beat said: "Retailers should consider very seriously the messages that they put across and we should all play a part in giving a generation of young people confidence in their bodies, their appearance and their sense of wellbeing.
"Obviously underweight mannequins such as this are unhelpful in fuelling the continuous exposure of the unrealistic 'ideals' so often portrayed. People who are at risk, or already affected by an eating disorder can be triggered or maintained in the disorder by the images they see everywhere."
When will the retailers learn?