The five things you need to know on Friday June 26, 2015...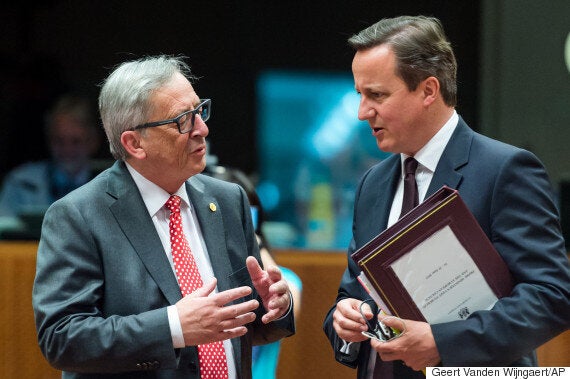 1) THE LONG AND WINDING ROAD
"It's been a long night," David Cameron said as the fraught EU summit dinner broke up just before 3am our time. But unlike other previous long nights (I remember when he emerged bleary eyed from his 'veto moment' in 2011), the PM was a mere palette cleanser amid the multi-course row over the Med migrant crisis.
So Cameron's long-awaited EU renegotiation statement started not with a bang but with a breather. When Donald Tusk turned to him to say a few words, one Brussels source said it was seen by other EU leaders as a 'commercial break' from the fractious row over migrant burden-sharing. After the asparagus, sea bream and strawberries, the PM made a 'relatively brief' intervention that gave some relief to colleagues exhausted by the exchanges. Cameron was greeted with silence, both during and after his short speech.
At one point Italian PM Matteo Renzi yelled at Eastern European leaders refusing to take some of his migrants: "If you don't agree with 40k, don't deserve to be called Europe". He later added: "If you want a voluntary agreement, you can cancel the whole thing, we'll do it by ourselves." One problem for Cameron is that the UK's opt-out on the migrant deal doesn't exactly endear him to a potential ally like Renzi on his renegotiation.
And the wounds over the EU's refusal to accept compulsory quotas are also a blow to Jean-Claude Juncker. After the plates were cleared, the PM said he was 'delighted' he'd started the process of his renegotiation, but Brits will worry that Juncker, not our best friend at the best of times, lacks the authority to sort a good deal on anything.
The news from the summit that will irritate Eurosceptics most, of course, is No.10's admission that there won't be any Treaty change before the EU referendum. FCO sources have for some time warned that the most practical solution is to secure 'binding' protocols that will amend the Lisbon treaty at a later date.
Nigel Farage and Hilary Benn today both used a line that Dan Hannan deployed weeks ago: that Cameron's promised renegotiation will now amount to 'post-dated cheques' that could bounce. No10 insists that it can still get 'legally binding and irreversible' protocols. But the Guardian has perhaps the most worrying line for backbench Tories: senior UK officials say that some member states have said they cannot be expected to amend the Lisbon treaty on behalf of the UK, only to see it vote to leave the EU.
Meanwhile, on the EU referendum front, it seems Farage didn't take kindly to Her Majesty's intervention on Wednesday. The UKIP leader says the Queen was 'badly advised' to warn against division in Europe. And new Defence Select chairman Julian Lewis has told The House magazine that further EU integration could even lead to war. No, really.
The shock of Patrick McLoughlin's Commons statement over the true chaotic state of Network Rail took some time to sink in yesterday. This morning, Shadow Transport Secretary Michael Dugher has moved to keep up the pressure, writing to his opposite number to demand just when the DoT first knew of this looming crisis. Senior industry officials told the BBC last night what many suspected yesterday: that the department had known of the need to 'pause' major electrifications long before the general election.
Stripping staff of bonuses and installing new management were shrewd moves by McLoughlin. But politically, the old game of 'who knew what when' is always the most difficult for ministers, especially if officials try to contain a crisis. The big problem is one of perception too: big delays to electrification in the north and midlands, while the Great Western line gets priority and Crossrail powers on, prompted Dugher to tell HuffPost UK that northerners were 'getting stiffed'.
And it seems railways are the only flawed Government programmes. The FT reports on the Major Projects Authority (Whitehall's watchdog for big schemes) concluding that the MoD's army reservist plans are 'unachievable'. The 'code red' verdict will be seized on by Tory (John Baron) and Labour MPs (Gisela Stuart) alike who've long warned the plans were flawed. GP patient data also gets a red light, while HS2 and universal credit both get an 'amber-red' rating.
The Telegraph has splashed on claims from 'Westminster sources' that Ofcom will take charge of oversight of the BBC, axeing the BBC Trust in the process. Negotiations towards the renewal of the BBC Charter have not begun formally, but a source close to the Government's plans said "you can put your mortgage on it", referring to abolition of the BBC Trust and expansion of Ofcom's remit.
Any such move would give huge responsibility to Ofcom, but never forget it is now run by Sharon White, the Whitehall operator ministers rate highly. I've said it before, but I'll say it again, White and her husband Robert Chote (of OBR fame) are the least well known power couple in the land.
The BBC Trust has few allies but the Guardian pours some cold water on the Tel splash. The forthcoming green paper on the BBC is likely to call for the the Trust's abolition without backing an alternative regulator, according to sources close to the government. "There is going to be an open consultation," said one source. "To say a decision has been taken is just nonsense."
BECAUSE YOU'VE READ THIS FAR...
Check out BBC This Week's mash-up of Tessa Jowell and Kylie Minogue (scroll to 44.19). As my colleague Ned Simons reported this week, Alan Johnson hit out at 'ageist' criticism of Jowell, comparing her to the Aussie queen of pop.
Amber Rudd had two debuts yesterday, the first at the Despatch Box and the second as a Cabinet minster on Question Time. Her appearance on BBCQT didn't go exactly smoothly, despite her showing a Thatcher-style steel at times. Perhaps the most telling exchanges came on the detail of the £12bn welfare cuts. When it was pointed out that ministers were still refusing to explain where the cuts would fall - just as they did before the election, Rudd joked that at least the Government was being "consistent". Asked if George Osborne knew where the cuts were coming from but just wasn't telling us, she replied that she had no idea and people would have to ask the Chancellor.
In the Indy diary, Andy McSmith reveals that Rudd looked nervous during DECC questions, not least when it came to "topical" questions. No wonder. Civil servants had sent an email and follow-up call to MPs – including at least two Labour MPs – who were due to be called to speak, asking them to submit their questions in advance "in order for the Secretary of State to provide you with the fullest answer possible". Not surprisingly, none of the MPs gave her any heads up beforehand. (It seems to be part of a new plague among junior officials, many of whom these days demand to know which questions a journalist will be asking before they agree to ministerial interviews, but that's another story).
5) START OF THE PEER SHOW?
Despite their shattering defeat, the Lib Dems look like they're going to get more peers in the new dissolution list. The Guardian has picked up on Lords leader Tina Stowell telling peers yesterday: "If and when a dissolution list marking the end of the previous parliament is published it would be surprising if it didn't reflect the fact that there were two parties in [the last] government." She added: "Of course there is always an acknowledgement of results at the last general election but this house has never historically reflected party balance."
I bet a few Tory and Labour MPs may have something to say about that. Lib Dem peers form 21% of the political make-up of the Lords, despite having garnered 7.9% of the votes at the general election. Alan Beith and Ming Campbell are rumoured to be among those in contention. The peers list is due very soon and the PM is nervous of charges that it will increase not decrease 'the cost of politics'.
As for the Lib Dems more generally, we are just about three weeks from finding out who their new leader will be (it's a much shorter process than Labour's). Nick Clegg's best revelation on LBC yesterday was that he reached for his first fag in ages on seeing the election night exit poll. He also says he came 'close' to quitting. Close, but no cigar, it seems.
The Greek crisis talks have been postponed to Saturday, but Angela Merkel has made pretty clear that's the final deadline before the markets open on Monday.
The Indy reports that lawyers will next week strike over the introduction of legal aid cuts. Will Michael Gove's new emollience be pushed to the limit?
The HMRC is under fire over its failure to answer 18 million calls last year.
If you're reading this on the web, sign-up HERE to get the WaughZone delivered to your inbox.
Got something you want to share? Please send any stories/tips/quotes/pix/plugs/gossip to Paul Waugh (paul.waugh@huffingtonpost.com), Ned Simons (ned.simons@huffingtonpost.com), Graeme Demianyk (graeme.demianyk@huffingtonpost.com) and Owen Bennett (owen.bennett@huffingtonpost.com)