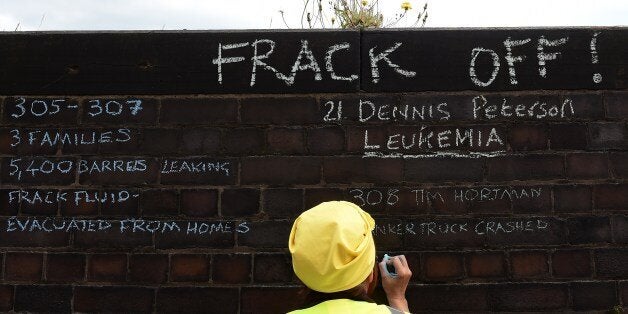 It's not often that huge businesses don't get their way these days - but one small Lancashire village has sent a fracking company packing.
It was a David-and-Goliath tale as residents of Little Plumpton, near Fylde, were ecstatic today as Lancashire's planning council voted against allowing fracking to take place near their village.
The council voted to refuse shale gas firm Cuadrilla planning permission to drill for the resource with nine councillors against, three for and two abstaining.
The news was met with jubilation among villagers and the wider community, with cheering crowds waving placards gathering outside the county hall in Preston.
Many, including Green Party leader Natalie Bennett and MP Caroline Lucas, also reacted gleefully online…
But those keen to see Britain's shale gas industry develop expressed their disappointment at the decision.
According to the Telegraph, Energy minister Andrea Leadsom said: "This will be a disappointing decision for those who wanted to see Lancashire at the forefront of shale development.
"However, shale gas has huge potential in the UK, and is an opportunity to develop a new, homegrown energy source that would displace foreign imports and create tens of thousands of jobs. I'm confident that potential will be realised – and the Government will back it."
In a statement, Cuadrilla said that it was "surprised and disappointed" but the decision.
It added that it would consider its options regarding an appeal.
According to the BBC, Babs Murphy, North & Western Lancashire Chamber of Commerce chief executive, said: "In turning down this proposal, councillors appear to have ruled with their hearts, rather than their heads, and ignored the reasoned arguments of those with genuine expertise in this industry.
She added that it was "bad news for local businesses".
Disgruntled fracking industry bosses also went on to call for a change in planning rules following the defeat.
Popular in the Community