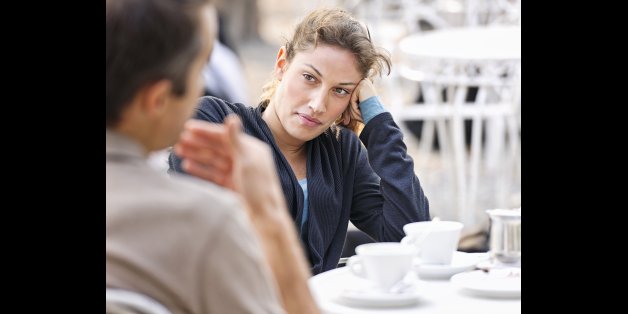 George Clerk via Getty Images
If you never get annoyed with your other half, then chances are you're doing it all wrong.
But fear not - thanks to #AnnoyYourPartnerIn5Words which is now trending on Twitter, you're about to get it right.
Regardless of whether that's stealing chips, telling your partner to do their washing or firing out garlic farts (gross), below is essentially a successful masterclass in being very annoying.
That Laundry Won't Wash Itself pic.twitter.com/Hv40zkT4ya

— Todd W. Haines (@toddwhaines) June 30, 2015
#AnnoyYourPartnerIn5Words "I don't care you pick"

— Rye Davis (@ryedavis) June 30, 2015
"Can I have a fry" #AnnoyYourPartnerIn5Words

— Rye Davis (@ryedavis) June 30, 2015
#AnnoyYourPartnerIn5Words "It's not meat, it's tofu!"

— Dave (@TooOldToBeCool) June 30, 2015
Do whatever you want to #AnnoyYourPartnerIn5Words

— Jennie Stencel (@JennieStencel) June 30, 2015
#AnnoyYourPartnerIn5Words Your nasal hairs are dangling

— Ed Sweetman (@humanpilot) June 30, 2015
Today is your birthday? Oh. #AnnoyYourPartnerIn5Words

— Alan Nicholson (@alanmnicholson) June 30, 2015
We were on a break #AnnoyYourPartnerIn5Words

— Idle⚡️Sue (@superhero_toby) June 30, 2015
#AnnoyYourPartnerIn5Words I thought I was single.

— A big mystery. (@ThoughtsOfJRL) June 30, 2015
You smell like an anus.

June 30, 2015
"I've bought something off eBay..." #AnnoyYourPartnerIn5Words

— Sophie Paul (@sophiejoypaul) June 30, 2015
Get rid of the beard. #AnnoyYourPartnerIn5Words

— Elaine T. Shaffer (@AUNTIELANELANE) June 30, 2015
"Do you REALLY love me?" #AnnoyYourPartnerIn5Words

— Raven Vincent (@trulyraven) June 30, 2015
#AnnoyYourPartnerIn5Words I don't have any food.

— ॐTruePažin (@chdwcks5sos) June 30, 2015
#AnnoyYourPartnerIn5Words "There's no more toilet paper!"

— Dave (@TooOldToBeCool) June 30, 2015
#AnnoyYourPartnerIn5Words We did that last week

— Erin (@CalhounGirl61) June 30, 2015
#AnnoyYourPartnerIn5Words Are you listening to me?

— Jay Losey (@JBLosey) June 30, 2015
Are you having your period? #AnnoyYourPartnerIn5Words

— sean patrick moore (@burntchili420) June 30, 2015
We should invite my mom. #AnnoyYourPartnerIn5Words

— sean patrick moore (@burntchili420) June 30, 2015
Oooh yeah, girl. Garlic farts.

— Tommy Joe (@DrollNDry) June 30, 2015
#AnnoyYourPartnerIn5Words "Forget I even said anything."

— Krud (not verified) (@Krud) June 30, 2015
Is she prettier than me? #AnnoyYourPartnerIn5Words

— Sarah Kaman (@SarahKaman) June 30, 2015
SEE ALSO:

The Best Of Twitter's #ProsOfDatingMe Trend

8 Reasons Why It's Never A Good Idea To Tattoo Your Beau's Name Onto Your Body