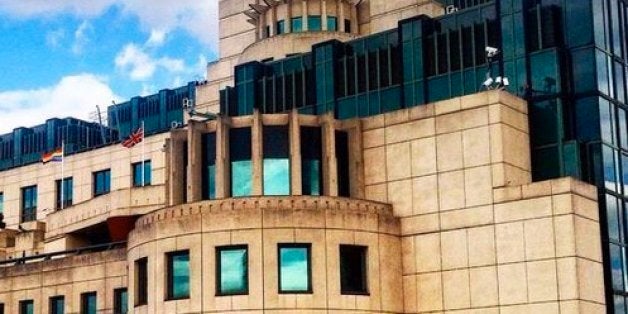 It didn't officially exist until 1994, but the headquarters of Britian's spy agency has now embraced transparency to such an extent it proudly hoists a rainbow flag to mark gay pride celebrations.
The Sun has reported the MI6's chief Alex Younger ordered a second pole to be erected alongside the Union flag specifically to show solidarity with lesbian, gay, bisexual and transsexual (LGBT) people during the London Pride festival last weekend.
The Secret Intelligence Service, or SIS, has been operation since 1912 but was shrouded in secrecy until 21 years' ago.
The display of solidarity follows other public offices making similar gestures of support.
The GCHQ listening post in Cheltenham last month by lighting up its doughnut-shaped headquarters in rainbow colours.
Earlier this month, two top Tory ministers clashed over whether to fly the LGBT 'Pride' flag from government buildings.
Days after Foreign Secretary Philip Hammond ordered his office and British embassies overseas not to display the rainbow flag in the week leading up to London Pride, he was defied by a cabinet colleague.
Senior Conservative minister Matthew Hancock rebuked the diktat, posting a picture of the symbolic LGBT flag flying proudly from his department's masthead.
Newly appointed to the Cabinet Office brief, Mr Hancock tweeted:
Thousands of people took to the streets of London for the annual Pride parade at the weekend with a little added bounce in their steps following the US Supreme Court's positive ruling on gay marriage across America.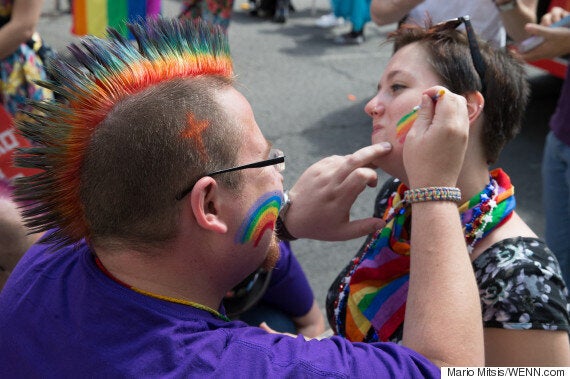 Revelers paint rainbows on their faces in readiness for the Pride march
Related