UPDATE: Tomorrow's Forecast Temperature Is Only 3C Off An All Time Record #Heatwave
As Britain is enveloped in the sweaty embrace of a heatwave it spells a difficult time for tennis players at Wimbledon.
Temperatures could soar to 35C and a health warning has been issued amid concerns the extreme heat could put lives at risk.
The odds of this year's tennis tournament being the hottest ever – beating average temperatures of 25C (77F) during the scorching summer of 1976 - have been slashed to 2/1.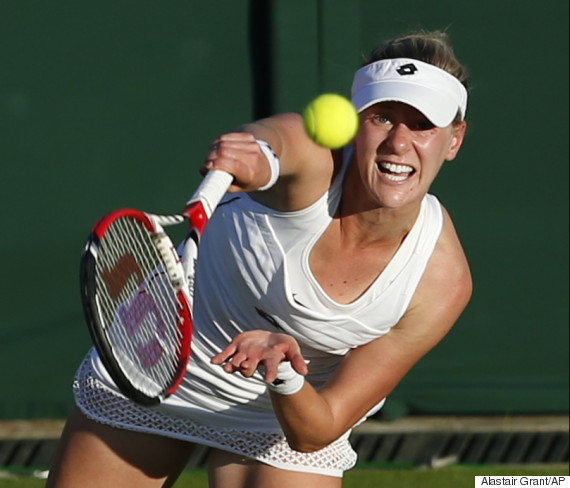 Alison Riske of the United States serves to Lucie Safarova of the Czech Republic during the women's singles first round match on Monday
Meanwhile it has emerged that players in the women's draw at Wimbledon are allowed a 10 minute break during matches if the "heat stress index" reaches 30.1C (86F) - but men will not be afforded the same opportunity.
The rule only applies to ladies' and girls' singles matches that have not yet been called to court. Only one of the players participating in the match needs to request the break for the rule to be implemented.
SEE ALSO: Women Players To Watch At Wimbledon 2015
It is part of the Women's Tennis Association's (WTA) strict guidelines for dealing with heat and it has only been implemented in 2006 and 2009. The Association of Tennis Professionals (ATP) has no similar rule for men.
A Wimbledon spokesman told Huffington Post UK: "As The Championships is a Grand Slam event, Andrew Jarrett, the Wimbledon referee, decides when play should be postponed because of weather conditions, inadequate light or other conditions.
"The WTA heat rule may therefore be applied at his discretion if the conditions warrant its consideration."
Some have described the rule as "sexist":
Err.....how come only women get 'heat breaks' at @Wimbledon ? The men play up to 3-5 sets, compared to women's 2-3! This is sexist! #wrong

— Siobhan Brawn (@MamaDude2) June 30, 2015
Feminists calling Wimbledon sexist giving female players breaks in heat. Have I missed something? Surely its sexist that men arent

— Susanne Claire (@SusanneClaire1) June 30, 2015
@Wimbledon Sexism at its finest, heat breaks during play for WOMEN players only. Terrible! #sexist

— James Liscombe (@Jliscombe_UKIP) June 29, 2015
So the @Wimbledon heat break rule (+30.1C) applies to women's matches but not men's. What's that all about? #Wimbledon2015

— Sam Munnery (@SamMunnery) June 30, 2015
Why is the new heat break rule at #Wimbledon only in place for women? Makes no sense.

— Craig Boyd (@CraigCB11) June 30, 2015
ATP chief executive Chris Kermode told the Telegraph his body's guidelines are "too vague".
"We need to make sure that players are very clear when they step onto the court about what temperature means the roof goes on or a game is stopped."
Andy Murray has also questioned the discrepancies in tennis heat policy.
In 2014, Murray, who will play at Wimbledon on Tuesday, complained about the heat rule during the Australian Open.
Referring to Tennis Australia's policy of allowing women in singles play to have a 10-minute break between the second and third sets in extreme heat, he said: "The women are more than capable of playing best of five sets. It takes [care of] all of the arguments that people want to have if the women play best of five.
"I don't know why there's the different rules for the heat, I don't know exactly why that is. If there's a medical reason for it, then I'm fine with it, if there isn't, I'm not fine with it. That's it."