Ever wondered what kids get up to when they're left on their own for nap time? You're about to find out.
Blogging twins, Niña Williams and Cecilia Moyer from Just Twim Mamas, are currently living under one roof with their families while Niña's house is being built.
The move has resulted in cousins Mariah and Beckham sharing a nap time. But they don't do much napping, so the sisters installed hidden cameras to catch when their toddlers get up to when they're not around, and the results are hilarious.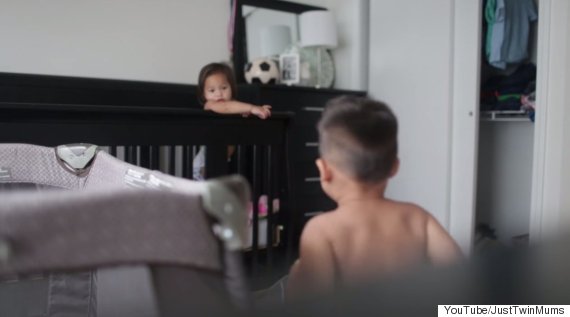 The toddlers talk gibberish and try to reach to each other over the cot. When they fail, sneaky Beckham climbs out of his cot and walks over to Mariah to offer her a sippy cup. But when accidentally hits her in the face with it, his reaction is completely adorable.
After watching the recordings, the mums say that they've learnt a few lessons.
"First, no sippy cups in the room. Second, we need to separate them for naps," they wrote on their blog.
They told Yahoo Parenting: "We had no idea they were interacting so much,' Cecilia told Yahoo Parenting, revealing that they have since separated the twosome during nap time. 'They fall asleep within two minutes now.'