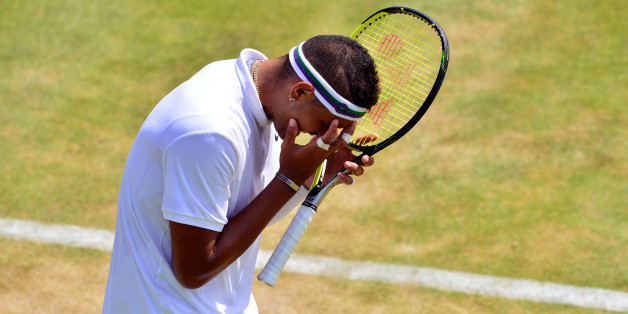 Dominic Lipinski/PA Wire
Just a few sets into his Wimbledon 2015 third round match today and Nick Kyrgios was already living up to his bad-boy reputation.
Although he ultimately went on to win 5-7 7-5 7-6 6-3, the Australian threw a tantrum after losing a point to Canadian Milos Raonic, throwing his racquet at the ground so hard that it bounced up into the stand.
Luckily for the petulant 20-year-old, a member of the crowd was kind enough to retrieve it.
Kyrgios is starting to lose me as a fan.

July 3, 2015
Kyrgios also fell foul of the famously strict dress code at SW19 by wearing a Wimbledon-branded headband with purple and stripes (only white is permitted on court).
To avoid further trouble, he continued to wear the band but turned it inside out.
Before...
The headband is working, #Kyrgios levels the match at one set all. Can the maverick Australian send #Raonic packing? pic.twitter.com/bk1RpXooYD

— betway (@betway) July 3, 2015
After...
Kyrgios has now turned the headband around to comply with the all-white rule (?) pic.twitter.com/vzCzGjrRDF

— Stroppa Del (@stroppadel) July 3, 2015
This is not the first time Kyrgios has been in trouble during this year's tournament either.
Just yesterday he received a thorough telling-off from Wimbledon officials for climbing onto a fence to watch fellow Aussie Lleyton Hewitt playing doubles on court 14.
Wearing hot pink headphones, Kyrgios could be seen peering over the wall - strictly prohibited in case it distracts players.
Kyrgios climbed a fence to watch the kokk & Lleyton lmao pic.twitter.com/BA5gOjUFZ3

— jacinta (@jaacintaa_) July 3, 2015
He was ordered down by security personnel but, true to form, promptly climbed back up as soon as they left.
In just a few days Kyrgios has also managed to fire plenty of verbal volleys at the umpires.
SEE ALSO:
On Monday he appeared to call Mohamed Lahyani "dirty scum" before quickly backtracking and saying he was referring to himself.
And Wednesday saw him rant at Ali Nili, first asking if he was threatening him and continuing: "Does it feel good to be in the chair up there? Does it feel strong to be up there?"
"Is that a threat? Does it feel good to be in the chair?" @NickKyrgios to @Wimbledon umpire http://t.co/aXWXNh4Ludhttps://t.co/IapsvPfPhE

— ABC News (@abcnews) July 1, 2015
The player was unrepentant in a press conference later that day, putting his behaviour down to an ongoing sinus infection, and said: "I just thought he thought he was top dog in the chair really.
"He was telling me not to speak to him, all that stuff. Doesn't really matter, you know."
Reaction to his antics today was mixed, with some disapproving…
Kyrgios slams racquet & it bounces into crowd. I've been a fan but starting to lose me. Another crack at umpires he becomes a douche.

— Todd Balym (@balym_CMail) July 3, 2015
Kyrgios almost took that elderly lady's face off when he chucked his racquet - and didn't even apologise. What a character!

— Ben Dirs (@bendirs1) July 3, 2015
\
Not liking the attitude of Kyrgios. See that racquet fly into the crowd! #Wimbledon#disrespectful

— Julius Manipon (@JMPhotography87) July 3, 2015
If Kyrgios injures someone with that racquet toss he's out of the tournament. Poor form. #Wimbledon2015

— cameron beaman (@CamBeaman) July 3, 2015
While others were less bothered…
Kyrgios just threw his racquet into the crowd and then hit a ripper shot down the line. I love this man.

— Laurence (@LaurenceRosen) July 3, 2015
He's just never boring to watch. Love it. #Kyrgios#Wimbledon

— Chris Kaias (@ChrisKaias) July 3, 2015
People who don't like Kyrgios are what is wrong with tennis.

— Joe Harrison (@joeharrison1991) July 3, 2015