To mark the 10 year anniversary of the London 7/7 terrorist attacks, HuffPost UK is running Beyond The Bombings, a special series of interviews, blogs, in-depth features and exclusive research reflecting on how Britain has changed since.



Gill Hicks is no stranger to uncomfortable questions.
On the morning of July 7, 2005, she was standing on a busy Tube train, just one person away from teenage suicide bomber Germaine Lindsay. Her legs were blown off when he detonated his device near Russell Square station, killing himself and 26 people around on the carriage.
Hicks was the last person to be pulled alive from the wreckage of London's bombings that day. She lost 75% of her blood, and defied all expectations by surviving after paramedics, doctors and police worked tirelessly to save her life.
As her world came into focus in hospital, Hicks faced a question that floored her. "They had managed to bring my legs to the hospital," she says. "I couldn't believe they were there."
Then there was the uncomfortable moment when a police liaison officer asked Hicks what she wanted to do with her legs.
"Can I see them?" she asked.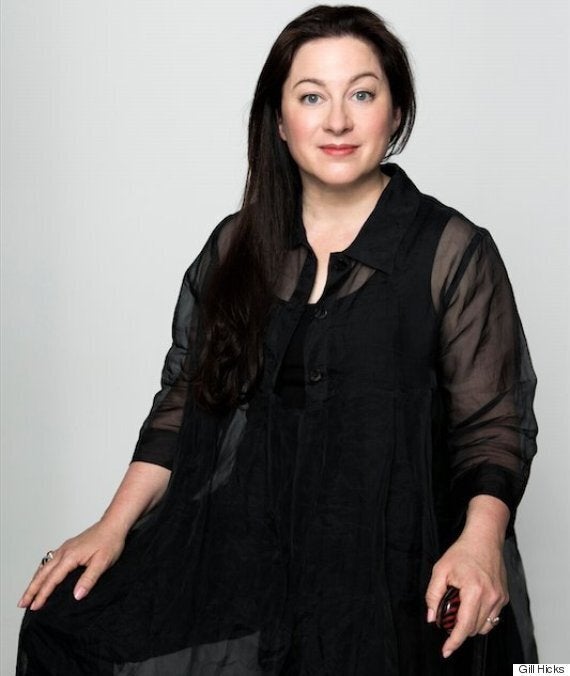 Hicks uses both prosthetic legs and a wheelchair, depending on her pain levels
"No-one was at all prepared for that," she admits now. "So they prepared the legs as best they could, and I went to see them in the morgue, on this special cushion. It was like where you would go and see a relative, but there were these legs."
"The feet were perfect. I was always meticulous about painting my toenails. And I just couldn't get over it. I tried to remember every little bit of them that I could. You know how everyone seems to have a callous on their big toe somewhere? I just thought, 'This is me, and I don't want to miss the opportunity of this full experience'."
The Thursday morning that led Hicks to that surreal moment is littered with agonising coincidences.
"Anyone that's a Tube commuter really identifies with anybody's story from July 7th," Hicks, now 47, explains. "For me, it was just that so many little parts of that morning conspired to ensure that I was in that carriage at that time, with the suicide bomber."
She'd slept in, and had been having a "huge argument" with her then fiancé Joe. "I don't normally catch that train, I'm never ever late for work, but that morning I was. I got to my usual Tube station and didn't have my travel card, so I had to buy another single ticket."
She was determined to get on the train, and pushed her way through the doors. "I remember being so forceful in not being shoved back from the platform, when everybody was trying to get on."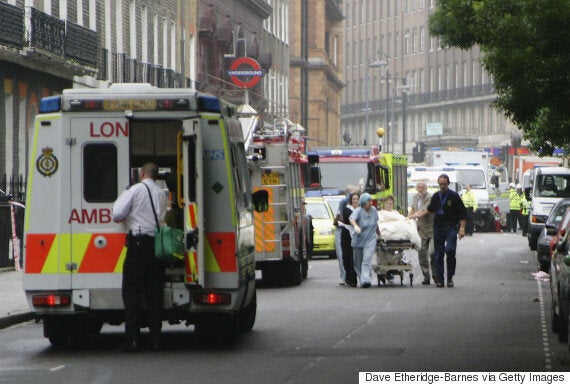 Emergency services helped Hicks and those caught up in the bombings near Russell Square
When the blast went off, Hicks had no idea what had happened. "It was just like when you take a breath: it was that quick. Everything just plunged into a tangible, thick blackness."
MORE BEYOND THE BOMBINGS:
Lying on the floor of the carriage with blood flowing from her body, she assumed she had suffered a heart attack and died, until she heard the screams of other passengers. "That really made me feel a strange sense of reassurance that, whatever has happened: firstly I'm not dead, and secondly, we're all in this together."
It was in that moment that she made the decision that would lead to the work she does now. She spends what she calls her 'second life' facing up to yet more uncomfortable questions: addressing violent extremism through campaigns, education and community outreach with her company MAD (Make A Difference) for Peace. "Without getting too spiritual, I absolutely made a vow in that carriage that if I survive, I will completely devote myself to making a positive difference, but I didn't know what that would be," she says. "I didn't know that this was a terrorist bomb. When that was revealed to me it was then very clear: 'Ah, this is where I need to spend my life.'"
Another moment in the carriage reinforced what she calls her "great insight of understanding humanity." Some kind stranger lifted her up from the wreckage of the carriage floor, and placed her on a seat, but to this day she has no idea who that person was.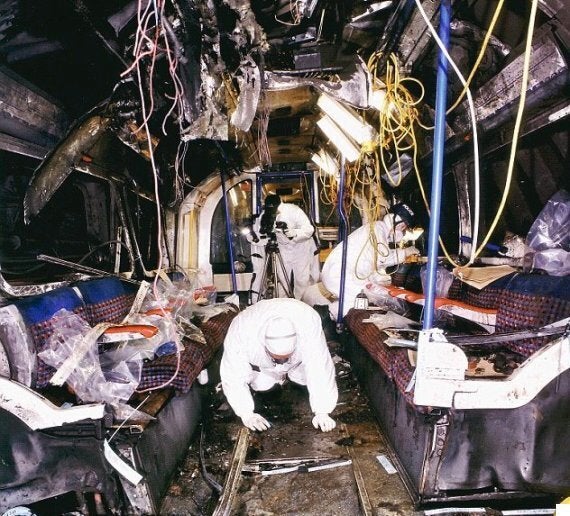 The destroyed Tube carriage where the bomb went off
It was then that she saw the extent of her injuries. "I felt absolutely no pain, so there was nothing to signify the loss of both legs. They were sort of semi-attached by a sinew of skin and the rest looked like an anatomical drawing, My brain was looking at this and trying to process, and saying, calmingly, 'Gill, it looks a lot worse than it is, don't worry.' I was even reassuring others saying 'it will all be fine, all of these things look a lot worse than they are.'"
She tore her scarf in half and tied it around her legs to stem the bleeding, an act already foreshadowing the incredible resilience that drives her anti-extremism work. "If I switch to start talking about myself in the third person," she says, "It's because I still, 10 years on, just so in awe of what our body is capable of doing. If somebody had said to me: this is what will happen to you today, I would have said absolutely I will not be able to deal with that."
Hicks is deeply conflicted over whether she believes that her being on the train that morning was fate. "I have really mixed feelings. I met the children of a man who was killed in the carriage. There were these two beautiful little kids, and I just thought 'How can this be fate? How could their father being taken from them be their fate, and be his fate?'"
What the experience has given her is an acute awareness that a minute or two can determine someone's future. "That's what kind of gets to me: that nuance. It's just a fraction of time and my story could have been very different."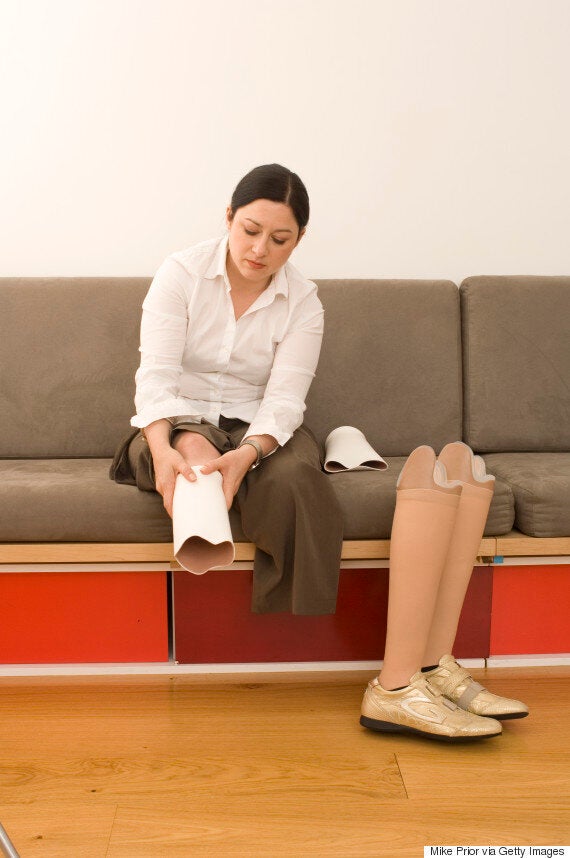 Demonstrating her prosthetic legs in 2006
She hadn't noticed the bomber, Germaine Lindsay, before the detonation. The 19-year-old, who was born in Jamaica and was living in Buckinghamshire working as a carpet fitter, left no video or message explaining his motive for setting off the homemade bomb hidden in his backpack.
Hicks thinks of him as a symbol "of a person who takes the route of a violent extremist", the kind of person she is now trying to understand, and ultimately prevent. She quit her job in design and architecture after the bombings (she was the Head of Curation at the Design Council) and has spent 10 years trying to make a difference in the lives of people who could become another Lindsay.
"I'm often asked about if I forgive him, and I feel that actually it's not about him," she explains. "I don't even presume that he would want my forgiveness. Right up until that moment he detonated his bomb, he had his own free will and he had choice. And he detonated that bomb: this is what he wanted to do.
"He boarded that train, and he classified me as an enemy. He classified me as a legitimate part of whatever he was doing, thinking that that was going to be part of the course of highlighting their plight.
"It would have been nice if I was asked. It would have been nice, rather than you presume a whole lot of things about me."
Hicks believes communication, not threats, is the key to dissuading young people from committing mass murder in the name of religion.
As soon as she could after the bombs, Hicks travelled to the Leeds area, where Lindsay had grown up and where the other bombers lived. She visited Muslims there: religious leaders, families, friends, to ask what they could do together.
"Those communities were devastated. This is the other part of the terrible effects that terrorism also has, on the very communities that these people have come from."
The meeting was the catalyst for her first public engagement project: spending a month walking 200 miles from Leeds to London on her prosthetic legs with Muslim and community leaders, to talk with people along the route about different beliefs, and what they had in common.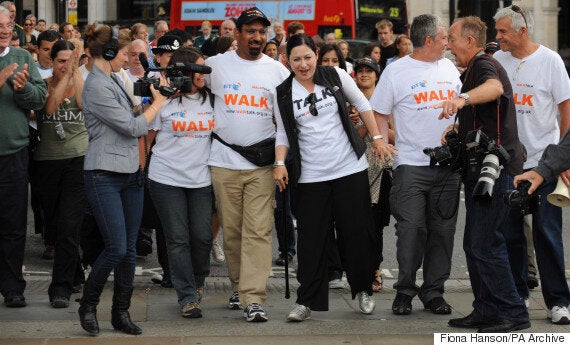 Hicks arriving at Trafalgar Square to complete her one month long, 200 mile walk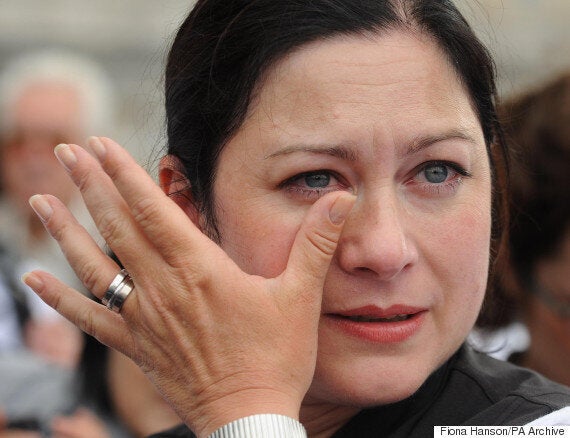 The emotional end to her 'WalkTalk' walk
She believes that governments spend a lot of time and effort "on the defence side" of anti-terror projects, but more needs to be done to establish what leads people to be radicalised, as Lindsay was several years before he made the decision to set of a bomb that killed 26 people he had never met.
"There needs to be a lot more focus on prevention," Hicks explains. "I liken it to health: you don't want to be in a situation where you look at the cure for the problem, you want to be preventing this even happening."
She thinks we need to "join the dots" on the growing problem – affecting the UK as well as Australia, where she was born and has returned to live – of people prepared to travel to Syria and Iraq to support Islamic State (IS). "Who would choose to go and camp in Syria, when you come from a place that has every amenity you could possibly ever want? That's a very big leap, and so we need to understand."
Extremists, she believes, employ the same persuasive tactics as motivational speakers – a role she herself has been praised for globally. "The techniques are exactly the same: whipping people up into this sort of frenzy, it's a call to action."
What she has learnt from working with those attracted to Jihad is that simply telling someone that it is wrong doesn't work. "To all intents and purposes, these people think that they are making a difference for good, and that there is no criminal activity. So it's very hard to dissuade someone who can't even start to see that what they are doing is against humanity.
"We need to start thinking, what are the pieces of communication that people will hear with great effect? Rather than saying 'You're wrong, we will denounce you if you leave this country'. I just don't think that even touches the sides - if you're already of that conviction, denouncing their citizenship isn't going to make an iota of difference."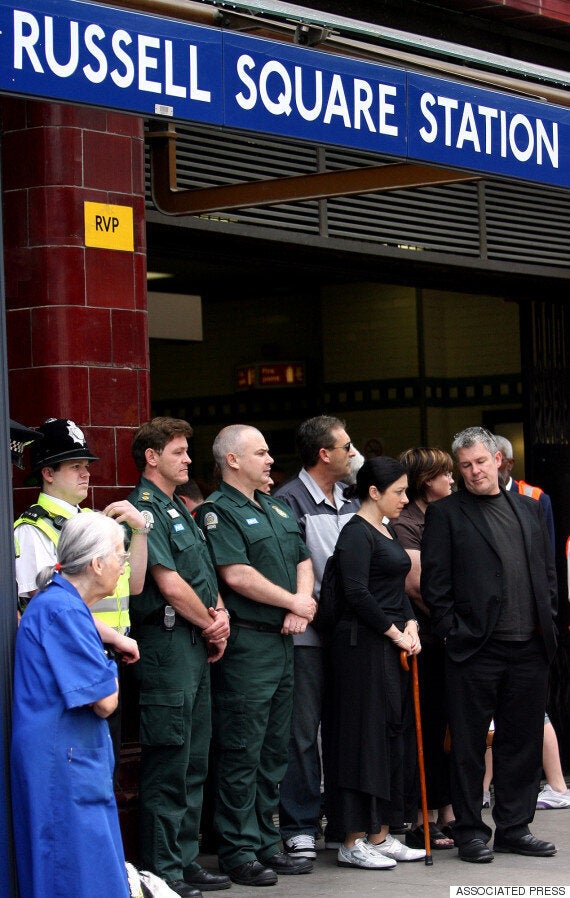 Hicks with survivors, relatives and emergency service workers in a two minute silence outside Russell Square tube station for the first anniversary of the bombings
We can even learn from the powerful persuasive techniques of the so called Islamic State, she says. "They manage to join the dots globally very well, through their messaging and through their absolute allure and seduction. So I think there are great opportunities that they show us of how we can counter what they do, we just need to have the right pieces of communication."
The success stories of convincing people to turn away from radicalisation are often unexpected. Hicks was working with a UK-based 16-year-old who wanted to become a suicide bomber. He eventually changed his mind – but not because of anything Hicks had said. "He told me he just loved soccer," she says. "So because he loves soccer so much, he will never go through with becoming a suicide bomber, because they just can't guarantee that there is soccer in the afterlife."
It's this personal approach - sometimes picking up on very practical, even trivial aspects of a would-be Jihadist's life - that needs to be encouraged, she says: "You can't do fancy footwork around the facts."
She is strongly in favour of former extremists teaching young people to resist the allure of extremism, something that others have questioned as risky. "It gives you the power of someone saying: 'Look, I was where you were, and I'm not there now and these are the reasons why your thinking is flawed.'"
As Lindsay isn't known to have made a suicide video, the only insight Hicks has into his state of mind was the video of his fellow bomber Mohammad Sidique Khan. "He clearly says in that, we are going to give life to our words through your blood. And he cites foreign policy and all these things, and I just feel, actually you idiots."
She feels it is the ultimate irony that the bombers targeted the famously multicultural capital, a city where thousands protested against the Iraq War and which had just won its bid to host the Olympics Games. "London is a very particular case in that I think London represents the world. You don't have to go far to find somebody who's from somewhere else other than London."
When she was rushed to hospital, as an anonymous casualty close to death, a bracelet was placed on Hicks's arm reading "One unknown, estimated female".
"These are the facts on what I believe humanity is capable of," she explains. "Because on that morning people risked their lives to come and save one unknown, estimated female," she says referencing the fact that in the Madrid train bombings earlier that year, secondary devices were deliberately placed to explode later and kill rescuers.
"When we think about those paramedics and police, and young guys rushing into those tunnels, that to me says it all," Hicks says. "It didn't matter what colour my skin was, and it didn't matter if I had a faith or no faith at all, and it didn't matter how much money I had, everything was stripped back to me not having an identity, but just being a human life."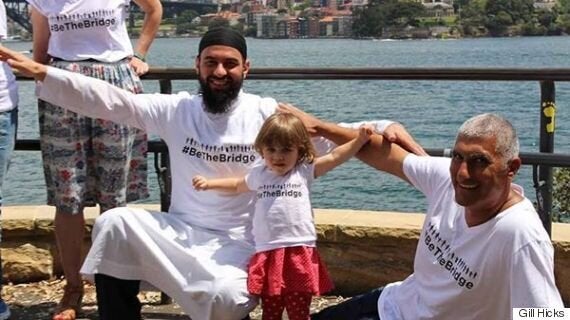 Hicks's daughter Amelie wearing a t-shirt for #BeTheBridge, Hicks' initiative to get different people together to bridge divides
As for the physical injuries that terrorism has dealt her, Hicks doesn't believe she will ever achieve a "recovery". "I've had to take the word out of my vocabulary and re-adjust my thinking, because recovery to me means that my legs will grow back.
"To be able to really get my head around that, I've had to just say 'Ok, I won't recover, but I can adjust'. I can adapt to every single subtle change, and seismic change, that happens within my body and mobility."
Today, Hicks mostly uses her prosthetic legs, but says "no two days are ever alike" because of the traumatic nature of her injuries. Sometimes, she will use her wheelchair, and sometimes the nerve pain is so much that she will have to cancel full days of work or speaking appearances.
Her courage made her one of the most well-known survivors of the attacks. During the July 7 bombing inquest, Coroner Lady Justice Hallett addressed Hicks, saying: "Where do you get such an indomitable spirit? Until I started this process, I had no idea that people could survive as horrific injuries as yours. You are amazing."
But it's not easy. "I have found that as each year passes I get angrier and angrier at the loss of my limbs and the senselessness of it all," Hicks admits. "Especially now, living back in the warm climate of Australia and being the mother of a very lively toddler. I can't run with her, I can't enjoy the beach, paddle at the ocean's edge, feel the grass beneath my feet, all the things that I took for granted."
Hicks was set to get married just six months after the bombings, and her romance with Joe captivated the media. When she succeeded in walking down the aisle on her prosthetic legs just months after her horrific injuries, newspapers rejoiced and wrote about her "fulfilling her dream of walking up the aisle."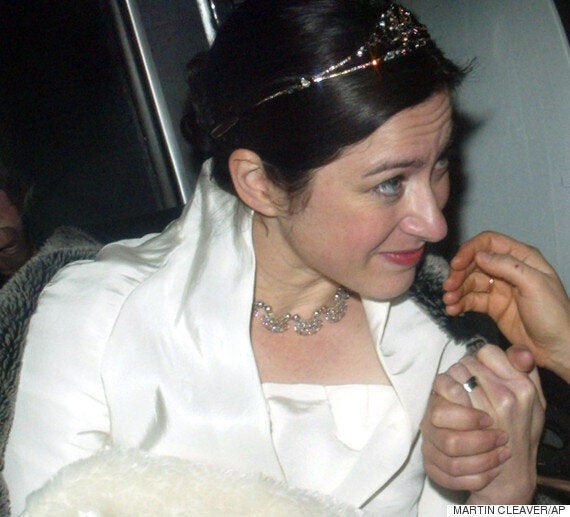 Hicks on her wedding day in December 2005, five months after the attacks
But three years later, those same papers were prying into the end of her marriage, and a Sky documentary about her in 2010 was set to be called 'Love Conquers All' but was changed to 'Gill Hicks: Surviving 7/7' after the relationship ended.
She now lives in Australia with her baby daughter, Amelie, and has a new relationship with partner Karl - and many journalists still seem to be far more interested in her role as mum and partner than her international peace campaigns.
"I can't stand it," she laughs. "I desperately try and say that there's so much I do that actually places me as a credible voice within the context of extremism, and every single journalist will say 'Oh that's nice. Anyway, so who are you currently dating, or what's happening with the baby? Are you having another baby? What's your sex life like?'
"It's strange how I haven't been able to shake the whole family tag. Maybe it's uncomfortable to talk about violent extremism with somebody who clearly has quite horrific injuries as a result."
Despite this, Hicks is deeply thankful for her new family, and the rescue workers who made sure she was alive to meet them. Tracy, a senior paramedic who was one of the first to help her, is her best friend, and the pair have just abseiled 100 feet down the side of King's College Hospital to raise money for other hospitals including St Thomas', where Hicks was treated after the bomb.
It's part of ten challenges Hicks is doing this year to mark the decade anniversary of the attacks, including swimming with sharks, running, tap dancing and walking on hot coals.
She also launched a song on June 18, encouraging musicians to respond with their own song about peace, and did a project called 'Cease' where she encouraged people to do nothing for two hours, to simulate a two-hour ceasefire. "I constantly hear people say 'There's nothing I can do' so I thought 'Let's play on that.'"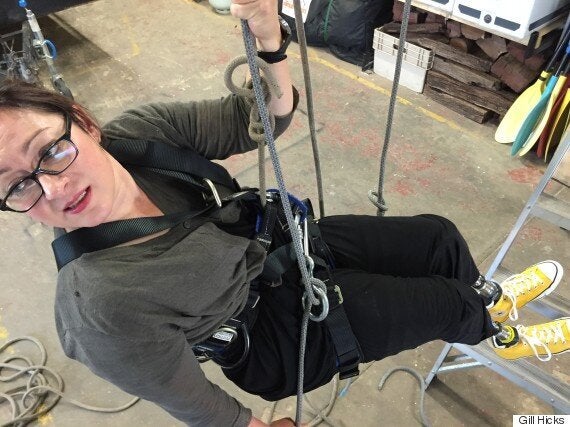 Hicks training for the abseiling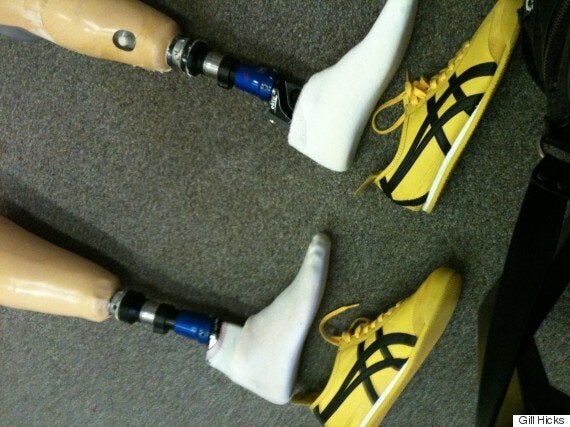 Hicks' shoes for abseiling
Her gratitude to Tracy and her other rescuers - who she counts as family - is profound. "I have to attribute everything I have to these people. If my life hadn't been saved of course I wouldn't have gone on to have Amelie. Then you can start to draw this grand big picture from that which is if she then goes on to have children herself there can possibly be a whole lineage of people that wouldn't be here had people not given their all to me that morning."
"To have this little person is extraordinary, and for me that reinforces this amazing part of my story: that nobody ever gave up trying to save my life."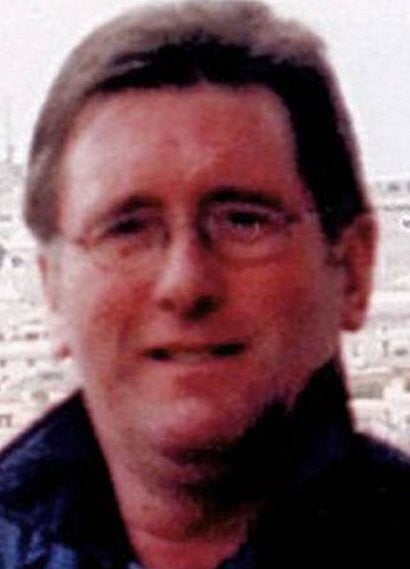 7/7 Victims