International Kissing Day is not just and excuse to stick your tongue down someone's throat, it's also an opportunity to open the world's eyes and start fresh conversations around important issues. Namely: disability.
According to startling research, just 7% of the population have been on a date with or asked out a disabled person. And that's not right.
So this year, leading UK disability charity, Scope, have released a heart-warming film featuring people with disabilities kissing their partners in a bid to challenge assumptions about disability.
The film is part of the charity's End The Awkward campaign, which hopes to break down the awkwardness that too many people feel when talking to – or dating – a disabled person.
The film stars real-life couples Ollie Hancock, who was born with the lower part of his right arm missing, and Jen Shersby; Diane Noella, who is visually impaired, and Anthony Pike; and Michael Buckley, who uses a wheelchair, and his wife Claire.
Claire and Michael, who is a wheelchair user, are featured sharing a passionate kiss outside a restaurant as she sits her husband's lap.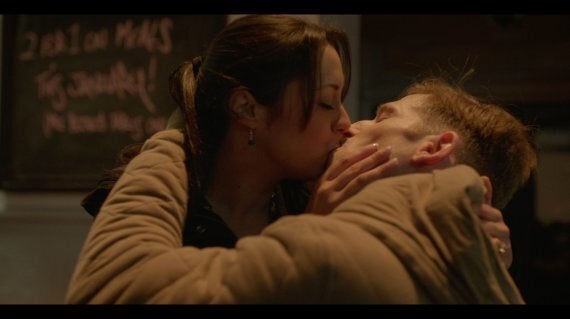 Michael, 38, who works as a presenter, says: "End the Awkward has an important message – some people don't know how to handle some situations, treat or even speak to disabled people.
"The film shows we are just people too. Plus, having a toddler keeps my wife and I pretty busy so it was a great chance to have a kiss and a cuddle!"
Diane and Anthony are seen kissing in their living room, while Ollie and Jen are filmed smooching in their bedroom.
Michael says early in his relationship with Claire, they were messing around and she pushed him in his chair into a lift. He grabbed the rails in the lift to stop himself, but she kept on pushing and he fell out of the chair.
"We had both had a couple of drinks and found it hilarious. The lift doors shut and we moved to the next floor, when they opened again the people waiting looked in horror at me on my back with my legs in the air and my wife pointing and laughing. Not one of them said a word or got in the lift. Awkward!"
And the shocking statistics don't end with romantic relationships.
Scope's research shows that the majority (67%) of Brits feel awkward around disabled people, and as a result they panic or worse - avoid contact altogether.
A staggering eight out of ten people in Britain (76%) have never invited a disabled person to a social occasion.
Half of the British public (48%) has never started a conversation with someone disabled.
And less than one in five (16%) people have invited a disabled person round to their house.
Nearly half of the British public (43%) do not personally know anyone who is disabled
Over three quarters (78%) said they would not be comfortable speaking about disability in front of a disabled person, with many worrying they would say something inappropriate or use an offensive term by mistake.
Many people said that getting to know someone disabled (35%), or getting advice from disabled people (28%), would make them feel more confident when meeting a disabled person.