There's something strange in the neighbourhood and Ghostbusters director Paul Feig has just tweeted about it.
#whattheygonnadrive pic.twitter.com/bBLEhrfTEQ

— Paul Feig (@paulfeig) July 8, 2015
Feig has been drip feeding a constant stream of Ghostbuster paraphernalia giving fans an indication of what to expect in July 2016, when the new female lead reboot is set to be released.
However, it is the iconic car, Ecto-1 that has divided the film's die hard fans. While some appreciated the sneak preview, other were angry about the remade vehicle that has lost its predecessor's Cadillac's tail fins.
@ID3052 @paulfeig I agree, just looks like a bad knockoff of the original, without any "class" ... Maybe I'm too much a fan of the original?

— Richard Tee (@RichardTheGeek) July 8, 2015
@paulfeig i'm not sure if you're either blocking or deleting all negative tweets about this, but it looks terrible. I'm saying that as a fan

— Steve Szyndrowski (@ID3052) July 8, 2015
@paulfeig you crazy son of a bitch, that looks pretty good! Who is going to be driving that bad boy?

— Anthony Parisi (@Parisi2274) July 8, 2015
@paulfeig This is corny but when I saw Ecto-1 I got a teary eyed. I've been waiting 25 years for a new Ghostbusters. Thank you Mr. Feig.

— John Gibson (@anglijohn) July 8, 2015
@paulfeig Horrible. Stop making shitty copies of what came before you. Try something new for God's sake!

— Robert Hamilton (@vadersblade) July 8, 2015
@paulfeig Not feeling it! maybe because all I remember seeing these as is as a hearse?

— Lee Wayne Ryder (@LeeWayneRyder) July 8, 2015
@paulfeig In a word...awful. You really have NO respect for the original masterpiece that is #Ghostbusters do you?! pic.twitter.com/85YsDn1g9h

— Disasterpiece ™ (@Disasterp1ce) July 8, 2015
@paulfeig Damn it, Paul, why must you post this beauty at 11 at night. I've got work in the morning and now I'm all excited.

— Kevin Lames (@KevinTheJames) July 8, 2015
If you are wondering what all the fuss is about, this is what the original car looked like: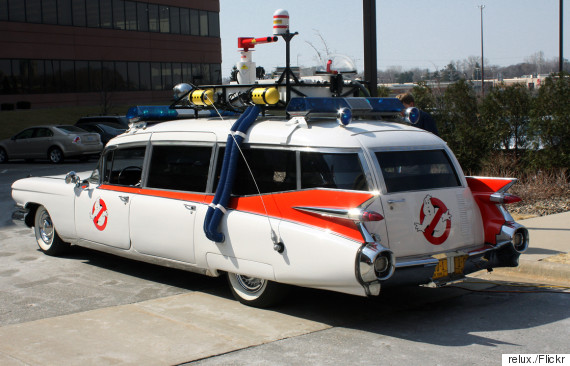 Earlier in the week, Feig kicked off the Twitter hype by releasing a heavily annotated picture of a proton pack, a vital piece of equipment (as you've guessed) for busting ghosts.
#themoreyouknow pic.twitter.com/4t2wMtvC3q

— Paul Feig (@paulfeig) July 6, 2015
We'll have to wait till 2016 to see if the film will bust the naysayers too, who for the moment seem averse to a remake of the classic.