On Wednesday, George Osborne announced maintenance grants for the country's poorest students would be cut and replaced with loans.
Students have reacted with shock, understanding and nonchalance to the cuts, which will come into play for the 2016-17 year.
Speaking to HuffPost UK, George Carter says he thought the change was "fair".
"As a student who receives no means tested loan despite being in a household with stretched finances I welcome the change," he says.
"Those successful students from poorer families (some of which attend Oxford and Cambridge) will pay back the loan with their high earnings comfortably. In contrast, the lower earning graduates will likely never have to repay this increase in student loan.
"Therefore this is a fair change and I do not think it will put people off university education."
@HPYoungVoices As long as the repayment structure stays the same, what's there to worry about? It's still good debt (for now). #budget2015

— Jake Clegg (@jake_clegg) July 8, 2015
@HPYoungVoices @HuffPostUK I received a grant while I was at uni and to be honest didn't need it. students can always get a part-time job

— Joseph Rutter (@JosephRutter) July 8, 2015
However, others expressed their outrage at the changes:
This generation are just shafted , what a terrible time to be young in the #UK #GeorgeOsborne not a friend to young people. #budget2015

— Annajoy David (@AnnajoyDavid) July 8, 2015
That's my future out of the window😒#Budget2015

— Emily Kenyon (@emilykenyonxo) July 8, 2015
Everybody be buying nothing but Tesco value items now😭 #budget2015

— Nasrin ♡ نسرين (@XNaNaNasrinX) July 8, 2015
@HPYoungVoices @HuffPostUK I'm a Mature Student, further loans will be crippling for the future.

— tim perkins (@anarchicone) July 8, 2015
Currently, students in England and Wales from families with an annual household income of £25,000 or less are awarded a maintenance grant of £3,387 a year to cover living costs.
They will now receive a loan, of up to £8,200, which will be paid back once they earn more than £21,000.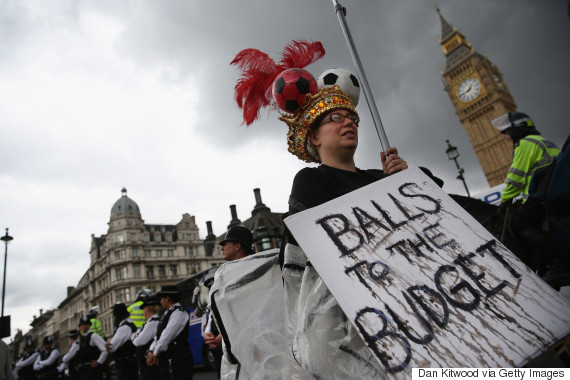 Protesters gather outside the Houses of Parliament as the Chancellor of the Exchequer George Osborne delivers his Budget
University and College Union (UCU) general secretary, Sally Hunt, said: "Maintenance grants are crucial for engaging students from disadvantaged backgrounds who are already daunted by cripplingly high tuition fee debt. Increasing the debt burden on students will act as a disincentive to participation, and it does not make sense for the taxpayer either as the extra loan amount is unlikely to be repaid in full.
"Any further increase in the cost of tuition fees, as proposed by the chancellor, risks putting off many of those who would benefit most from university."
Megan Dunn, president of the National Union of Students added: "Students living on beans and sketches about student poverty have become a punchline. But this isn't a joke, it's a national crisis.
"For our poorest students every day is a struggle. It is really important for them to have money in their pockets they know they are entitled to, and won't have to pay back. It gives them the confidence they need to succeed.
"This is the second time the government has abolished non-repayable payments for students. Five years ago, poorer students would have received EMA while at college and maintenance grants while at university. Now they're both gone, amounting to a cut of £12,500 in support overall for poorer students who go to college and then university.
"On top of this the government has missed an opportunity to really address the long-term cost of living crisis facing students today."