The upcoming 24-hour Tube strike will cause "big disruption" and is "totally unnecessary", the boss of the London Underground has said.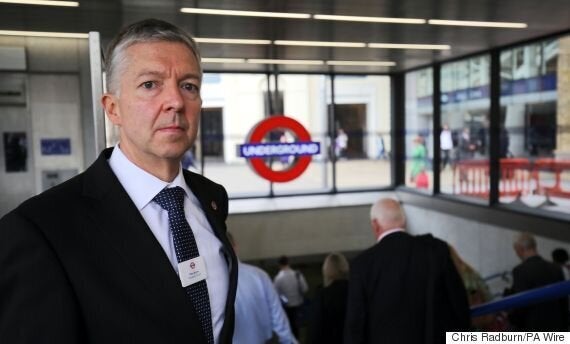 London Underground managing director Mike Brown says the strike is 'totally unnecessary'
Services will start running down later today because of the walkout by thousands of workers from 6.30pm which will cripple the Underground network until Friday morning.
The action coincides with a 48-hour stoppage by workers on First Great Western which will disrupt trains to and from London Paddington.
Workers involved in the two separate disputes will stage a rally outside Paddington just before the strikes start.
Talks aimed at averting the LU strike broke down after the two sides had met at the conciliation service Acas.
Tubes will start running down from 5pm, there will be no services tomorrow and there could be disruption on Friday morning, while the Underground will be "exceptionally busy" between 4pm and 6pm today - just after the Budget.
The Rail, Maritime and Transport union (RMT), Aslef, the Transport Salaried Staffs Association (TSSA) and Unite have been in dispute over pay being offered for the new all-night Tubes, due to start at weekends from mid-September, as well as rosters.
Managers have tabled a "final" offer, including an average 2% rise this year, at least RPI inflation for each of the next two years and £2,000 for drivers on the new service.
Transport for London said extra bus and river services will run, but warned that roads and all public transport will be much busier than usual.
Brown urged unions to suspend the strike and put the pay offer to their members because it was different from a previous one.
"The planned strike will cause big disruption to the people and economy of London. It is also totally unnecessary.
"The night Tube is an exciting and essential new chapter in the history of London Underground and our city. It will cut night-time journeys by an average of 20 minutes, with some cut by more than an hour.
"It will also play a vital role in opening up London's night-time economy, supporting almost 2,000 permanent jobs and boosting the economy by £360 million. Strongly supported by customers and businesses alike, it is the mark of a modern and progressive world capital.
"As always, being fair to our hardworking staff is central to its introduction.
"We are not asking staff to work unlimited nights and weekends. In fact, no-one is being asked to work any more hours and most staff will not be affected at all. For the majority of those who are, Night Tube will mean a few extra nights per year within their existing working week.
"We have recruited 137 additional train drivers to allow all night operation and reduce the impact on our existing drivers. However, in the short term we will ask some train operators to do more. After a short transitional period, train operators will have the choice whether or not to work the night Tube shifts."
RMT general secretary Mick Cash said: "Despite strenuous efforts by union negotiators to press London Underground to address the issues of fairness, safety, work/life balance and equality at the heart of this dispute, they have come up with nothing in the talks.
"The action is on and RMT will be mobilising picket lines and effective action with our sister unions and there are no further talks planned at this stage."
Finn Brennan, Aslef's organiser on the Tube, said: "The responsibility for this strike and the disruption that it will cause rests squarely with London Underground management .
"They squandered the window of opportunity to resolve this dispute by refusing to move their position in the slightest for three months and then demanding that all four trade unions accept an offer in one afternoon. They have played foolish games of brinkmanship, taking their offer off the table then denying they had done so.
"Attempts to brand it as political and using tired cliched attacks on trade unions are simply an effort to distract attention from London Underground's inept handling of negotiations.
"We will be ready to return to the negotiating table on Friday morning to ensure that further action can be avoided."
Popular in the Community