Ariana Grande may have issued a (super bizarre) apology after licking a doughnut in a shop earlier this week - yes, this is a thing that really happened - but it seems she could need to do a lot more grovelling, as police have confirmed that they're investigating the incident.
The video, released by TMZ earlier this week, appears to show the singer leaning in and licking a doughnut that's on sale, before giggling with her rumoured boyfriend, Ricky Alvarez.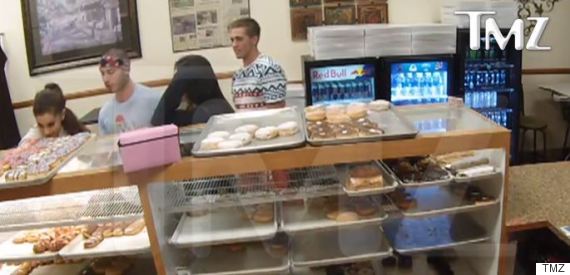 Ariana and the offending doughnut
Later, she addresses a worker who has carried out a new tray of doughnuts, not-so-politely stating: "What the fuck is that? I hate America."
Now, police in Lake Elsinore, California have stated that they are investigating the video - which they say appears to show two people "maliciously licking" baked goods - with public health officials.
Associated Press reports that a spokeswoman for the Riverside County department of environmental health, Dottie Ellis-Merki, has said that they are investigating why the doughnuts were left exposed to the public, a move that violates state laws.
The Hollywood Reporter states that Dottie, in an email to AP, said: "During the investigation, the manager did state they normally don't leave donuts out like was shown in the video.
"The employee went to the back to retrieve freshly made donuts by request of the customer and left the trays out while getting other trays."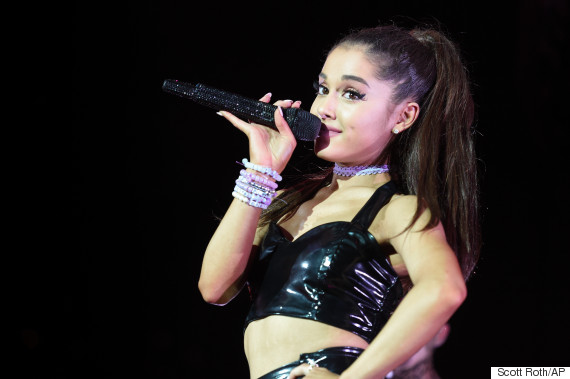 Ariana knows she's not supposed to lick the mic, right?
Quite frankly, this whole thing is totally bizarre and Ariana's apology wasn't exactly crystal clear either.
In a statement posted on Twitter, the singer seemed to be stating that her doughnut-licking was a protest at America's rabid consumerism and obesity problem. Yes, really.
"I am extremely proud to be an American and I've always made it clear that I love my country. What I said in a private moment with my friend, who was buying the donuts, was taken out of context and I am sorry for not using more discretion with my choice of words," she wrote. "As an advocate for healthy eating, food is very important to me and I sometimes get upset by how freely we as Americans eat and consume things without giving any thought to the consequences that it has on our health and society as a whole."
Ariana's rep has not commented on the police investigation, but the 'Bang Bang' star has said that she will no longer be performing at the scheduled MLB All-Star concert this weekend, citing emergency oral surgery as the reason why.
Remind yourself of Ariana's doughnut incident below...
LIKE US ON FACEBOOK | FOLLOW US ON TWITTER