Most of us have had a brush with fake tan disaster - whether it's an orange glow, streaky legs or forgetting to exfoliate so the colour comes off in patches, but that could be a thing of the past...
Risking our own skin, bedsheets and general dignity so you don't have to, the HuffPost UK team tested out some of the nation's most popular fake tan brands to see how they fared up to the hype.
Cocoa Brown One Hour Tan Mousse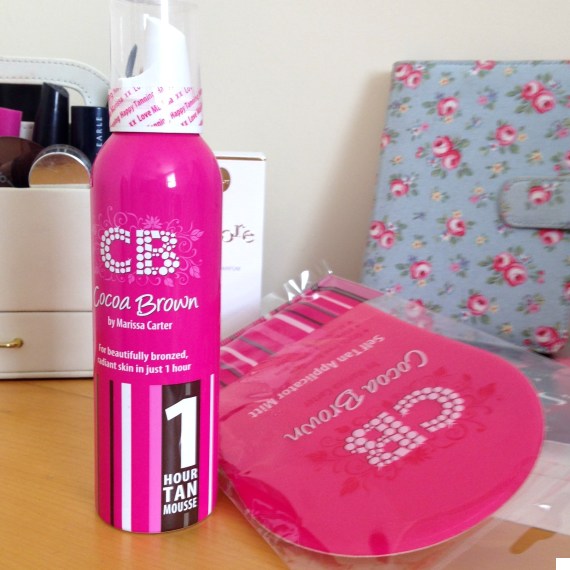 £7.99 from FeelUnique.com
Rachel Moss, Lifestyle writer: The mousse consistency of Cocoa Brown makes it easy to smooth across your skin.
The product is meant to be applied, then washed off within one, two or three hours, depending on how dark you want your colour to be. The downside is it can't be used as a quick fix before a night out.
For pale skin, two applications washed off after one hour gives a subtle, sun-kissed glow. The tan develops evenly and the smell is pretty much non-existent.
The tan lasted for around three days before gradually fading and doesn't go patchy - always a plus. It doesn't irritate sensitive skin and doesn't leave a stain on bed sheets so I'll definitely be using it again.
Palmer's Cocoa Butter Formula Natural Bronze Spray Lotion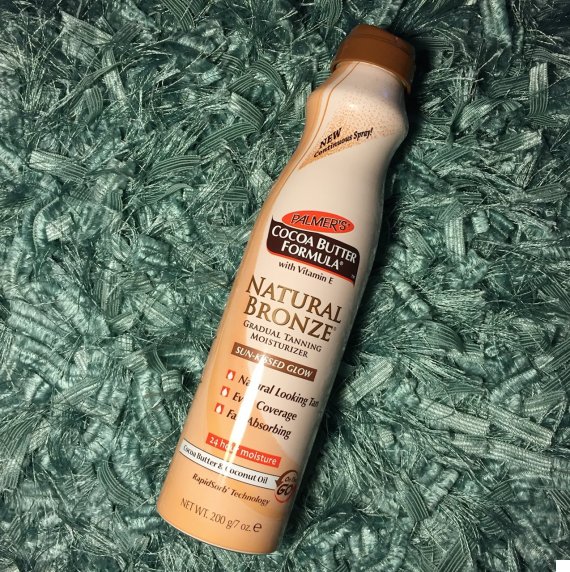 £7.99 from Boots.com
Natasha Hinde, Lifestyle writer: After using a different Palmer's Cocoa Butter tanning product and falling in love with it, I was particularly excited to give this a go.
The tan is super easy to apply, simply spritz along your skin and rub it in with your hands (like you would with moisturiser), but make sure you wash your hands after.
The smell is really faint, it smells vaguely of cocoa butter and throughout the day becomes the tiniest bit biscuity.
It doesn't leave stains on bedding either, although a week after I'd used it I noticed that it came off onto a white bath towel (oops). But thankfully it washed out.
The colour is really even and natural, there were no streaks whatsoever. You can use the spray once and still be left with a healthy glow, which looks really natural - although I'd advise using it a few times if you're going to an event like a wedding, or on a night out.
The tan lasted for roughly one week and, thankfully, didn't go patchy as the week went on. I've re-applied it since and I'm very impressed! Would definitely use again.
St.Tropez Gradual Tan In Shower Lotion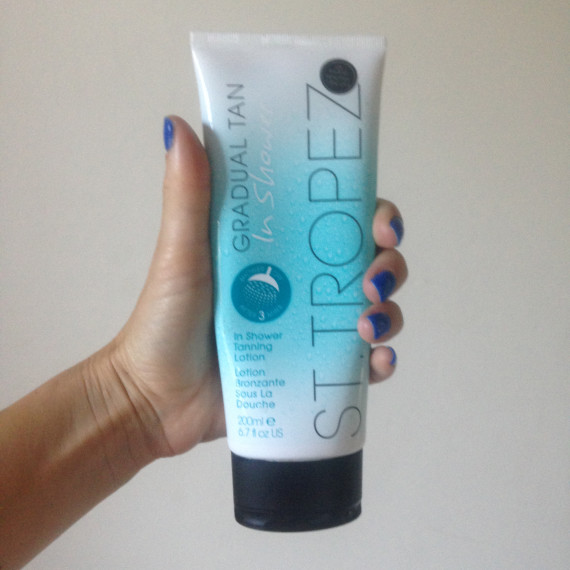 £14.50 from Boots
Brogan Driscoll, senior lifestyle editor: I'm awful at putting on fake tan. I miss massive sections of my body, leaving my legs in a streaky mess, and I'm too impatient to wait for it to dry, leaving my white sheets covered in orange marks.
That's why I love St.Tropez. When I first tried the Self Tan Bronzing Mousse, it changed my life. (OK, maybe that's a slight exaggeration, but I haven't looked back.) Not only is it practically idiot proof but it doesn't smell, and it looks natural. The only issue is that the tan is so instant, you look like you've squeezed a two week holiday in overnight - and that's a tad embarrassing.
So when I heard about their new Gradual Tan In Shower Lotion (that's right, you apply it IN THE SHOWER) I was pretty pumped to try it.
On paper it's not only idiot proof - you shower as usual and then apply the tan to damp skin, wait for three minutes and rinse it off with water - but it's gradual, meaning people won't know you were lame enough to spend your evening fake tanning.
Verdict: It is certainly easy-to-apply and doesn't smell, but it takes a few applications to start to give you a colour. So the bottle will be empty in no time and, at £14.50 a bottle, it doesn't come cheap.
That's why I'm sticking to the Bronzing Mousse. Although it is more expensive to start with, it lasts much longer and gives better results.
He-Shi 1 Hour Rapid Liquid Tan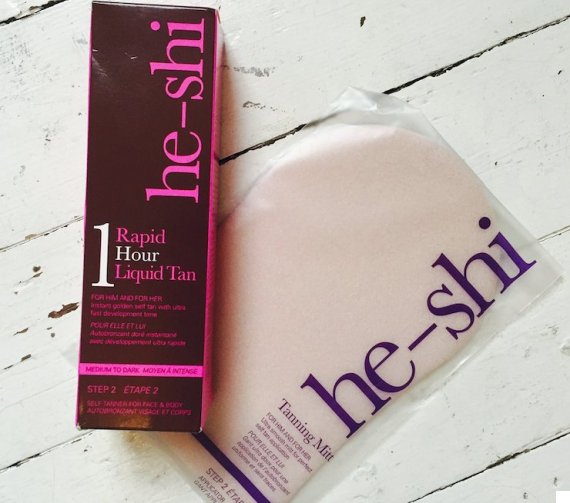 £21 from He-Shi.eu
Amy Packham, Parents writer: The tan was really easy to apply especially with the mit. It's a dark liquid that really easily spread into my skin when I was applying it, so I was less worried about it being streaky and it dried really quickly.
I was impressed how easy it was to spread out and leave no bare patches. The best thing about it was the smell - it wasn't strong and actually smelt nice!
I left it on for just under two hours as I wasn't hoping for a really dark tan, but I was really impressed with how quickly it worked after I showered.
Although it wasn't as dark as I had hoped (but it did look natural), I would leave it on for a bit longer next time to get it a more desirable colour - this is something you can control yourself by using the guidelines on the packaging, leaving it on for four hours will give a darker colour.
It lasted around four days before I noticed it was fading, but is easy to reapply. Luckily when it was fading it didn't leave any odd patches so it wasn't too bad. I was hoping it would stay a bit longer but that might be something to do with how long I left it on for. I'd definitely use it again, it was so easy to apply and quick to get results.
Xen-Tan Luminous Gold Gel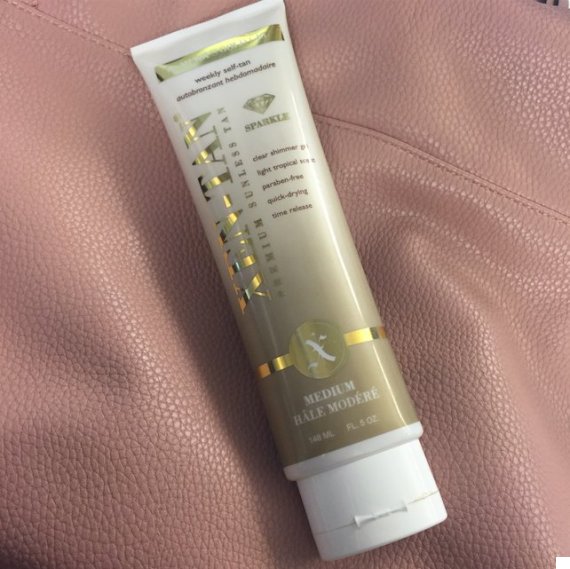 £24.99, FeelUnique.com
Rosy Cherrington, Style writer: As a serious fake tan addict, I wasn't sure something described as a 'clear shimmer gel' was going to cut it for me (I usually don't find a sunless tanner effective unless it's ruined at least two pairs of bedsheets and every white top I own).
But as a fan of Xen-Tan's Dark Lotion, I decided to give this a whirl - with very pleasant results. The first thing I have to mention is the smell. A balmy, beachy heaven of a scent akin to the uhhh-mazing tropical fragrance of NARS Body Glow (which is mandatory for everyone to wear if they're entering within two-feet of my personal space).
It also gave my skin a sparkling shimmer, which is probably best suited to a night out rather than a day in the office - think more Twilight than subtle glow.
The tan is supposed to then develop over the next three hours, and it did. That tawny, natural bronze that Xen-Tan is famous for concocting (which is why your tanning mitt might go green if you forget to wash it - it's the olive tones coming through to make you look less tango-d).
Heavy duty, this is not. But it would definitely be all you need if you're after a golden wash of colour.
I'm now keeping this in my desk as it's the perfect pick-me-up tan (did I mention I was an addict) for when my legs are out and I want a subtle top up to last me into the evening.
Clarins Radiance-Plus Golden Glow Booster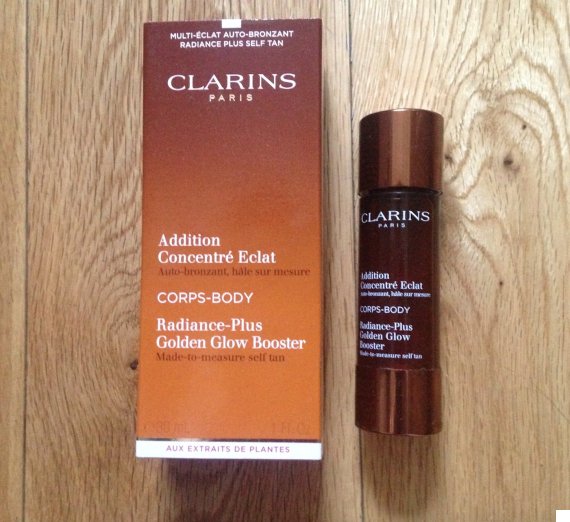 £18, Clarins.co.uk
Ellen Wallwork, senior Lifestyle editor: On first appearances this teeny tiny bottle of fake tan looks like it won't be enough for one application, let alone the daily applications the packaging demands. However, appearances can be deceiving and a little goes a long way.
You mix four to six drops of the fake tan with a handful of your daily body moisturiser to build up a subtle tan - and it is subtle, but if you do apply daily it quickly builds up, and woe betide anyone who gets complacent with their application as it is still easy to get the tell tale orange ankles and knees if not applied evenly.
It had a slight smell of self-tan, but as this is mixed in with your usual body moisturiser it was only a subtle afternote rather than the full on biscuit-fest you get with some self-tanning products.
Even after several applications the colour remained subtle (aside from one orange ankle), so this is a good choice for people who just want a slight boost to their natural colour, but not for those who want to fake a two week break in the Canary Islands.
James Read Overnight Tan Sleep Mask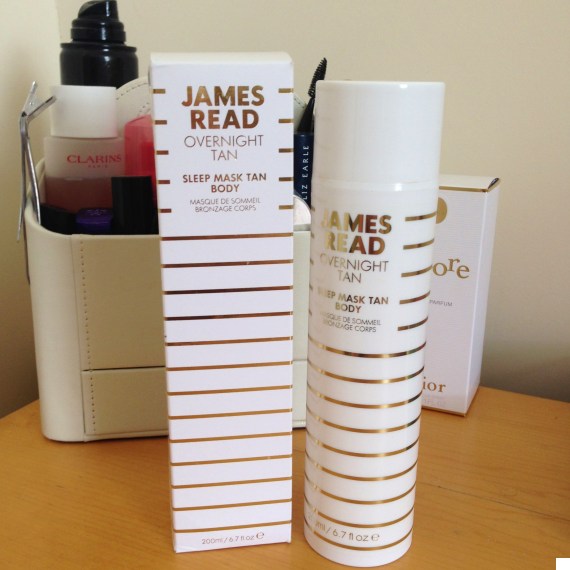 £35 from JohnLewis.com
Rachel Moss, Lifestyle writer: The clear colour of James Read Overnight Tan means it's not the easiest fake tan to apply, as it's almost impossible to spot any areas you may have missed - you have to be very systematic when smoothing it onto your skin.
On the plus side the clear liquid means the tan doesn't stain clothes or sheets. It is almost fragrance-free and not at all "biscuit-like".
The final tan colour is what really lets this product down though. If you've got fair skin, you'll wake up with a tone that's way too dark. The colour is brown, rather than orange, but it's certainly not subtle - especially next to any white patches you may have missed.
I wouldn't use this fake tan again, although I think it would suit someone with a darker complexion more - just be very careful with application!
SEE ALSO:

How To Pull Off The Perfect Red Lip

What Are Freckles? (And How To Fake Them With Makeup)