The five things you need to know on Thursday July 9, 2015...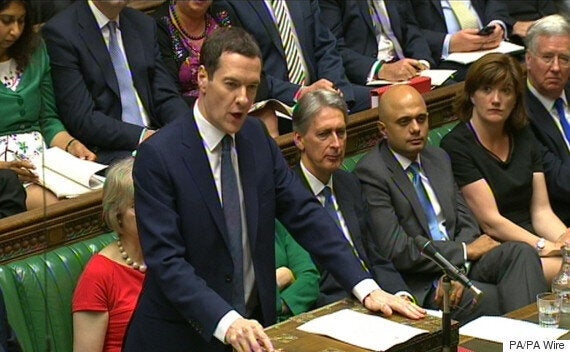 The morning after the Budget before and this is the first time in years that Ed Balls is not on the airwaves countering George Osborne. But the political ghost of Balls may be alive and well. The Chancellor yesterday appeared to adopt his old foe's path of deficit reduction (delaying the surplus by a year) and his non-doms and bank profits surcharges. Osborne even snuck out a few stealth taxes (on insurance premiums, car tax) of the type that Balls once orchestrated in Gordon Brown's Treasury.
Osborne even went much further than Balls' planned minimum wage hike, although some of the Day 2 focus has been on charities' complaints that his National Living Wage badge was pure spin. The BBC last night even came close to describing it as a 'so-called Living Wage' (a bit like 'so-called Islamic State'), at one point saying this was 'what he called' the National Living Wage. Tories think the 'con trick' criticism (the Mirror's headline) is mere carping, but if the Chancellor had resisted that bit of PR branding and just called this a £9 minimum wage he could have avoided some of the barbs.
There are other challenges for the National Living Wage plan, not least it failing to have a different rate for London and the fact that it won't be paid to under 25s. Some on the Right, like David Davis, are also echoing business worries that the rise is unaffordable and will lead to job losses (even the OBR predicts 60k). Some on the Right are a tad worried too about what Robert Chote called "a package of tax increases that will raise £47bn".
Yet although Osborne was canny enough to target working class voters with wage hikes, a fuel duty freeze and a 1% social rent cut, there's no doubt that he used the first Tory Budget since 1996 to put the blue into blue collar politics. He certainly heralded a new Georgian era that will shape the politics of Britain (and his own party's leadership race) until 2020.
And the most fundamental unpicking of the Blair-Brown era was his dismantling of the tax credits system. Setting out to reshape what the state does (480,000 more public sector job cuts, outweighed by private sector job growth), spends and incentivises, this was a truly historic Budget. Instead of tax credits supporting 9/10 families, they now support 5/10. Some 800,000 people will lose the right to tax credits or Universal Credit.
The Chancellor always chooses his photo ops carefully and he was in Preston this morning in an aerospace factory, ramming home his 'northern Powerhouse' message. He told BBC Breakfast he was 'not getting rid of tax credits' but cutting the cost of them. He insisted that not only those on the minimum wage but those on higher salaries would benefit from the 'ripple effect', telling the BBC 'you will be better off'. From ITV to the BBC, he kept repeating the mantra that this was 'a new contract' for a 'new centre' in British politics.
But yesterday, Treasury aides admitted that they hadn't modelled that 'ripple effect'. Neither the OBR nor the Red Book had any tables to weigh the tax credit cuts against the minimum wage hike. The Institute for Fiscal Studies has its usual post-Budget lunchtime briefing today and could help with this key calculation. The IFS will probably also focus on the massive squeeze on non-ring fenced departments, especially given that defence has got its 2% target.
Apart from the Living Wage rebranding, Osborne's other PR risk yesterday was in saying the welfare system couldn't continue to subsidise 'lifestyle' choices - either on welfare or in having more than two children. Given that many on tax credits are in work, strivers rather than skivers to use the phrase now out of fashion, the word 'lifestyle' has been seized on by Yvette Cooper and the SNP. (Though the Chancellor told Today that he was referring to things like exorbitant rents subsidised by housing benefit in places like London).
Osborne certainly saw his moment to exploit Labour's current weakness (in the polls and in media punch) as it carries on its leadership race. Chris Leslie notably yesterday infuriated some in the party as he refused to oppose the five-year public sector wage squeeze of 1%. Leslie's line about the need for pay restraint rather than job losses was a holding pattern that recognised he can't second guess whoever becomes leader - and whoever becomes Shadow Chancellor.
Yet the tax credit cuts have succeeded in uniting Labour. Cooper reveals an analysis by the House of Commons library that shows that by 2020/21 the Budget is taking net £9.6bn a year from families in direct tax and welfare changes - £7bn of which is from women. She says the Budget hits women twice as hard as men. In his Facebook blog, Andy Burnham pointed to the 'slap in the face' for young people, while Jeremy Corbyn blogged for HuffPost on why the living wage hike was no such thing.
Liz Kendall was quick to create a 'Grand Theft Osbo' social media campaign. Kendall has a session with CNBC today, along with ex-CBI chief Mike Rake. She will use the event to announce a Margaret Hodge review of the UK's £100bn tax relief bill.
But never forget there's a leadership race going on. One senior Labour MP yesterday wondered why Burnham wasn't more visible (his rivals were all on the TV or in the Commons talking about the Budget). "Where the f*ck's Andy Burnham been today? You can't go missing in action when you're leader of the Labour party," they said. "No wonder he's hiding, he was crap at the number stuff when he was Chief Secretary". Miaow.
I wonder if after all the clothes-stealing by Osborne yesterday that the leadership contenders will think, as Ed Miliband clearly does, that Labour lost the election but didn't lose the argument on May 7. There are dangers, as well as comforts, in that line of thinking.
Justice Lowell Goddard starts the historical child abuse inquiry today and the Times reports that she has ordered civil servants not to shred or hide any documents that could help her investigation.
She has written to the cabinet secretary and leaders of more than 240 other bodies — including police, the NHS and churches — ordering them to search for and retain all material that may be of use to her.
Her request is a signal that the inquiry will go into places many feared it wouldn't. It will examine what was known or suspected about allegations against celebrities such as Jimmy Savile when he was knighted in 1990 or Stuart Hall when he was appointed an OBE in 2011.
The judge will also study Tony Blair's decision to grant a peerage to Greville Janner in 1997 after the Leicester West MP had been the subject of two police investigations into sex abuse allegations that did not result in charges.
BECAUSE YOU'VE READ THIS FAR...
Sunday is the emergency summit but today is the real D-Day for Greece. And as with the real D-Day, have the Americans come to Europe's rescue? The Telegraph reports that US Treasury Secretary Jacob Lew has warned Greece's creditors not to trigger chaos by letting it quit the euro.
Alexis Tsipras - who must be pleased that both Russia and the US seem to be on his side (though one may be linked to the other) - has promised his government will submit "credible reform" proposals to its creditors by today. Greece is desperate for a third bailout to avoid bankruptcy and possibly crashing out of the euro. Germany remains dubious.
Berlin may be hardline on Grexit, but it's nervous about Brexit. The FT reports that German companies have written to the PM and Chancellor urging them to stick with the EU. German firms have a staggering 500,000 British employees in 2,500 companies in the UK in energy, financial services, manufacturing, retail, transport and others.
Juergen Maier, chief executive of Siemens UK and a non-executive director of the government's business department, has been one of the few to speak out publicly, saying companies had a responsibility to voice their concerns. "It's important and hence I am speaking up," Mr Maier said. "We think that in the end we will hopefully persuade an electorate to ultimately make the right decision." Wonder what Nigel Farage thinks of that, German wife or not.
Fox hunting is to get another ride out along the Commons benches once more. The free vote, revealed by the Sun yesterday, and previewed by the Spectator, is far from a slam dunk for the PM. Sports minister Tracey Crouch has already tweeted she intends to vote against repeal, and there are several other anti-hunting Tories who could wipe out the Government majority. Yet, Downing Street at least wants to deliver early in reassuring the 1922 Committee that it is listening to their concerns. There was a rumour in the Tea Room yesterday that this SI could be the first post EVEL vote but senior Whitehall sources were swift to say EVEL won't be ready by next Thursday.
The Bank of England decides interest rates
It's DCMS Questions in the Commons (watch for reference to the Budget's real terms cuts in BBC funding), then Chris Grayling is bound to get more stick over EVEL during the Business Statement.
UCL has one more go at sorting out the Tim Hunt affair
If you're reading this on the web, sign-up HERE to get the WaughZone delivered to your inbox.
Got something you want to share? Please send any stories/tips/quotes/pix/plugs/gossip to Paul Waugh (paul.waugh@huffingtonpost.com), Ned Simons (ned.simons@huffingtonpost.com), Graeme Demianyk (graeme.demianyk@huffingtonpost.com) and Owen Bennett (owen.bennett@huffingtonpost.com)
Popular in the Community