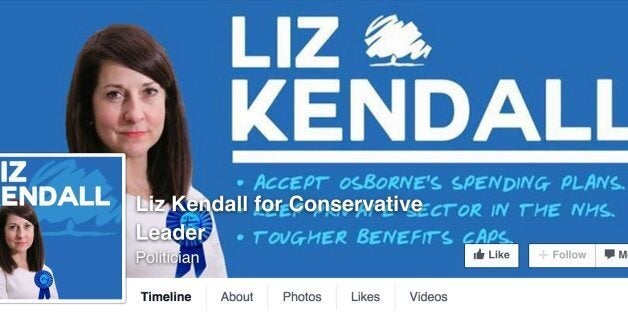 Yvette Cooper's campaign has dismissed accusations that it is linked to a Facebook smear against rival Liz Kendall.
A spoof Facebook group called "Liz Kendall for Conservative Leader" now has more than 3,000 'likes'.
The page plays on the idea that Kendall is the most 'right-wing' of the candidates to succeed Ed Miliband. Cooper has previously accused her Labour rivals of "swallowing the Tory manifesto".
On Friday morning, Guido Fawkes pointed the finger at Labour activist Jake Johnstone as one of the people behind the Facebook page - having designed its logo. The site features a photograph of Johnstone with Cooper.
However a Cooper campaign source said: "This Labour activist isn't part of the campaign team and as such we have no idea how he spends his time. In the spirit of comradely debate we hope all members and supporters - including online - respect every candidate."
Kendall backer John Woodcock, who was already furious at a Huff Post UK blog by Cooper supporter Helen Goodman, yesterday added that the latest attacks on his candidate would backfire.
"No Tory leader would pledge Liz's assault on low pay, plan to tackle grossly unequal life chances or promise to reverse all the attacks on rights at work pushed through in this parliament," he said.
"Liz will show Labour can be trusted with the public finances so we regain the trust to govern - suggesting that makes her a Tory just makes it more likely the Tories will win the next election. Others may allow Labour to get trapped in perpetual opposition, but we want to win so we can change people's lives."
Writing on The Huffington Post today, Kendall gives a response to George Osborne's Budget. "Labour must put forward an alternative to the Conservative approach of squeezing low and middle income families even harder. But you cannot credibly tell businesses that they must dig deep to give their employees a pay rise, and then in the next breathe condemn public sector workers to another five years of real terms pay cuts," she says.
"It is time for Labour to stand up for the millions of people in our vital public services who have endured year after year of severe wage restraint and often felt they did not have an effective voice in parliament to fight their corner."