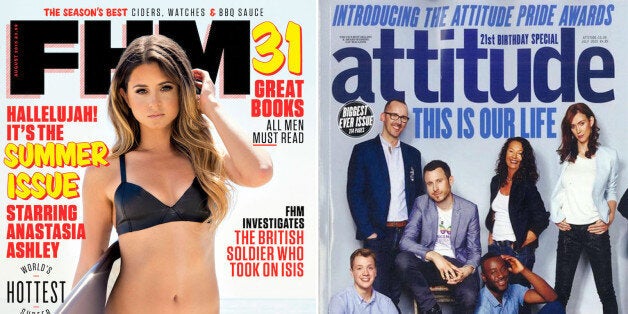 Sainsbury's has come under fire for covering up gay magazine, Attitude, with a 'modesty board', whilst leaving a bikini-clad model on the cover of FHM on full show.
The bizarre arrangement came to light when a photo was posted on Twitter, captioned: "Why I don't shop at Sainsbury's anymore. Naked women OK but Attitude's Pride Heroes cover indecent."
Jon Rowles, who took the picture and sent it in to PinkNews, told them: "What struck me was how it made the publication look seedy and somehow shameful, like I had walked into a time-warp and gone back to the early 1990s."
Rowles believes that recent pressures from parenting website, Mumsnet, could be to blame for the cover-up.
"This afternoon I thought what was behind this, as I knew that Mumsnet had been running a letter writing campaign," he said.
"After some googling I found that a number of Christian Groups had been urging people to write in to complain – and it looks like gay lifestyle magazines are being categorised a 'sexualised content'."
However Mumsnet's CEO, Justine Roberts, rejected Rowles' comments, saying: "As part of our Let Girls Be Girls campaign to address our users' concerns about an adult version of sexuality being imposed on children, we called for lads' mags with overtly sexual covers not to be displayed in children's view in shops.
"We were pleased that lots of retailers, including Sainsbury's, agreed to change the way they display these publications. The campaign was never about re-categorising gay lifestyle magazines or calling for innocuous editions of Attitude to be hidden away."
Mumsnet quotes Sainsbury's responding to their campaign, saying: "We know that this is an important issue for many of our shoppers and this is why we were one of the first retailers to introduce modesty covers back in 2006.
"We hope that other retailers follow Sainsbury's lead in signing up to Mumsnet's campaign."
However, a spokesperson for Sainsbury's told HuffPost UK Lifestyle that they take guidance from the Professional Publishers Association, and regularly review the use of modesty covers on titles.
"We have previously contacted the distributor of Attitude magazine about removing the modesty cover on this title.
"The distributor agreed that, while the cover of this issue does not show explicit content, future issues will. We therefore took the joint decision to keep the cover in place," they said.
This isn't the first time Sainsbury's has been criticised for covering up gay magazines. In 2012, they covered up another issue of Attitude that tackled the issue of homophobic bullying in young people.
At the time, they told SoSoGay, "Following feedback from customers we introduced modesty covers several years ago across a wide variety of magazines.
"This is to ensure no offence is caused to customers who may object to the images or the content on the covers of some magazines. The titles that do have modesty covers do so for every edition so no particular cover is ever singled out."