Now Daniel Cabrera could be on track to achieve his dream of becoming a policeman after he received donations of cash, school supplies and even a college scholarship, his mother Christina Espinosa told AFP.
Widow Espinosa and her three youngest children, including nine-year-old Daniel, have been homeless since a fire destroyed their home in Mandue City, Phillipines, five years ago.
The family currently live in a back room in a mini-grocery story owned by Espinosa's employers.
She told AFP: "We're overjoyed. I don't know what I will do with all of these blessings.
"Now, Daniel will not have to suffer just to finish his studies."
Among the donations received by the family are school uniforms and a reading lamp.
Espinosa added: "He is a very studious and determined boy… he would insist on going to school even without his lunch money because I had no money to give.
"He always tells me: 'Mama, I don't want to stay poor. I want to reach my dreams'."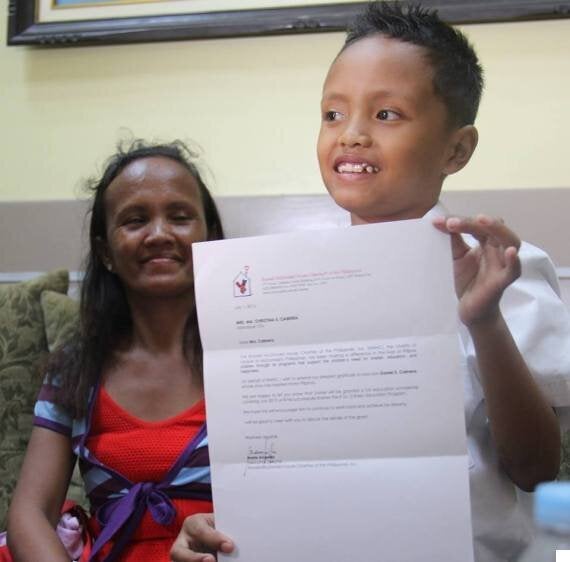 Daniel Carbera and his mother Christina Espinosa have been overwhelmed by the support they have received
Daniel's plight went viral after student Joyce Gilos Torrefranca spotted him bent over his school work at a wooden bench.
She posted the image to Facebook, remarking the little boy had "inspired" her.
One commentator said: "This kid's perseverance in studying makes this picture such an inspiration. Despite the lack of personal space or inadequate lighting, still he chose to study."
Since the donations poured in, the city's social welfare office chief Violeta Cavada told AFP: "Our problem is how to manage all this financial assistance.
"He has become a symbol of poor slum boys in the city who can't study because they don't have electricity."
Related