Oliver Miles, a former British Ambassador to Libya and former head of the Foreign Office's Near East and North African Department, said he is "puzzled" by the Foreign Office's sudden decision to advise against Britons travelling to Tunisia after the killings, given that the threat against Britons is "not confined to Tunisia".
The Foreign Office has been accused of a confusing and 'annoying' U-turn over its advice, after telling Britons to leave the country immediately Thursday evening, just a week after David Cameron urged people not to cancel their holidays.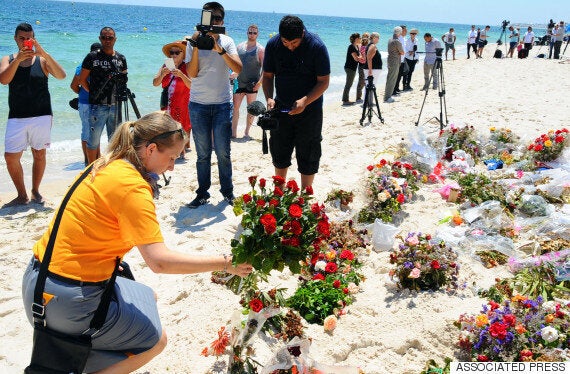 Tourists lay flowers on the beach where a gunman inspired by Islamic State murdered 38 people on June 26
Some 3,300 travellers are now being evacuated on planes leaving from this morning following intelligence a terrorist attack is "highly likely".
Speaking to BBC Radio 4's Today programme, Miles said he was "puzzled" by the advice and claimed that he didn't believe official suggestions that the gunman who killed 38 people had supporters who are still at large.
"First of all, I have to take into account that the Foreign Secretary is speaking on the basis of intelligence, he says, and I'm sure that's true. What the intelligence is, of course, we don't exactly know, and I think there was a reference in one of your broadcasts yesterday to there being no specific threat in Tunisia, whatever that means.
"There clearly is a threat, but what puzzles me is that the threat is not confined to Tunisia, and it is not confined to the British. On the same day as the Sousse outrage, there was an outrage in Kuwait which was almost as serious, there was one in France which could have been very serious if it had been successful, there was one in Egypt, two days later there was on in Yemen.
"So why are we focusing on Tunisia? Is it simply because 30 people got killed there two weeks ago? It's not a good reason," Miles said.
"Now, after two weeks we have intelligence to think about, presumably, we have a more considered view. But why is the threat more in Tunisia than it is, for example, in Morocco, or Jordan, or other countries, when you think that, as I said, on the very same day as this outrage there were attacks not only in Kuwait but in France, and in Egypt."
[Story continues below slideshow]
Minute' Silences Held For Tunisia Victims
He added it was "rather difficult to believe" suggestions the beach gunman was not a lone wolf and had supporters till at large.
"If it's based on firm intelligence, then of course I have no way of knowing and no way of contradicting that.
"But my understanding is that the difference between the threat we're facing now from this so-called Islamic State threat and, for example, what we faced from al-Qaeda, ever since 9/11, is that al-Qaeda was an organisation with a network, with some kind of command and control system.
"This organisation is not. Not outside Iraq and Syria. It does not control individuals in France or Yemen or Tunisia. These are people who are operating at least semi autonomously. And this is a problem, not just in Tunisia but in the whole world."
Miles added: "I can understand that the government have to take a position after such a terrible outrage. if you remember the Prime Minister immediately reacted after the killing two weeks ago by saying this was an 'existential threat' which, I suppose, if it mean anything, means a threat to he existence of the United Kingdom. That was clearly over the top."
Some travellers were confused by the new travel advice and tweeted their frustration at the sudden change, with some mocking the FCO for the sudden reversal.
Miles agreed with the fears of the Tunisian ambassador to the UK that the travel advice would damage Tunisia's economy and could encourage more extremism. "The purpose... is probably to pull Tunisia down. Tunisia doesn't depend exclusively on tourism but tourism is a big part of its economy."
"If all the tourists leave Tunisia, and they may have to because of course nobody wants to go there and get killed, but if all the tourists leave Tunisia, Tunisia will really be in a mess."
"At the moment Tunisia is the one shining example, if you like, of an Arab Spring revolution being successful, which has produced a government which looks like being decent."
Last Monday, David Cameron urged travellers not to "give up our way of life" and to still go on planned holidays despite the attacks. He said the Foreign office was "not moving to a position of advising against all but essential travel to this part of Tunisia. So they are not advising against visiting the popular tourist resorts."
The FCO's new advice is shown in the map below - with all of Tunisia marked with a red or orange warning.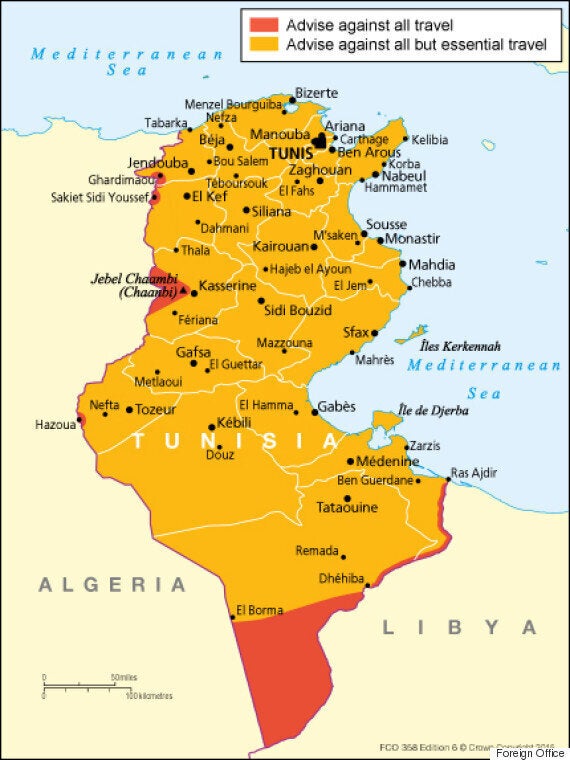 Foreign Office map warns Brits against travel to Tunisia
All of the main tourist areas were marked green during the two weeks after the attack, meaning that Tunisia was classed as no more dangerous than France or Spain.
Extra flights have been laid on to evacuate up to 3,000 British package holidaymakers and 300 independent travellers believed to be in the country. Tourists will begin to be flown out this morning.
The Government is playing into the hands of terrorists by evacuating thousands of Britons, Tunisia's ambassador has warned.
The new advice is blow for the Tunisian tourist industry and has sparked fears it could play into the hands of extremists in the North African country.
Nabil Ammar, Tunisian ambassador to the UK, told BBC Two's Newsnight: "This is what the terrorists want.
"By damaging the tourism, by having foreigners leaving the country, they damage the whole sector and put so many people out of work and on the streets. Hotels have to close and this is an important industry.
"One of the sources of terrorism is lack of hope. It is not the only motor of it but it is one of the very important origins."
The news continued to provoke debate and confusion on Twitter: