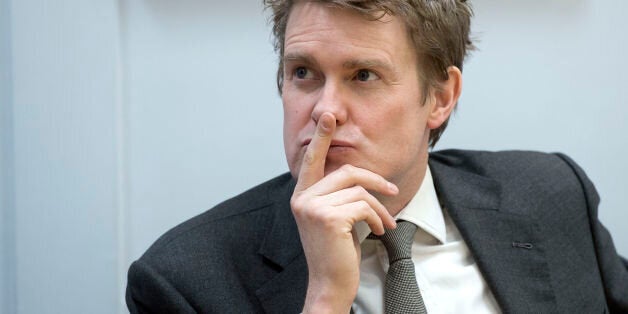 A fresh row has hit the Labour Party leadership contest, after shadow education secretary Tristram Hunt said Andy Burnham was wrong to shun The Sun newspaper.
Hunt also said Labour faced "oblivion" if it decided to back left-winger Jeremy Corbyn as Ed Miliband's successor.
But Hunt told the BBC's Marr programme on Sunday morning he thought Burnham was wrong. "Lots of Sun readers vote Labour. We need to reach out to those voters. We are in a situation where we need as many friends as possible. We need to bring as many people to the Labour party as possible".
However Hunt said he thought the "assaults" which some newspapers were leading with the Conservative Party against the BBC were "worrying" and "unpatriotic".
A Labour shadow minister immediately hit out at Hunt, telling The Huffington Post: "The idea he's some oracle of wisdom when it comes to Labour reconnecting with working class people who may read The Sun is laughable. This is a guy who thinks there's a John Lewis on the corner of every council estate in England.
"His views on the leadership should be put in context of someone who's own leadership bid was not exactly a roaring success."
Former Labour home secretary Jacqui Smith was unimpressed with the shadow minister's attack on Hunt.
Hunt is backing Liz Kendall's bid for the leadership. He quickly abandoned his own attempt to succeed Miliband after conceding he would not have been able to get enough nominations from Labour MPs to make it onto the ballot paper.
Speaking on Marr, Hunt warned that Labour would be "condemned to oblivion" if it decided to back the left-wing leadership candidate Jeremy Corbyn. "We need to be an alternative government, not a pressure group, not an NGO. We nee to be a party that looks like it wants too be in power," he said.
"I don't think Jeremy Corbyn has the answers," he said. "Political parties, like nations, rise and fall. We have no god given right to exist."
Corbyn told Sky News that there were "huge differences and debates" within Labour but that the party has always be a "very broad church".
The argument comes amid suggestions Corbyn could do far better in the contest than had been expected. A Labour pressure group is asking supporters of Burnham, Yvette Cooper and Kendall to help each other to ensure Corbyn doesn't win.
Popular in the Community