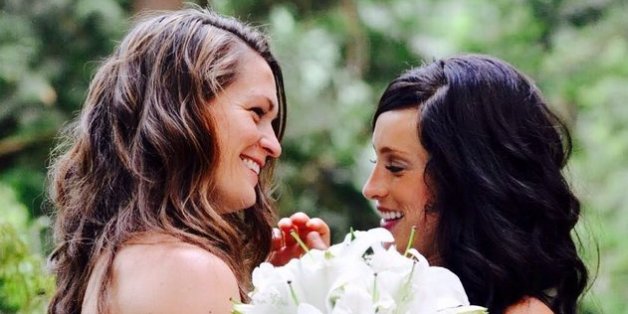 Instagram/emasar3
Following the roaring success of the Women's World Cup, two female footballers have tied the knot - and their wedding was beautiful.
Erin McLeod, Canada's goalkeeper, married her longtime girlfriend, Ella Masar, an American footballer who is also McLeod's teammate on Houston Dash.
The couple were "overwhelmed" by messages of congratulations and thanked everyone for their love and support.
Unfortunately, not every comment they received was a positive one. But don't worry, Ella, who came out publicly earlier this year, wrote the perfect response to all the haters.
"To the 'other' messages, thank you. Thank you for praying for me and reinforcing my own prayers because as you pray, 'Lord please help Ella, allow her to see her sin for loving that woman, for respecting her, being faithful, honoring her, etc ...' Know I am saying the same thing, 'My Heavenly Father, thank you for allowing me find my better half, for finding someone that strengthens my faith and allows me to be the person I always imagined. Thank you for teaching me what truly loving someone and others is all about, amen."
It isn't the first time Ella has written about her faith and sexuality. Earlier this year a post on her personal blog read: "t doesn't take a rocket scientist to understand that I am deeply in love with Erin Katrina McLeod. Yes, I know she is a woman. Yes, I hear you, it is wrong. Yes, I know I am sinning. Yet, please tell me who can throw the first stone?"
Quoting Psalm 37:4, she also wrote: "Delight yourself in the Lord and he will give you the desires of your heart."
The love of my life said "I do"... @emasar3 you are all my reasons- plus your initials don't change;) win win? pic.twitter.com/ec6SANV0Pd

— erin mcleod (@erinmcleod18) July 8, 2015
Proof that #lovewins? We think so.
SEE ALSO:

Lionesses Will Not Play At Rio 2016 In 'Devastating Blow' To Women's Football

Sainsbury's Covers Fully-Clothed Gay Magazine... But Leaves FHM's Bikini-Clad Model On Show