The north runway at Heathrow Airport was shut down on Monday morning when climate change protesters staged a demonstration.
A supporter of direct action group Plane Stupid said a dozen demonstrators entered the runway at 3.30am after cutting a hole in a fence.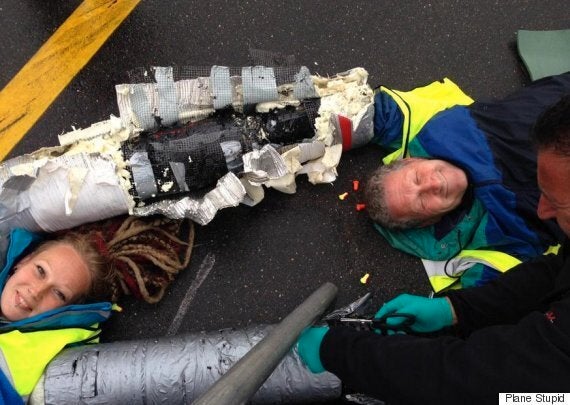 Protestors lie on the runway at Heathrow
The Metropolitan Police confirmed that six of the protesters were arrested.
A spokesman said: A Metropolitan Police spokesman said: "At approximately 3.45am on Monday, 13 July, officers were alerted to a number of protesters who had unlawfully made their way airside at Heathrow Airport.
"There were 13 protestors in total on the North runway. Six have so far been arrested on suspicion of Aviation Act offences and taken into custody.
"Officers remain at the scene and are continuing to work to remove the remaining protestors."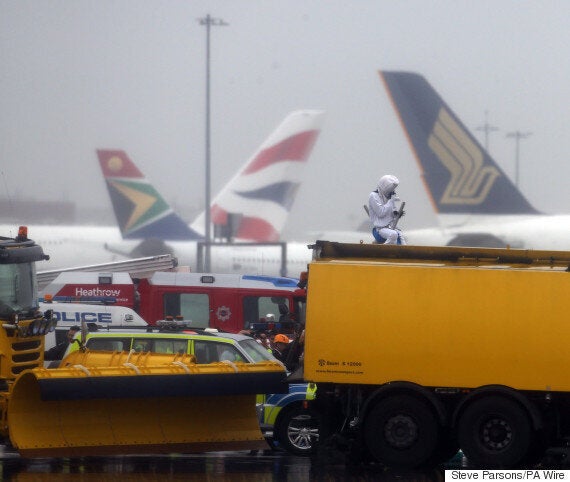 A protestor dressed as a polar bear sits on top of a vehicle
A Heathrow Airport spokesman said: "A group of people have breached the airport perimeter fence and are currently staging a protest on the northern runway."
He added: "We are working closely with the police who are dealing with the incident. Both runways are open although there will still be delays - we are sorry for the disruption to passengers.
"Our priority remains to ensure the safe running of the airport."
The runway closed until 6.20am and travellers were warned to expect disruption to flights.
A number of pictures posted on Twitter by Plane Stupid showed protestors had attached themselves together using a variety of techniques, as well as using bicycle D-locks to secure themselves to fencing.
In a video, a police officer could be seen telling the group: "As a consequence of you being here, you are causing severe disruption and it will be in the millions of pounds because it will take us a while to remove you.
"The cost will be in the couple of millions. The airport will attempt to make a civil recovery."
He added: "There are international flights now being diverted."
Ella Gilbert, one of the activists on the runway, said: "Building more runways goes against everything we're being told by scientists and experts on climate change.
"This would massively increase carbon emissions exactly when we need to massively reduce them, that's why we're here.
"We want to say sorry to anyone whose day we've ruined, and we're not saying that everybody who wants to fly is a bad person.
"It's those who fly frequently and unnecessarily who are driving the need for expansion, and we cannot keep ignoring the terrifying consequences of flying like there's no tomorrow.
The Metropolitan Police confirmed that some of the demonstrators had chained themselves together using a so-called tripod.
A spokesman said: "At approximately 3.45am officers were alerted to a number of protesters who had made their way airside at Heathrow Airport.
"A small number of these protesters are believed to have chained themselves to a 'tripod'.
The incident was well-documented on Plane Stupid's Twitter page, with a number of pictures posted of the protestors locked together appearing.
The stream has now gone silent.
A number of people tweeted their annoyance at the disruption caused by the protests...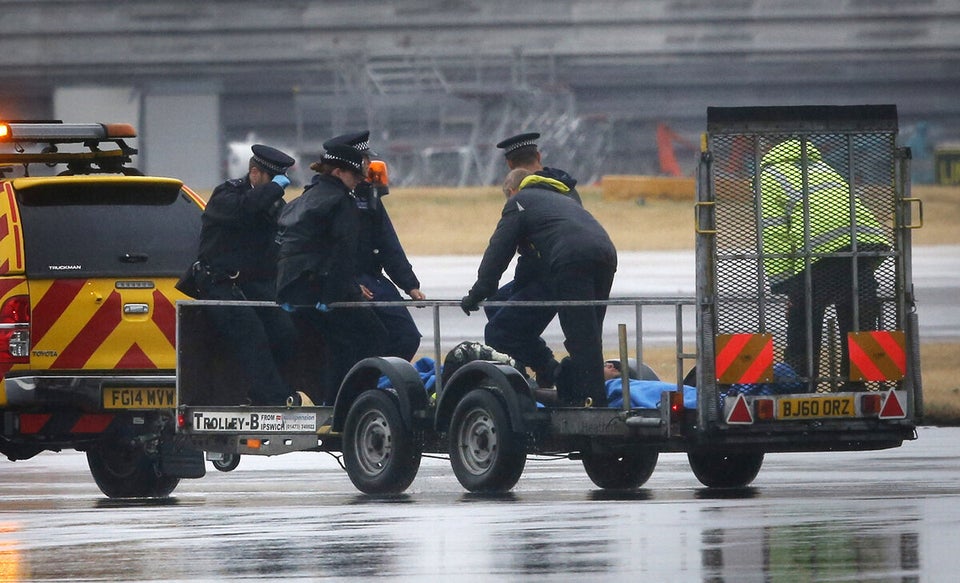 Protest at Heathrow