In the latest in our WISE WORDS interview series - where stars from a whole range of fields share the important life lessons they've learned along the way - we're posing some of the big questions to 'Black Sails' star Toby Stephens.
Toby Stephens has been acting since he started out as a stagehand at the Chichester Festival. Since then, he's done it all, from Royal Shakespeare Company theatre to James Bond villain duties in 'Die Another Day'. Most recently, he's starred as Captain Flint in the swashbuckling adventures of 'Black Sails'. He shares with us the harshest lesson of all, and the close-to-home habits that keep him grounded...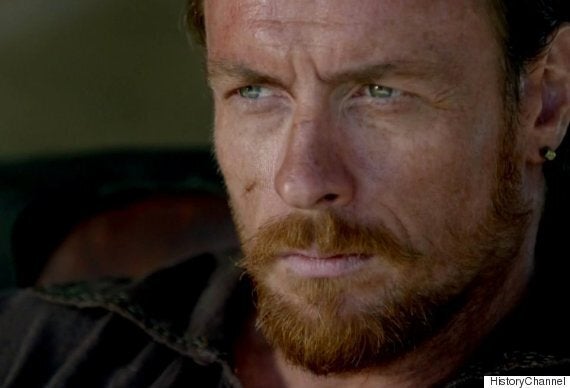 Toby Stephens has another hit on his hands with 'Black Sails'
What do you do to switch off from the world?
I really enjoy reading a book. The reason I like that is I find whatever I'm working on, it's all-consuming, it's great just to get into something totally different. I end up reading a lot of non-fiction, biography, it's not a narrative. If I can, I just stay in bed.
How do you deal with negativity?
The best thing is to spend time with my kids. You can't dwell too much. Negativity is about obsessing about yourself. It's kind of solipsistic, and when I'm with my kids, I don't have time and they don't. It's very leveling, humbling.
When and where are you happiest?
Being at home. I'm away for seven months in South Africa, filming 'Black Sails', so for me it's being in my own home. My best time is when the kids have gone to bed and me and my wife can chill.
What's the best piece of advice you've ever been given?
It's in a phrase, 'Pessimists are never disappointed.' That is actually a great thing, if it's not seen as a negative thing – you're always prepared for the worst situation, if it does turn out crap, you'll be prepared, and if it turns out well, that's a bonus. But not in a negative way. I just think you should be prepared for bad things. To me, when good things happen, it's a double toast.
What has been the hardest lesson you've learned?
Ones own expectations don't always happen. You can have expectations as to what will happen in the future, when you're young you believe in it all. The hardest thing to learn is that they won't always come true, but it can also be liberating. It's a hard thing, but there is a ceiling on things.
For example, in physical terms, I've had to do quite a lot for 'Black Sails' and we do this very brutal training, and it's about goals. I've had to realise that I'm never going to get it under seven minutes, at my age I have my limitations. If I was in my twentiess, I'd be so determined and constantly letting myself down.
What would you tell your 13-year-old self?
Always trust your instincts. This is something I've only learned recently. I'm quite an instinctive person, and I'm often right. Always listen to them.
What 3 things are at the top of your bucket list?
I've written and directed a short film, so making a feature is number one. I would like to spend a year travelling in South America. I've never been there and I could just hang out on the Amazon. And I'd like to take my boy on a fishing trip.
What do you think happens when we die?
I think there's probably an instant when we die where we know whether we're happy or not, whether we're okay with ourselves, and that in a way is heaven or hell. If you are in that instant when you're dying, full of self-loathing, that's kind of hell, whereas if you're prepared, that's heaven. All the hereafter, I'm not sure about.
When do you feel a sense that we live in the presence of something bigger than ourselves?
Definitely do. I don't think science has all the answers, nor religion, but something in between. IT would be naïve to say it's just us. You look up at the sky at night and realise that goes on for infinity.
What do you try to bring to your relationships?
Fun. And humour. Humour is just the most wonderful thing that we have. It punctures so many different things, misery, ones own self-importance. I think humour even in the most terrible situations, is the best gift we can give each other. I would hope that in friendships I bring humour and fun.
My kids. Any time I'm spinning out about any load of old rubbish, they bring it back home.
What was your last good deed?
Giving some money to the Nepalese Relief.
'Black Sails' premieres on History Channel on Tuesday 14 July at 10pm. Watch the trailer below...