Iran has signed a momentous nuclear deal with world powers, prompting an outpouring of joy from supporters, while Israel's prime minister called it "a historic mistake."
After 18 days of intense negotiation in Vienna, Iran has agreed to curb its nuclear programme in exchange for billions of dollars in relief from international sanctions from six major powers including Britain.
The landmark deal, agreed between the UK, US, China, France, Germany, Russia, Iran and the EU, aims to avert the threat of a nuclear-armed Iran and further Western military intervention in the Middle East.
Hassan Rouhani, the president of Iran, posted a picture on Instagram of the deal being signed: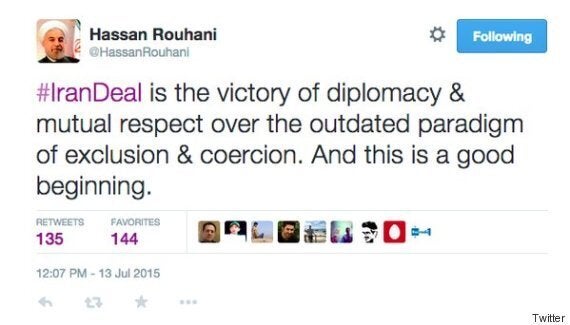 Iranians were overjoyed at the news, and some tweeted pictures of themselves reacting as the news broke, leaning out of car windows and smiling while making 'peace' signs with their fingers.
One woman said that her mother in Iran was "crying out for joy" after the news broke:
And others expressed their support and relief using the hashtag #IranDeal on Twitter:
But Benjamin Netanyahu, Israel's Prime Minister, described the deal as a "a bad mistake of historic proportions" which gave Iran too many concessions, and dollars it would use to fund terrorism.
He said: "Iran will get a jackpot, a cash bonanza of hundreds of billions of dollars, which will enable it to continue to pursue its aggression and terror in the region and in the world," the Jerusalem Post reported.
Meanwhile, Fox News managed to report on its TV channel that a deal had be struck... with Iraq.
The deal will prevent Iran from producing enough material for a nuclear weapon for at least 10 years, and imposes new provisions for inspections of Iranian nuclear facilities, including military sites.
It marks a significant break from decades of animosity between the US and Iran: which have respectively called each other the "leading state sponsor of terrorism" and the "the Great Satan."
UK Foreign Secretary Philip Hammond, who was in Vienna today, welcomed the deal, but warned: "We recognise the concern in the region about Iran's historic pattern of regional activity. We will maintain our clear position in support of the Gulf states and against Iranian interference in their internal affairs. We hope, and expect, that this agreement will herald a step-change in Iran's relations with its neighbours and with the international community.
"We will continue to work closely with our international partners to encourage Iran to play a transparent and constructive role in regional affairs, particularly in the struggle against violent Islamist extremism."
Related