The most popular baby names for the first half of 2015 with an unusual number one spot for the boys.
Nameberry - the baby name website - has revealed Atticus was the most popular boys' name.
It coincides with the release of Harper Lee's second novel Go Set A Watchman, about the main characters from the 1960 novel To Kill a Mockingbird, which featured lawyer Atticus Finch.
But it took 25 years for Atticus to be registered on the Social Security roster of US baby names, given to only nine boys in 1986, according to Yahoo Parenting.
Atticus didn't appear on the US top 1,000 baby names until 2004 at number 370, but now the name attracts the most searches by Nameberry's visitors in 2015 trumping Asher, the longtime number one.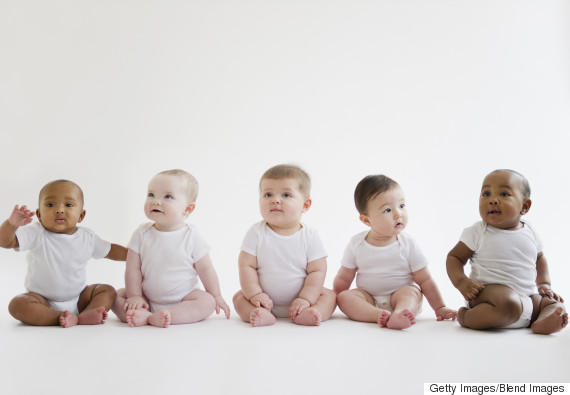 Charlotte is the number one girls' name on the 2015 half-year count which is likely to have increased in popularity after the birth of Princess Charlotte.
To calculate popularity, Nameberry tallies the most-visited of the nearly 40 million views of their baby name pages since the beginning of 2015.
The top 100 baby names of 2015 for girls and boys are:
Girls
1. Charlotte
2. Amelia
3. Olivia
4. Isla
5. Ava
6. Violet
7. Cora
8. Eleanor
9. Lucy
10. Penelope
11. Evelyn
12. Adeline
13. Hazel
14. Imogen
15. Aurora
16. Alice
17. Claire
18. Adelaide
19. Elizabeth
20. Arabella
21. Khaleesi
22. Scarlett
23. Emma
24. Rose
25. Evangeline
26. Genevieve
27. Ivy
28. Lila
29. Nora
30. Beatrice
31. Quinn
32. Caroline
33. Eloise
34. Harlow
35. Grace
36. Luna
37. Esme
38. Matilda
39. Aria
40. Aurelia
41. Mia
42. Ella
43. Clara
44. Everly
45. Iris
46. Anna
47. Mae
48. Mila
49. Thea
50. Maeve
51. Isabella
52. Maya
53. Ellie
54. Seraphina
55. Poppy
56. Harper
57. Clementine
58. Emily
59. Sophia
60. Josephine
61. Ruby
62. Jane
63. Isabel
64. Wren
65. Chloe
66. Elodie
67. Hadley
68. Willa
69. Nova
70. Audrey
71. Julia
72. Stella
73. Eden
74. Eliza
75. Juliet
76. Hannah
77. Cordelia
78. Sienna
79. Lydia
80. Olive
81. Piper
82. Evie
83. Lily
84. Sloane
85. Sadie
86. Willow
87. Margaret
88. Emmeline
89. Annabelle
90. Lola
91. Madeline
92. Ada
93. Gemma
94. Eliana
95. Daisy
96. Zoe
97. Emilia
98. Florence
99. Abigail
100.Mabel
SEE ALSO:

Vintage Baby Names: 10 Girls' Names Ready For A Comeback

Surprise As 'Katie' And 'Hopkins' Top Most Popular Girls' Names List
Boys
1. Atticus
2. Asher
3. Ezra
4. Silas
5. Declan
6. Wyatt
7. Oliver
8. Henry
9. Milo
10. Jude
11. Levi
12. Jasper
13. Leo
14. Kai
15. Jack
16. Finn
17. Theodore
18. Sebastian
19. Miles
20. Liam
21. Austin
22. Eli
23. Beckett
24. Felix
25. Caleb
26. William
27. Ethan
28. Theo
29. Benjamin
30. Andrew
31. Oscar
32. Elijah
33. Thomas
34. Ryker
35. Owen
36. Julian
37. James
38. Isaac
39. Josiah
40. Sawyer
41. Zachary
42. Soren
43. Bodhi
44. Axel
45. Alexander
46. Jacob
47. Grayson
48. Luke
49. Lachlan
50. Archer
51. Emmett
52. Luca
53. Lucas
54. Everett
55. Beau
56. Jayden
57. Ryder
58. Ronan
59. Samuel
60. Harrison
61. Daniel
62. Hudson
63. Roman
64. Noah
65. Callum
66. Charles
67. Arthur
68. Gabriel
69. Dashiell
70. Maxwell
71. Jonah
72. Graham
73. Charlie
74. Hugo
75. Rowan
76. John
77. Lincoln
78. Jackson
79. Xavier
80. Knox
81. Matthew
82. Weston
83. August
84. Griffin
85. Rhys
86. Nathaniel
87. Zane
88. Simon
89. Logan
90. Tobias
91. George
92. Nolan
93. Wesley
94. Nicholas
95. Aryan
96. Maddox
97. Elliot
98. Nathan
99. David
100. Bennett