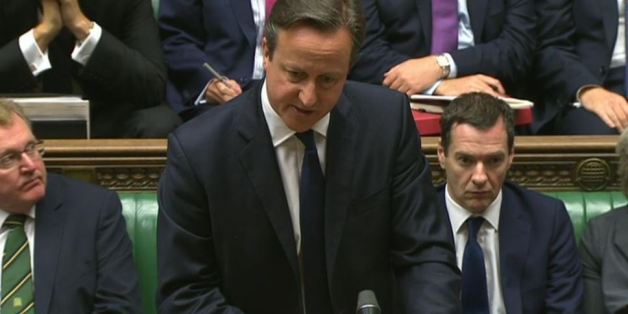 Today marks the final PMQs before our MPs go on summer holiday. Much like in school, everyone was itching in their seats.
George Osborne's face was cause for concern for some...
Our George has turned up stoned again. #PMQs #bbcdp pic.twitter.com/eM2jL7GNgh

— Mr Wensleydale (@ZacQuinn) July 15, 2015
george osbourne is off his fuckin bin #PMQs pic.twitter.com/vd8IUoYFNT

— Conor (@conorissocool) July 15, 2015
There was a lot of chat about Greece:
PM says this is all Greece's problem and he doesn't really give a toss so long as the summer villas are affordable #pmqs

— The Sunday People (@thesundaypeople) July 15, 2015
Some arguing about minimum wage:
Harriet Harman: "I don't need to be patronised by the Prime Minister about not understanding minimum wage; we introduced it" #pmqs

— Adam Smith (@adamtimsmith) July 15, 2015
There was a terrible joke from the PM:
"In a week when some want to discover Pluto, it turns out they want to colonise the Red Planet"

Brilliant line from the Prime Minister

July 15, 2015
GROAN. #pmqs

— Ned Simons (@nedsimons) July 15, 2015
@David_Cameron 's banter is very poor #PMQs

— jodieee (@jodieANNEclarke) July 15, 2015
Angus Robertson raised a genuinely serious point about rape, and it wasn't taken seriously.
Cameron using a question about rape victims to push his agenda on child benefit cuts is absolutely sick. #pmqs

— Jacob Richardson (@jjarichardson) July 15, 2015
Cameron using child rape as a way to shoehorn in an attack on Harman over tax credits, man is shameful,that's a new low even for him #pmqs

— Ian (@Mancman10) July 15, 2015
Iain Duncan Smith was chewing gum.
Is IDS chewing gum? #PMQs

— Damien Healy (@damienhealy) July 15, 2015
Someone brought up the Tube strike, and had a pop at the unions:
We've ramped up our union crackdown. From now on, people will only be allowed to strike on days when Iain Duncan Smith isn't angry.

July 15, 2015
Workers are selfish. You don't see MPs striking over our measly 10% pay rise.

July 15, 2015
For the purposes of clarification, when I say 'people affected by strikes' I mean shareholders (blessed be thy name) not you plebs.

July 15, 2015
Ponytail. PONYTAIL.
This should be illegal. SNP obvs. #PMQs pic.twitter.com/cxUdsQxNlB

— Европейский комиссар (@MoodySlayerUK) July 15, 2015
Paul Flynn pointed out that the PM and Chancellor's constituencies only contained three asylum seekers, when those is Wales had hundreds...
Paul Flynn, Newport, says asylum seekers are not being rehomed in PM's consituency. PM says he'll look into it (he won't) #pmqs

— The Sunday People (@thesundaypeople) July 15, 2015
Wow! Screamer of a question about asylum seekers! PM looked blindsided! #PMQs

— OnlyAnAtheist (@Onlyanatheist1) July 15, 2015
Mims Davies asked a question. This happened:
Looking hot Mimsy http://t.co/8v7YWat8HO #PMQs pic.twitter.com/FWStJbVQda

— #SunNation (@SunNation) July 15, 2015
The PM used the phrase "Put that on your leaflets!"
Cameron: 'Last night Labour voted against the living wage. Put that on your leaflets.' #PMQs

— Joe Mayes (@Joe_Mayes) July 15, 2015
PM: "Put that on your bloody leaflets and smoke it!"

July 15, 2015