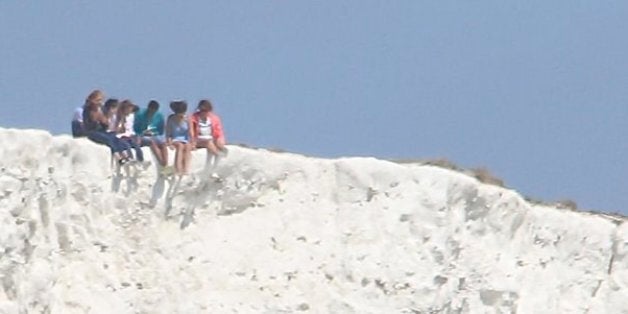 A photographer captured the moment seven teenagers sat on the Seven Sisters cliffs in East Sussex, with their legs draped precariously over a 300ft drop.
Patrick Goff was out walking near his home in Seaford, when he spotted the "idiot" youths.
Speaking to the Mirror, he said: "It was a beautiful day and I was out walking on the other side of the estuary when I saw them just sitting there at the top of the cliff.
"They were about three quarters of a mile away so there was no use shouting."
The cliffs are just a mile away from Beachy Head, one of the most notorious suicide spots in Europe. There are around 20 deaths a year at the beauty spot, which is patrolled by special teams to dissuade anyone thinking of jumping.
Goff added: "It is known for cliff falls. There are no fences because as soon as they put them up the cliffs move and they fall in to the sea.
"They were perched on a little ledge of chalk but those ledges can easily crumble down from underneath people."
Writing on his blog, Goff added: "'Why', someone asked, 'didn't I do something?' Well they were a mile away on the other side of the river with no easy way across.
"'Why does it matter?', someone else asked. It matters that the lifeboat drinks £4,000 in diesel on a call out, and that someone has to put the body parts in the body bag when people go over the edge. On this occasion the risk takers didn't cut short their promising lives, casually getting up and wandering off. There are deaths every year along this part of England's beautiful coastline."