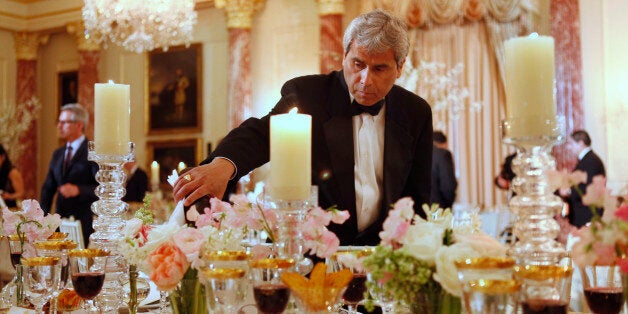 Foreign dignitaries, ambassadors and government officials quaffed 5,516 bottles of wine from the Government's exclusive booze cellar in the year to March, up 15 per cent on the previous 12 months.
Figures released today show the wine cellar located underneath Lancaster House helped quench the thirst of diplomats and others to the value of £69,433.
The official statement put out by the Government today showed that £70,432 was spent to replenish the stock in the cellar, while sales of wine bought in £71,050.
Commenting on the increase in consumption, the report said: "A busy year of international conferences and meetings saw an increase in consumption levels in 2014/15 of around 15 per cent to an overall total of 5,516 bottles (cf. 4,800 bottles in 2013/14)."
The most popular wine served last year was white wine from Burgandy, with 679 bottles uncorked.
English and Welsh wines made up 44 per cent of all those served, and gin proved the most popular spirit, with 52 bottles drained.
As of March 31, there were 34,052 bottles of wines and spirits in the cellar, giving a total stock value of £818,977.
The least popular wine came from Australia, with just three bottles of plonk from Down Under being served.
The Government sold 30 bottle of wine, including six bottles of Château Latour (1961), and 120 bottle Château Lynch Bages (1994).