Apple iPhone users have known for a while that the mobile assistant in their pocket can leave them baffled, insulted, and often amused.
But Siri has shown yet another side to its personality - by correcting users who question Caitlyn Jenner's gender.
The mention of Bruce Jenner, Caitlyn's former name, receives a quick rebuttal from the software, and users posted Siri's responses to their questions on Tumblr.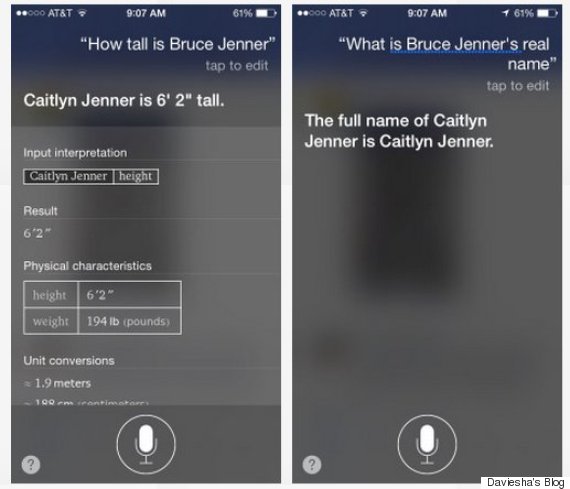 Users posted screenshots to Tumblr
When asked: 'What is Bruce Jenner's real name?' Siri responded: 'The full name of Caitlyn Jenner is Caitlyn Jenner.'
And when asked: 'How tall is Bruce Jenner?' Siri quickly replied: 'Caitlyn Jenner is 6' 2' tall.'
It's certainly not the first time Siri's responses have surprised iPhone users. In June, Siri left people heartbroken by its responses to 'zero divided by zero'.
Away from the Internet, Jenner received a standing ovation and made an emotional acceptance speech as she collected the Arthur Ashe Courage award at Wednesday night's ESPY awards in Los Angeles.