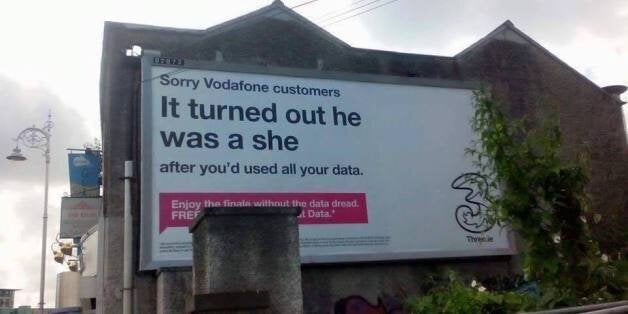 The Irish phone company Three has made the decision to remove a "transphobic" comment from an advert, just a day after the billboard was spotted.
The board read: "Sorry Vodafone customers, it turned out he was a she after you'd used all your data," with many interpreting the remark as disrespectful to some transgender people.
It emerged on the same day that a historical Gender Recognition Bill passed in Ireland. The company conceded the advert had caused offence and apologised for any upset caused.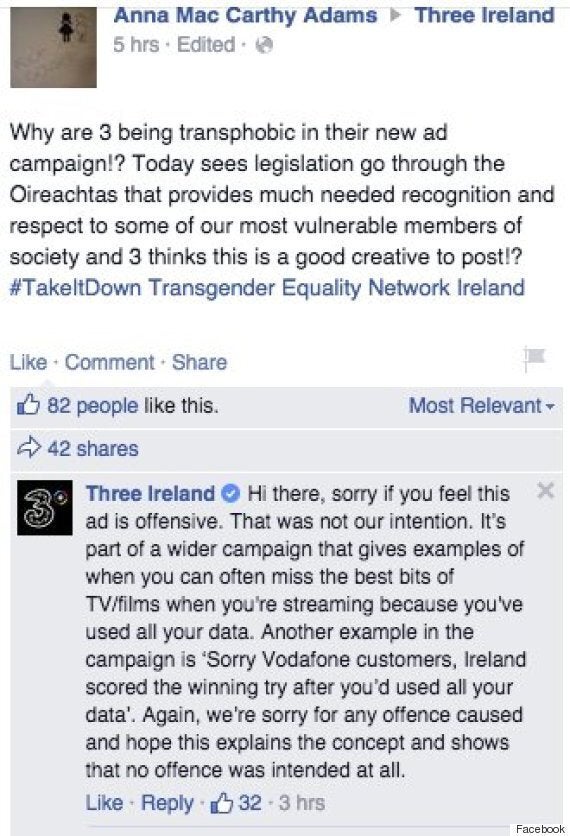 The advert under dispute is by mobile phone company Three
A spokesperson for Three told the Huffington Post UK: "Firstly we would like to apologise for the offence which this ad has caused, it certainly was not our intention.
"This ad is part of a wider Three campaign that gives examples of when you can often miss the crucial moments when streaming TV shows, films or sporting events because you've used all of your data,
"For example another advert in this campaign is 'Sorry Vodafone customers, your team scored in extra time after you'd used all your data'. Having realised that it has caused offence this ad design will be discontinued from the campaign".
Displayed in Dublin, the billboard raised ire amongst the LGBT community, though some social media commenters described it as: "A clever campaign".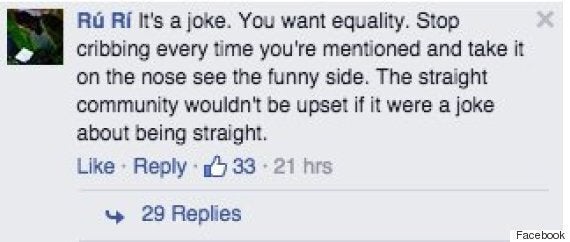 The mobile phone networking company were on Thursday continuing to reassure upset and angry customers on Twitter:
The timing of the matter was unfortunate as it arose as a law that recognises transgender people to gain legal recognition without seeing a doctor or receiving medical treatment passed in the Irish Parliament.
Although similar to the UK's Gender Recognition Act, it has been dubbed to be more progressive. The bill journeyed without controversy through the upper house (Seanad) for the Report and Final Stages before successfully passing.
Twitterverse reactions show that the advert divided opinion:
Useful websites and helplines:

Beaumont Society is a national self help body run by and for the transgender community | 01582 412220
The Gender Trust supports anyone affected by gender identity | 01527 894 838
Mermaids offers information, support, friendship and shared experiences for young people with gender identity issues | 0208 1234819
Related