The 24-year-old who shot and killed four marines in Chattanooga, Tennessee, on Thursday wrote a chilling message in his school yearbook, it has emerged.
Muhammad Youssef Abdulazeez wrote in his yearbook entry for Red Bank High School, where he was a member of the wrestling team: "My name causes national security alerts. What does yours do?"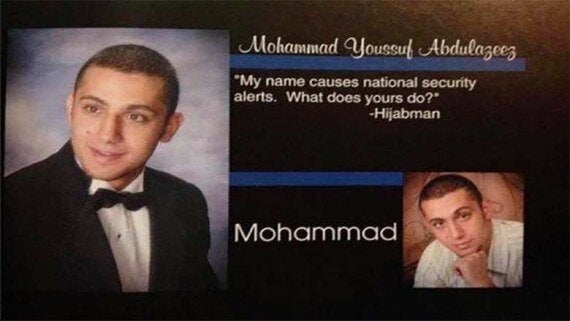 The University of Tennessee graduate is believed to have been born in Kuwait and was described as a "friendly, funny, kind", by one of his former classmates.
Ryan Smith, who wrestled with Andulazeez at Red Bank High School, said he was a "swell guy."
"He was an unbelievable nice person," Smith said. "He was honestly one of the funniest guys I've ever met."
Abdulazeez wrestling an opponent
A police officer and a soldier were also wounded in the attack, which was described as a "nightmare" by Mayor Andy Berke.
US Attorney Bill Killian said officials were treating the attacks as an "act of domestic terrorism," though FBI Special Agent in Charge Ed Reinhold said authorities were still investigating a motive.
The shootings began at a recruiting center on Old Lee Highway in Chattanooga where five branches of the military all have adjoining offices. A gunshot rang out around 10:30, said Sgt. 1st Class Robert Dodge, 36, the center leader for US Army recruiting at the center. "Shortly after that, just a few seconds, the shooter began shooting more rounds. We realised it was an actual shooting," he said.
Dodge estimated there were 30 to 50 shots fired. He did not see the shooter or a vehicle. The Army recruiting office was not damaged, but doors and glass were damaged at the neighbouring Air Force, Navy and Marine offices, he said. Law enforcement officials told recruiters that the shooter was in a car, stopped in front of the facility, shot at the building and drove off, said Brian Lepley, a spokesman with the US Army Recruiting Command in Fort Knox, Kentucky.