When a parent learns their child may have a disability, they often have to go through months or even years of assessments. When the gruelling diagnostic process is over, they are often handed a long list of things their child "can't" or "won't" be able to do.
"Your child can't communicate like other children their age. Your child won't be able to dress themselves. Your child can't attend mainstream school or after school clubs."
But one charity is determined to show both parents and children with disabilities what they can do - all through the power of dance.
ICanDance is a London-based dance studio that offers classes for young people with a range of disabilities.
"Most children in mainstream school today have the opportunity to attend an after school club. They can go to a dance class or maybe a tennis club and it enables them to expand their learning and gain skills in a social and creating environment," Juliet Diener, founder and principle of ICanDance, tells HuffPost UK Lifestyle.
"But the same opportunities do not exist for children with disabilities."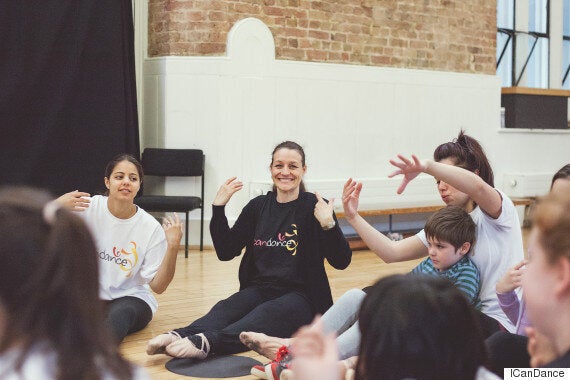 Juliet Diener (centre) leading a session at ICanDance
Juliet was working as a dance movement psychotherapist and a special needs teacher when parents began to tell her they couldn't find weekend clubs suitable for their children.
She had worked as a ballet teacher in the past, so decided to set up a class of her own.
ICanDance now runs classes every Saturday for children aged 4-25. Juliet tells us she firmly believes in welcoming pupils "with anything and everything".
Some children who attend classes have physical disabilities and are in wheelchairs, whereas others have a multitude of physical, learning, social, emotional, or behavioural difficulties.
The staff welcome children with conditions including Down's Syndrome and autism and classes are grouped by age, so children have the chance to mix with a range of people with different levels of ability.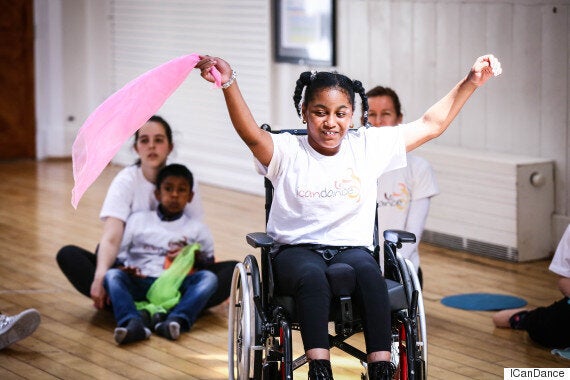 "A lot of the time parents come to us and say 'do you think you'll be able to cope with my child?', but we take the approach of 'of course we can, we just have to find the approach that works best for them'."
Although Juliet is passionate that ICanDance should run like any other dance studio - with an annual show and rehearsals every week - there are a few key things that make the sessions different.
All classes begin in a circle because the sessions are "as much about connecting with each other as they are about dance".
The staff will spend a long time greeting the children, before going into a free movement warm-up.
"A lot of the time it's just about developing and creating their own movement," Juliet explains.
Next, they'll move on to more traditional exercises, such as a basic ballet barre or practicing a choreographed routine. As well as challenging their memory, exercises are designed to work the children's muscles in the same way that a physiotherapy session would, but feel far more enjoyable.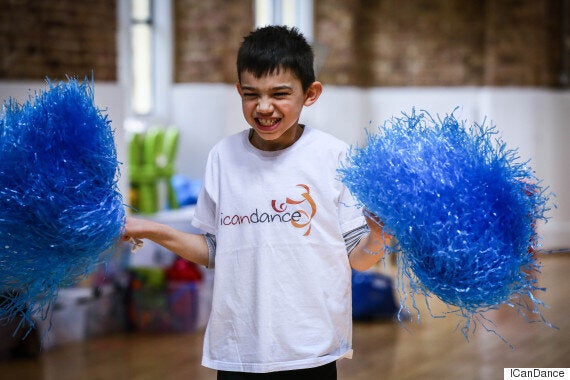 Finally, the class will end with games that are about self-expression, where the children get to chose various props and move to the music how they feel.
"Many of our dancers are non-verbal and many children with disabilities have communication problems, but dance provides them with the opportunity to be heard" says Juliet.
"The way they move, the way they interpret the music, the way they chose props or work with a scarf can tells us so much about what's going on inside."
One of the young people who has thrived thanks to sessions with Juliet and her team is 21-year-old Victor.
Victor, who has autism and is non-verbal, attended a cognitive learning centre in London when he was younger, where Juliet was one of his therapists.
He struggled when he moved from the centre to secondary school and began to suffer from anxiety around the age of 15, becoming very distressed when interacting with new people or going to new places.
But his mum, Rosa Petrucci, heard Juliet had started to run dance classes. ICanDance now helps Victor to manage his feelings of anxiety and helps to boost his confidence.
"Victor used to love his sessions with Juliet at the cognitive centre, so going to see her at dance was wonderful for him - we could tell he loved it straight away," Rosa tells us.
"Despite the fact that he has severe learning disabilities, we always wanted Victor to be included in an environment where he could have good role models."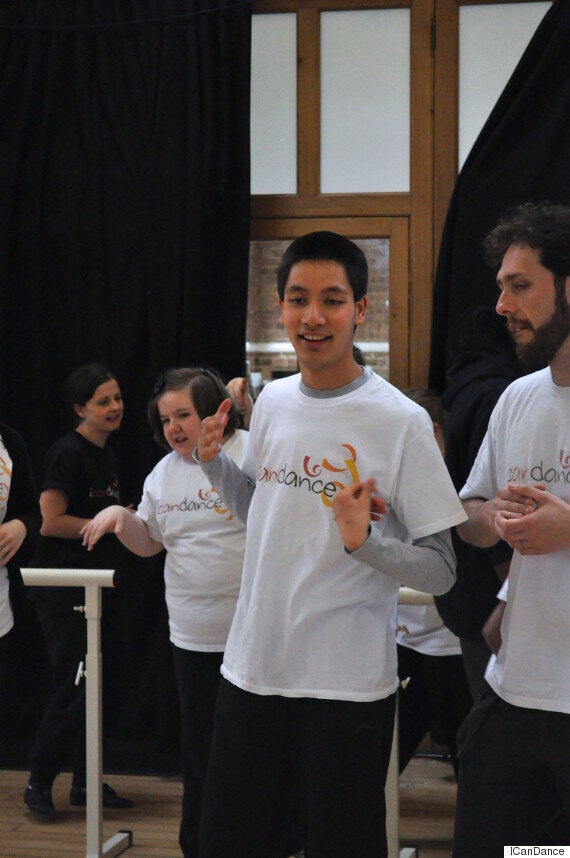 Victor at an ICanDance class
Rosa says she struggled to find clubs that were suitable for Victor in past because although he has learning difficulties, he does not have any physical difficulties.
"Classes would either be for children who have very severe disabilities, or they would be for very able-bodied children, which Victor would of course not be able to follow," she says.
"We simply couldn't find anything where we knew he would be accepted and where he could learn."
Although Victor will never be able to say "Mum, I love this dance class", Rosa says she sees it "written all over his face" when he's at ICanDance, especially when he performs in the annual show.
When Victor first began performing in the shows, Rosa used to spend the whole day with him in the theatre to calm his nerves and give him time to get used to his surroundings.
Now thanks to Victor's rise in confidence, she arrives at the same time as the other parents and Victor can't wait to get on the stage.
"The show may be a ballet opportunity but to be honest Victor doesn't have the rhythm or the co-ordination to be a professional dancer, but that isn't what it's about," she says.
"I think the most important thing is that he is respected for who he is. He loves to be able to show what he can do - everybody cheers and claps and he loves the praise. It's just amazing to see."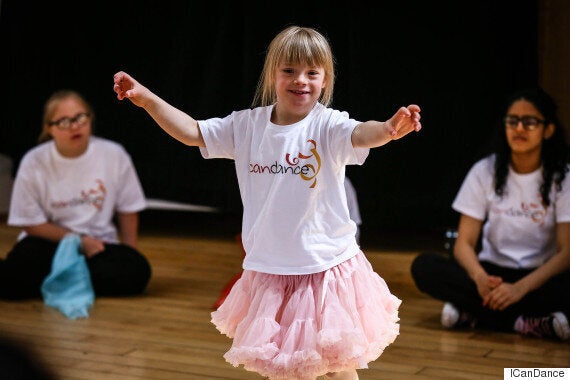 Running shows and selling tickets is a major way ICanDace raises funds needed to hold classes every weekend.
The organisation is a registered charity which relies on public donations and grants, due to the fact that classes for people with disabilities are more expensive to run than regular dance classes.
"Our approach is very unique and requires the integration of highly skilled people," Juliet explains.
"A mainstream ballet class could have 20 children and one teacher and it would still function, but we'll need to have a lead teacher and 10 support staff in a class for 13 children.
"It costs us around £50 per child to run a single ballet class, so that absolutely has to be subsidised for the parents."
The service provided by ICanDance is as much for the families of children with disabilities as it is for the pupils themselves.
The studio regularly runs family days where siblings without disabilities can get involved - Juliet's own two children often come along.
The weekly sessions also provide much-needed respite for parents.
"People who know me know that I don't like to let Victor out of my sight," Rosa says.
"I know it's not good for him but I am very, very attached and can be overprotective - possibly because he can't speak, so if something bad happens he can't come to me and tell me afterwards. I have to assume things are okay and be able to trust people.
"When Victor goes to a class with Juliet and her staff I know he is in good hands. I can relax, I can have my break and I know that he is happy - that's the main thing for me."
More than anything though, ICanDance is about ensuring children with disabilities have exactly the same opportunities as children without disabilities.
"In the dance world, dance is often about perfection and here we are challenging that view," Juliet says.
"Dance is not necessarily about 'perfection' defined by how things appear aesthetically, but it's about interpretation and expression.
"Everyone deserves the choice to be able to dance - that includes young people with disabilities."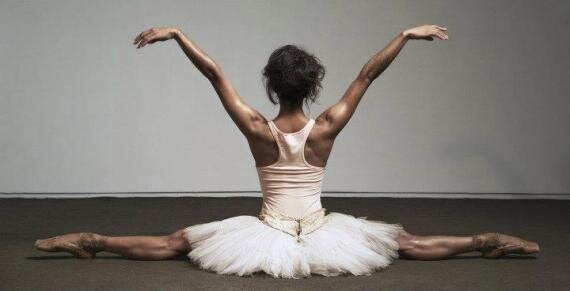 Ballet Dancers Changing the Landscape
As part of HuffPost's What's Working initiative, we're profiling inspirational people and organisations who are making a positive contribution to society by finding solutions to the world's problems.
Related