Once you hit your mid-twenties, most people fit into one of two camps.
You're either unemployed and doing interminable internships trying to land your dream job or you're already on the career ladder but feel completely overworked and overwhelmed.
This isn't mere navel-gazing either; with large numbers of graduates suffering from anxiety, depression and low moods, it seems the Millennials may be the worst affected to date.
Saskia Roddick and Jo Duncombe, both 27, are no exception.
Last year, when Saskia returned from a summer teaching English and Drama in France, she felt utterly lost. At 26, she was juggling a whole host of different projects and, with little support available and a long autumn of potential unemployment, she was unsure of how to proceed.
At about the same time, Jo had started working in an area she'd always wanted to work in: as an event curator for a film festival. But, as her 'to do' list stacked up, she started working all hours under the sun and "had no time to breathe".
Eventually the pair, who have been best friends since university, admitted to one another that they were struggling and, after talking it through with others, they realised their experience was far from unusual.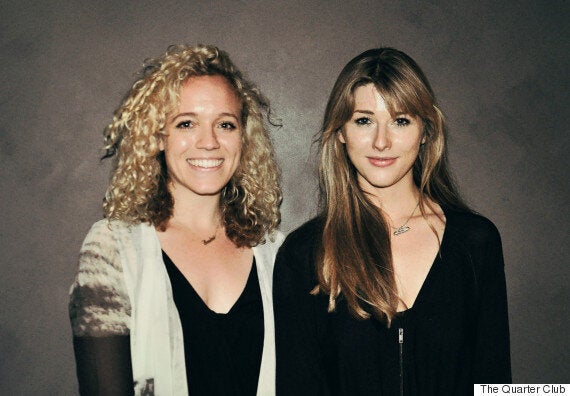 Saskia Roddick (L) and Jo Duncombe
"A lot of our friends who had studied art degrees were falling into the same boat," Jo tells HuffPost UK Lifestyle. "They had amazing skills and education, but, unlike those who studied maths or medicine, they were being abandoned by any real sense of security."
"We soon realised that the solution to the problem might need to come from us," she says. "That speaks volumes about a generation who are increasingly having to find our own solutions."
Soon after The Quarter Club was born - a network for creative, ambitious women that hosts a variety of events in London designed to inspire, educate and connect.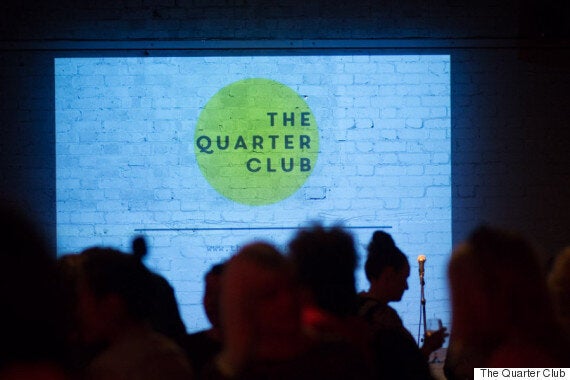 The Quarter Club host quarterly Salons, where they invite speakers to talk for five minutes about a particular theme and, doing away with the archaic and rigid Q&A format, invite speakers to mingle with the audience in the bar. They also plan to run workshops, known as Quarter Labs, and regular forums, known as Pitching Parlours, where women can come armed with an idea or problem to discuss with other women.
"For freelancers in the creative industries there are no HR departments - so it's important to establish a base and network to provide structure and support," says Jo.
Although Saskia and Jo originally intended to aim at women between 25 and 30, they soon realised that anxiety related to having a freelance career was "ageless" - and so they did away with age limits.
"Feelings of uncertainty and moving forward are ageless," explains Saskia, who now works as an actress. "But the power of bringing women together who can support each-other emotionally, but also connect and trade with skills and knowledge - that is also ageless."
"Having women in a room together and talking is an incredibly empowering thing."
While the pair admit that career anxiety is not a female-specific problem, they believe that women are more likely to doubt themselves and so need more of a helping hand or support.
"Personally, I sometimes find it very hard to go for things," says Jo. "I have lots of self-doubt and I think in some respects that is the same for all women."
This is definitely true for actress Lotte Allan, who attended the first Salon event back in April. She was inspired by one of the speakers, comedian Kerry Howard, who told the audience about how she got into comedy and the importance of taking "baby steps".
Lotte eventually plucked up the courage to talk to Kerry, who gave her a leaflet for Funny Women, the UK's leading female comedy community.
Lotte went along to an open mic night, where women can "try stand-up, write sketches or just talk through an idea". Before long she was booked onto her first stand-up gig, for a friend's charity fundraiser.
"I'd been collecting material for years so actually putting something together wasn't too challenging. It wasn't like I had to do a full hour at the Apollo, it was just ten minutes," she says. "Nevertheless, it was terrifying and I felt sick, but I did it. People laughed. People said it was good.
"And you know what… I'm going to do it again."
Jo and Saskia first had the idea for The Quarter Club last year and started hosting supper clubs in December ("I personally think food and Prosecco are the perfect ice breaker," jokes Saskia) and from there they've tried to grow as organically as possible.
The pair asked each supper club attendee to nominate four new people to help grow the network.
Add that to their existing circles and the huge support they've had on Twitter, and it's no wonder their first Salon event, the theme of which was 'Courage', sold out fast.
Over the next twelve months they hope to get The Quarter Club's other strands up and running, but also find investment to be able to make the venture sustainable.
At the moment the pair are juggling other work commitments, having regular morning Skype sessions at 7am, but they hope to one day be able to spend more time on the project and expand it to the rest of the UK.
"We hope that it will become something we can spend a lot of time on, we're really passionate about it," says Saskia. "It started with how we felt, but we've had an amazing response from other people just validates how much worth other people see in it.
"Rather than keep diagnosing these problems, the only way to move forward is to take action."
The Quarter Club's next Salon event is at Topolski Bar, 150-152 Hungerford Arches, Concert Hall Approach, London SE1 8XU. Find out more or purchase your ticket here.
As part of HuffPost's What's Working initiative, we're profiling inspirational people and organisations who are making a positive contribution to society by finding solutions to the world's problems.