Radio DJ and television presenter Jo Whiley talks candidly to Tess Daly about her life as a hectic mum-of-four, juggling her career with child-rearing and coping with her kids growing up and leaving home.
The 50-year-old mum to daughter, India, 22, son, Jude, 16, son, Cassius, 13 and daughter, Coco, 6, explained that the secret to managing it all is about getting up "super, super early in the morning to maximise how many hours there are in the day. You do as many things as you possibly can within an hour."
Even though Jo now says that being a mum is what makes her "tick," she wasn't always planning to have such a large brood.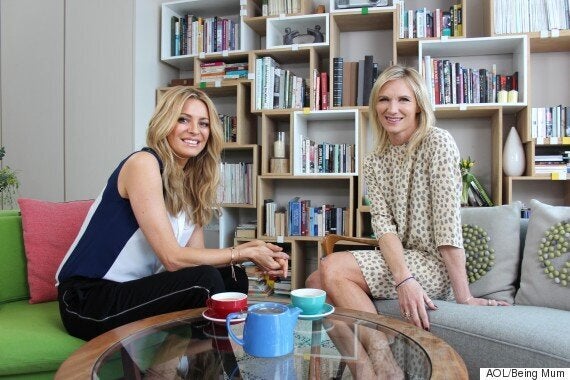 "I never consciously wanted to have this massive family and didn't really see myself as this great maternal figure. It just has happened to us.
"It's just that thing of it being fun... we enjoy the kids' company and I just didn't want to stop."
Whiley was interviewed by Tess Daly as part of the new AOL Original series, Being Mum, and discussed one of the tougher aspects of parenting she found: transitioning from one child to two.
"I found it more difficult to go from having one child - having India - to having another one. I remember lying in bed at night crying my eyes out, just, 'I will never be able to love another child,' and you genuinely feel that.
"And then, of course, the second the baby is there, of course you have enough love to go around. It just naturally happens.
"And that's really important for anybody to know who's in that situation. It will be OK, it will be absolutely fine."
Whiley was also candid about the challenges of being a working mum and the inevitable guilt you face when trying to do the best you can for your children.
"The crux of it is that we're all trying to juggle and we're all thinking we're failing but we're all doing brilliantly. We're all bringing up our kids and they're happy, polite, nice kids and that's all you ever want."
Watch the interview in the video above to see Whiley discuss what makes her family a tribe, coping with teenagers and why being a mum is everything to her.
The Being Mum series, hosted by Rochelle Humes and Tess Daly, is a beautiful and humbling series that defines what it means to be a mother today.
In each episode Rochelle or Tess will meet a well-known personality, or a mother with a remarkable story, to discuss the ups, the downs, the ins and outs of what being a mother is really like.