I absolutely love to travel, it's a real passion of mine and so, like a huge number of Brits, as soon as the new year hits, my mind turns to planning my holidays.
I'm lucky to have a big family - we've got four kids aged between four-20 years but equally this means that booking, preparing for and even taking a holiday can be challenging! Be this finding something that suits everyone, budgeting accordingly or planning your pre-holiday shopping to ensure you all have everything you need.
When the kids were much younger, package holidays were a great option as the resorts are very safe and filled with activities. Now our kids are a bit older we like to be quite independent on holiday so finding the right kind of trip can be tricky!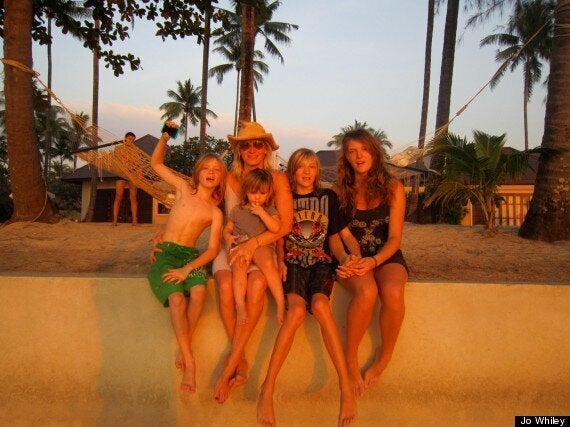 Jo on holiday with her kids
Here are a few tips that I've learnt over the years to help everyone who is looking to book a family holiday for 2013 or for those who are lucky enough to be going away in the next few months:
When booking, make sure there's something for everyone: It's really important to me that everyone has a great time on holiday but finding something for all ages can be difficult. If you're struggling with this, there are two holidays that I would absolutely recommend: LA and skiing. Last year we took a trip to LA and for the first week we rented a house in the Hollywood Hills. It was fantastic and gave us the flexibility to either play by the pool or explore the area.
There is so much to do in LA: take a trip to Universal Studios, go surfing at Malibu beach or hit the quirky shops in Abbott Kinney. If you're an active family and haven't been before, why not try skiing - now is the perfect time to go. You can find some fantastic deals for every type of ski holiday from self-catering apartments to hiring your own chalet and nothing beats being in the fresh air all day long!
Keeping the kids entertained: We're a really techy family, even my four-year-old uses the iPad! We often do a lot of driving on holiday so gadgets are a must. A real lifesaver I've discovered is a headphone splitter - don't leave home without one! It sounds strange but it means that the kids can all watch a film together on the same iPad or listen to the same music on the iPod.
Peace of mind: Having the right cover is so important when you're travelling with family. Knowing that if one of the bags doesn't make it and you've got some help to tide you over makes a real difference- and believe me this has happened to us before! It's also nice to know that you have somewhere to turn in an emergency so you can just focus on relaxing and having a great time.
Don't forget to treat yourself: Getting kids ready for holiday can be hectic but don't forget about you! Going away is the perfect excuse to treat yourself to something new and it helps to get you into the holiday spirit as well. I always like to top up my make-up bag with some essentials and buy a new hat, it's the perfect accessory to complete any look and you don't have to pack it!
I am the ambassador for the American Express Preferred Rewards Gold Card, which gives you and your family the freedom to travel on your terms, with its flexible rewards programme. For more information visit: www.amex.co.uk/gold
Related