Anonymous has broadened its fight against the Islamic State by targeting those who sympathise with the terrorists on social media using Japanese anime characters.
The hacktivist group has published a list of 750 Twitter accounts on sharing site pastebin it claims are spreading propaganda in support of the organisation. It is said to have also flooded some accounts with an image of an IS-inspired anime character.
The BBC reports that Anonymous hope to influence search engine results for phrases connected with IS.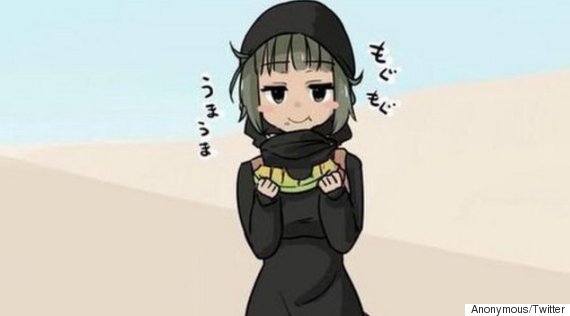 Anonymous has published a list of 750 Twitter account belonging to IS sympathisers and has posted an image of an Is-inspired Japanese anime character to their accounts in an attempt to influence search engine results
In January the group "declared war" on IS after it claimed responsibility for the Charlie Hebdo massacre.
Starting a Pastebin for all #ISIS Twitter accounts we find. Help us in #OpCharlieHebdo by reporting the accounts.

— Anonymous (@AnonyOpNews) January 11, 2015
Anonymous is also gunning for Facebook pages, blogs, websites and web proxies used by IS supporters.
The group said it was most interested in accounts that had more than 10,000 followers, but also targeted users with less followers.
Some of the accounts the group took over had profile images changed to show an anime character dressed in black.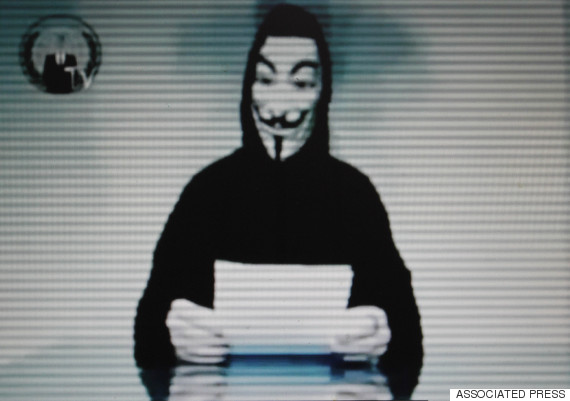 Anonymous "declared war" on IS after the terrorist group claimed responsibility for the Charlie Hebdo shootings
The action comes after David Cameron yesterday served notice on TV channels and internet firms to do much more to help combat Islamist extremists.
He said: "We need our internet companies to go further in helping us identify potential terrorists online. Many of their commercial models are built around monitoring platforms for personal data, packaging it up and selling it on to third parties," he said.
"And when it comes to doing what's right for their business, they are happy to engineer technologies to track our likes and dislikes. But when it comes to doing what's right in the fight against terrorism, we too often hear that it's all too difficult.
According to reports IS and its sympathisers control more than 90,000 Twitter accounts.
Rashad Ali, a senior fellow at the Institute for Strategic Dialogue which works on ways to counter extremism, told the BBC that Anonymous' online attack was both "positive and negative".
He said: "Practically speaking, you are getting rid of a whole host of people from the public domain.
"However, it's not a solution because what we now need to do is not just take down accounts but actually provide new narratives for people."
SEE ALSO

David Cameron Urges Internet And TV Crackdown On Islamist Extremists, Lets Parents Cancel Children's Passports

A British Medic Has Recruited 16 UK Students To Join Isis

Into the Black: Channel 4's 'Escape From Isis'