A young girl saved her three-year-old brother's life when a 40ft tree fell on them as they played on an inflatable slide.
Sophie Parkinson, seven, pulled her little brother Daniel to safety as he lay trapped beneath a mass of branches.
They were sat on the top of the slide with their brother Alex when the tree trunk split in two and began to fall towards them.
Their dad, Mike, witnessed the accident at Funland in Leigh, Manchester, on 19 July, and said: "I heard this almighty crack, which sounded like lightning, and the next thing this tree was coming down on top of them."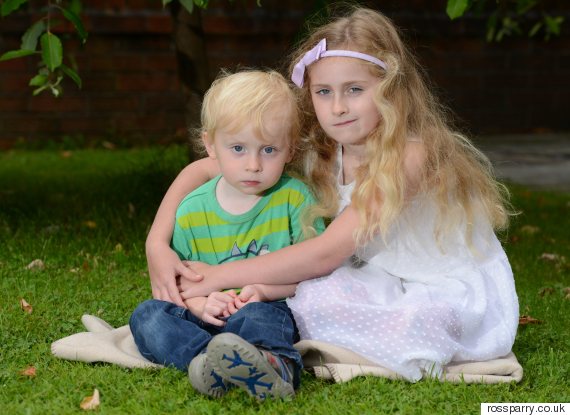 Sophie and her brother Daniel
Mike said his kids were the only children on the slide and he took a picture of them at the top before walking back to sit on a bench to watch them come down.
He explained: "The tree had landed on top of the ride where my kids were just a minute ago.
"I heard Daniel scream 'daddy' so I was concentrating on trying to get him out, but I had no idea how brave Sophie was being."
After hearing the cracking noise, Alex managed to escape from the slide, but his twin Daniel was left trapped beneath the tree's branches.
Sophie managed to free herself and hung on to her brother Daniel before managing to pull him out and sliding them both to safety.
She told her dad at the time: "I just had to save my little brother."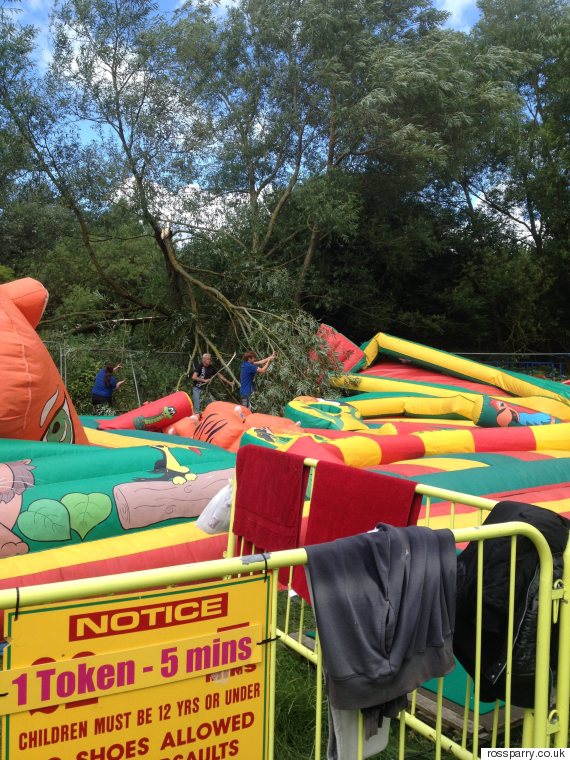 The fallen tree
Charity worker Mike, 39, who is married to Donna, also 39, said: "I was just relieved that I still had all three of my children when we left.
"It was a terrifying experience to watch and I felt helpless at the bottom but Sophie was a little hero.
"I know it was a complete accident but it was a very dangerous thing to happen right above a kids ride. It was lucky in a way that they were the only children on there or it could have been a totally different story."
The family from Wigan are now grateful to all be home safe and sound, but Mike has called for his daughter to be rewarded for her actions.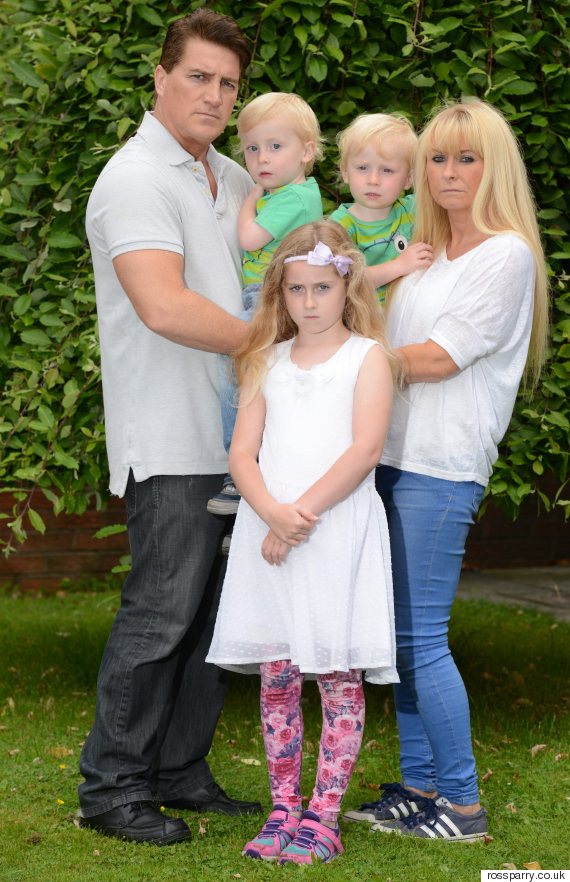 The father added: "Sophie's only seven and I thought she did really well. She didn't panic and when I asked her she just said she had to help her brother.
"I think she deserves some sort of medal or bravery award."
Wigan Council head of greenspaces and infrastructure Paul Barton said: "We take the safety of visitors to our sites extremely seriously and are investigating the circumstances of this incident.
"An inspection is taking place at Pennington Flash to ensure the area is safe for all those attending the Funland attraction."
SEE ALSO:

Seven-Year-Old Boy Saves His Mum And Baby Brother From Armed Robbers

Child's Heartwrenching 999 Call Features In Emergency Services Awareness Campaign
A spokesperson for Ponts Amusement Rides, who run Fun Land, Leigh, said: "On Sunday the family of three children used the inflatable play.
"The branch fell on the roof of the inflatable slide where one of the twin boys was playing. The branch was caught by the roof. No part of the branch or tree touched any of the children.
"The children all came off safely and used the other rides. The inflatable was re-opened within one hour after we checked it was safe and no damage was caused by the branch.
"The family continued to use the rides and after forty minutes asked for a refund at the ticket office, a full refund was given.
"Health and safety is our up most priority. I am pleased none of the children were affected and continued to enjoy the rides after the branch fell onto the inflatable."